EMERGENCY PHONES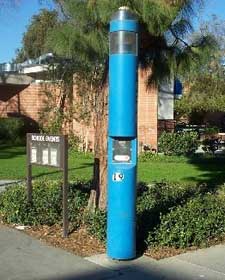 The El Camino College has a network of sixty Police telephones located throughout the main campus. The Police phones are located along the campus walkways, parking lots and in many of the buildings on campus. The telephones may be accessed in an emergency or if you need the services of the police department such as the campus shuttle service. The phones are equipped with information buttons that will dial the police department regular non-emergency business number (310) 660-3100.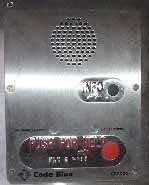 To contact the police department, push the red button on the face of the telephone or pick up the red receiver on the telephone. The phone rings directly into the El Camino Police Communications Center. Calls made from the Blue Phones are automatically identified by location when it reaches the Communications Center telephone equipment.
If you are a disabled student and have a visual or hearing impairment, it is important to know that an officer will be dispatched to the location of the telephone where a call originated, even if the person making the call cannot communicate with us.
There are emergency telephones located inside some of the campus buildings and in all of the elevators. You may also make a "9-1-1" call from any of the pay telephones on campus free of charge. It is important to remember that all land line 9-1-1 calls made on either the Torrance campus or Compton campus will ring directly into the Communications Center.
If you make a 9-1-1 call from your cellular phone while on campus, advise the 9-1-1 operator to connect you to the El Camino College Police Department. Only calls made by T-Mobile wireless or AT&T Wireless services will automatically route to the El Camino Communications Center when on the Torrance campus. 9-1-1 calls placed using all other wireless service providers will ring into either the California Highway Patrol, Torrance Police or South Bay Regional Communications Center and must then be re-directed to the appropriate police agency in the area of the incident.