FACULTY RESOURCES
5. Technology to Support Instruction
This section identifies the technology resources and support available for faculty at El Camino College and Compton Center.


---
5.1. MyECC Portal - Class Team Sites
Faculty can request Class Team Sites on the MyECC Portal for digital posting of course materials for their students.


Class Team Sites on MyECC Portal
This is a simplified version of a Course Management System (CMS). Using the MyECC Portal, faculty members can create a "Class Team Site" for every class section. Post course syllabi, announcements, class discussions, and course materials - including PDF and Word documents, PowerPoint presentations, images, audio files, etc. - for students to access through the MyECC Portal. Only students currently enrolled in your course section have access to their section's Class Team Site.
This is a secure site for your students only. Shared documents can be saved from semester to semester!
To request a MyECC Portal site, follow the instructions below:
Log into MyECC.


At the Faculty Home Page, click on Click here to request a MyECC Portal site to Post Class Materials and fill out the information requested.

Faculty can request a Class Team Site as soon as a course is assigned to them, or at any time during the semester. If requested before the beginning of a semester, faculty cannot access the site until 6 weeks prior to the beginning of the semester. Students will be able to access the Class Team Site 7 days before the beginning of the semester.

If faculty request the shell after the beginning of the semester, students are automatically populated into the portal site. Students will see the course listed in "My Team Sites" within 24 hours.

FAQ's MyECC Portal Site for Faculty


Your MyECC Portal Class Team Site(s) will be located on your Faculty Home Portal Page under "My Team Sites."

Advantages of using Class Team Sites
Post announcements, course materials, etc. for only students currently enrolled in the section.
Students can electronically participate in class discussions.
---
5.2. Faculty Web Page
Faculty can establish a web presence by creating their own web page on the ECC website using OU Campus. Accounts are distributed in workshops available through Professional Development Reporter.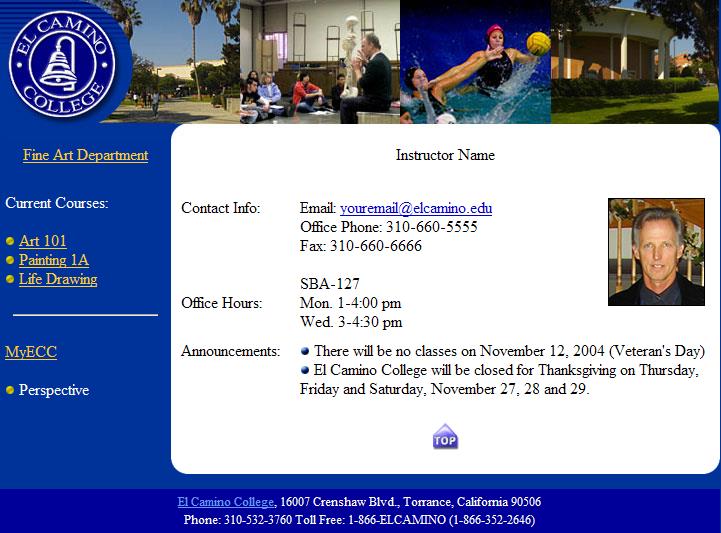 Faculty Web Page using OU Educate
Faculty web pages are hosted on the El Camino College website, and can include detailed information about you and your classes – including contact info, office hours, announcements, syllabi, downloadable materials, and links. These web pages are public and are thereby intended for prospective as well as currently enrolled students.
To aid in the creation and upkeep of faculty web pages, faculty can use OmniUpdate OU Campus, editing software designed to work like a word processor. OU Campus works through your computer's web browser anywhere you have internet access. Professional Development and Learning department offers training to teach faculty members webpage basics – creating new pages from a template, uploading files, adding pictures and links – using OU Campus.
See examples of current faculty web pages at www.elcamino.edu/faculty.

Advantages
Permanent home for instructor and course information, available to everyone.
Post announcements, course materials, etc.
Fully customizable: work from a template or use OU Campus to upload already made web pages.
---
5.3. Etudes - Supported CMS
Etudes is the supported course management system (CMS) of El Camino College and Compton Center, which can be used to teach online or enhance on-campus instruction!


Etudes Course Management System
ETUDES is a campus supported course management system (CMS), that is available to all ETUDES certified faculty. This CMS offers communication tools for students and faculty, content authoring, classroom assessment, classroom/instructor management tools, easy instructor/student navigation, and an activity meter that captures, stores and displays student activity data. Faculty who completes the Etudes Certification for On-Campus Instruction or Etudes Certification for Online Instruction can obtain course shells to use in face-to-face classes. This CMS can be used as an enhancement tool in the traditional classroom.
Faculty must be trained and certified in ETUDES prior to being issued a course shell. Professional Development offers free certification training.

Advantages to using Etudes
Course materials posted are organized for students and instructor
Provides consistency in delivery and evaluation for distance education courses
Students can go through material anytime as many times as they want
Instructors can keep tabs on every student

BENEFITS OF USING ETUDES


Communication Tools

Announcements can be posted at the course site as well as be sent to their email
Private Messaging capabilities for instructors and students that includes an in-box and send-box
Discussion Board area where instructors can set up unlimited discussion forums that can become visible or locked on a certain dates
Chat tool provides real-time chat functionality


Content Authoring

Syllabus tool allows instructors to post the course syllabus and students must accept that they read it before proceeding in any class assignments
Instructors can publish lessons in a variety of ways
Lessons can be released automatically based on start and stop dates
Resource section is a place to store documents, files, web links, and other learning objects


Classroom Assessment

Instructors can publish learning content that can be created by using a rich text editor, uploading learning objects, or pointing to existing URL resources
Instructors can create assessments, manage questions, such as add/edit questions for tests, assignments or surveys, and include any attachments
Instructors have flexibility in setting open, due and accept until dates
Instructors can allow one, multiple or unlimited tries


Classroom/User Management

Instructor can post events in the online course calendar
Basic Gradebook functionality is offered in the system
When an instructor adds an assessment to the course, the software can add it to the Gradebook automatically
Bookmark functionality is available to help instructors and students mark areas they want to re-visit


Administrator Tools

Instructors can view their rosters and status of students (enrolled or dropped)
Instructors can enable and disable tools (add /remove to menu), as needed to support different courses and needs
Instructors can add a link to a custom web page, image, or information on the home page of their course sites to grab the learners' attention
Software complies with Section 508 of the U.S. Rehabilitation Act


Course Map – Road map of the course!

Control open/due dates for all items in the site
Helps students navigate through course
Keeps students on target with deadlines and tasks


Activity Meter – Captures, stores, and displays student activity!

Allows instructors to assess how students are performing
View what students are struggling in the class at a glance
Early Alert system
Use ETUDES to engage, communicate, manage, and retain students in your class!
Etudes Certification workshops:
Etudes Certification for On-Campus Instruction
Etudes Certification for Online Instruction
---

5.3.1. Request an Etudes Course Shell

Instructors must complete the Etudes Certification for On-Campus Instruction or the Etudes Certification for Online Instruction workshop before requesting an Etudes course site.
El Camino College Etudes Shell Request
Compton Center Etudes Shell Request
---
5.4. ECC Gradebook
The ECC Gradebook allows students to view their individual grades via MyECC portal. Faculty can set Gradebook settings once and then copy the setup to other class sections from semester to semester. Submit final grades through the ECC Gradebook.



MyECC Gradebook
MyECC Gradebook is a campus supported online Gradebook that faculty can create for each class section. It supports most calculation methods such as points, assignment weighing, and category weighing. MyECC Gradebook allows students to view their individual grades, with your comments, through their MyECC Portal. ECC Gradebook manual available in Help menu in MyECC Portal under grading.


Gradebook allows students to view their individual grades (including instructor comments) via MyECC Portal. Create settings once and then copy the setup to other class sections from semester to semester.

Advantages of Gradebook
Students can monitor their own grades for each class section via MyECC portal.
Create a gradebook setting once and then copy the setup to other class sections from semester to semester.
Easy submission of final grades.
Instructors can keep tabs on every student.
Workshops on the MyECC Gradebook are available at the beginning of each semester as well as during the summer. To check for workshop availability log into Professional Development Reporter.
---
5.5. MyECC Portal Info & Help
This section will help with log-in, password, and browser issues.


If this is your first time logging in make sure to read the welcome notes.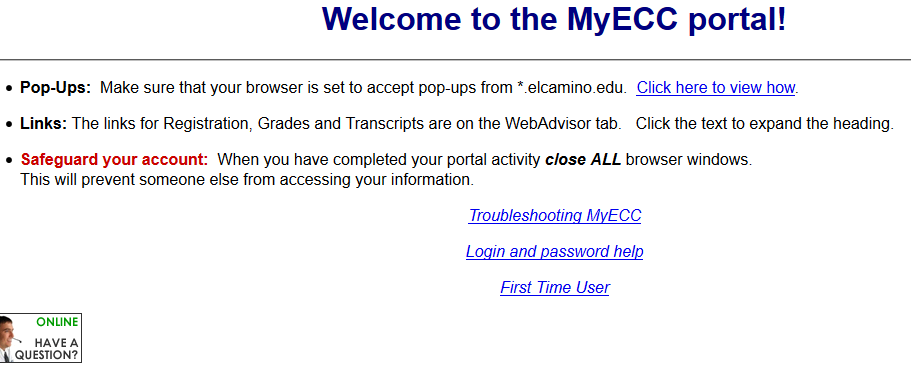 After logging in, do not close the Logon Status pop-up window: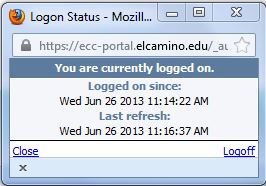 This login window verifies that you are an authenticated user. (That you logged in with a correct ID and password.)

If you close the window, your browser "forgets" who you are and ends the Portal session.

If the window is not appearing, check that you are allowing pop-ups for El Camino College websites.
---
5.6. Turnitin - Plagiarism Prevention
Turnitin, an anti-plagiarism software, helps instructors reduce plagiarism in course papers submitted by students. Turnitin ensures originality of student papers.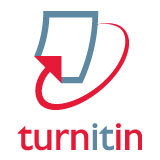 Turnitin

How Originality Check Works
The basic program is simple to use. You create a profile and then set up accounts for your classes. After you've set up a class account, you give students the information they need to register themselves. To create an assignment, you enter the assignment title (uploading the detailed assignment instructions is optional) and select a due date.
When essays are due, students will upload their own essays, and Turnitin will generate an originality report identifying any borrowed material and its source. (You can also use this feature as a teaching tool to help students avoid plagiarizing. Just set the option to allow students to see the originality report and resubmit their essays prior to the due date.)

Setting Up Your Account
To register for Turnitin and create a class, follow the instructions below. Once you've established your class account(s), students can register themselves and upload their own essays. You do not need to do any of this for them! All you need to do is give each class the Class ID (generated by Turnitin when you create the class, appears next to the class title on your Turnitin homepage) and the Enrollment Password (created by you, for example the course section number). You can then view the originality reports of all student essays submitted for your classes, and each student can view the originality check for his or her own paper. You can also download an entire set of essays if you want to. They will retain all formatting.
Go to the homepage of Turnitin.com.

In order for you to get started with Turnitin, you need the following college account information, so keep it handy:

ECC account ID: 54493
The account password is: works4me

If you don't already have a user profile as a previous user, you need to create one:

Click on Create Account in the Log In area at the top right of the screen.
Under the heading Create a New Account, click on the link for Instructor and enter the account ID and join password in Step 2 (above).
Under Password and Security, create a password for yourself to use in the future when you log in to Turnitin.
Complete User Agreement, click on Create Profile.

If you already have a previous Turnitin account, you need to log in as usual:

Log in using your email address and previous password. (If you've forgotten your password, Turnitin can retrieve it for you).

If your previous account was with a publisher or another institution, you can add your ECC account by selecting the Join Account tab on your instructor homepage and providing the ECC ID and Password in Step 2 (above).

To create a class, click on Add a Class.

Type in the class name (i.e. English 1A)
Type in an enrollment password of your choice (such as the section number) to give your students.
You'll see a pop-up screen listing an ID number for your class along with the class password. Write these down; this is the information you'll need to give your students so they can register. (You may want to put this ID and password on your syllabus.)

TECHNICAL TIPS


File Types and Size
Turnitin currently accepts the following file types for upload into an assignment:
Microsoft Word (DOC and DOCX)
Corel WordPerfect
HTML
Adobe PostScript
Plain text (TXT)
Rich Text Format (RTF)
Portable Document Format (PDF)
Hangul (HWP)

General Information
I forgot my password, what should I do?
How do I view Originality Reports?

Instructor Resources
Help Center Instructor Articles

Student Resources
---
5.7. Intelecom - Academic Video on Demand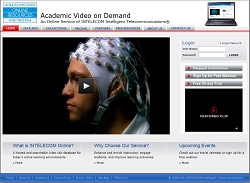 The INTELECOM Online Resources Network is a hosted and searchable database of academic video series and clips - streamed on demand - for use in support of online, hybrid and face-to-face classes.
Choose from a variety of video collections including Biological Sciences, Oceanography, History, Philosophy, Psychology, Political Science, Sociology, Health, and Environmental Studies. And as with academic journal databases, new content is added on an ongoing basis.
INTELECOM Online Resources Network
Username: elcamino
Password: videoclips8


The videos and segments are closed-captioned, and you can embed them directly into Etudes.
---
5.8. Films on Demand - Academic Video on Demand
Films on Demand is a database of over 15,000 videos (200,000+ video segments) in dozens of subjects across science, humanities, and the social sciences.

• Faculty are free to show individual videos in their classrooms, but the videos may also be assigned as "homework," searched as information sources for student research, and embedded into Etudes.

• Videos are closed-captioned and also offer searchable transcripts.

• Full-length films as well as video clips are included. Film segments may be selected for viewing, instead of the entire film.
How to embed into Etudes
The process for embedding the films is slightly different than the steps you might be used to. Here is a short video tutorial that walks you through the process.


How to access Films on Demand
Here is the the link to the list of library databases. From there, click on the link for Films/Videos. If you are on campus, you will be automatically authenticated and logged into Films on Demand.** If you have any questions, please call the Library's Reference Desk at x6483 during open hours.

**If you are using your faculty laptop to access the database (i.e., you are on a computer not directly connected to the El Camino network), or you are logging in from home, your account will need to be enabled by an ECC librarian. Contact Cindy Lopez at cilopez@elcamino.edu.

**If your students need to access the database (in addition to or instead of watching the video in Etudes), their accounts will need to be enabled as well. Advise them to contact Cindy Lopez at the email address above. (The easiest way for students to view the videos is for you to embed them in Etudes. Then they will not have to go through the account enabling process.)
---
5.9. Professional Development Workshop Materials
Here's a link to our helpful technology workshop materials and handouts.
Professional Development Workshop Materials
---