STAFF RESOURCES
6. Technology for Staff


This section identifies the technology resources and support available for faculty at El Camino College and Compton Center.


---
MyECC Portal

The MyECC portal provides access to a variety of WebServices links which vary per your job duties. Everyone has access to general links for the phone directory, etc. There are also WebAdvisor links for manager access to Budget information and if you're taking a class this is where the registration and student links appear. There are also division sites for documents and other information, committee information and class section team sites.

---

Log-In & Help
This section will help with log-in, password, and browser issues.
If this is your first time logging in make sure to read the welcome notes.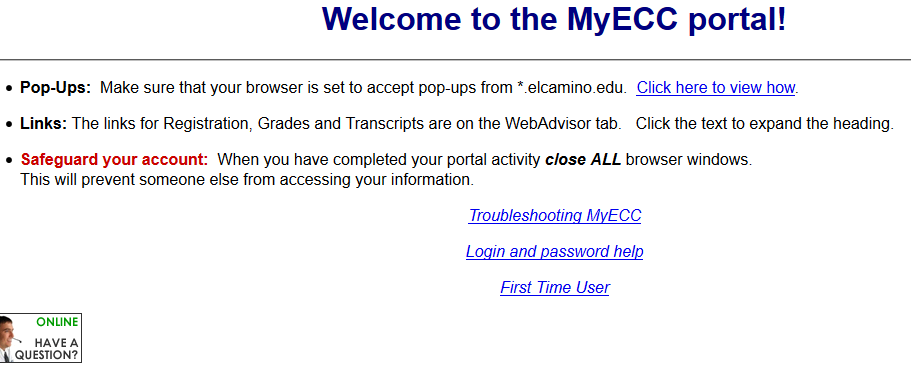 After logging in, do not close the Logon Status pop-up window: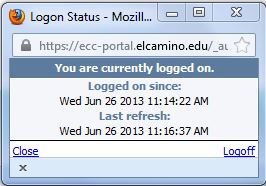 This login window verifies that you are an authenticated user. (That you logged in with a correct ID and password.)

If you close the window, your browser "forgets" who you are and ends the Portal session.

If the window is not appearing, check that you are allowing pop-ups for El Camino College websites.
---


ITS and the Help Desk
The Help Desk is the primary source of information and assistance on telephone and computing services. No question should be considered too basic to ask!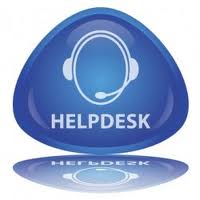 ECC ITS Help Desk
x6571 or 310-660-6571
The ITS Help Desk is the primary source of information and assistance on telephone and computing services. The staff will try their best to identify software problems, explain error messages, direct you to helpful documentation, advise you on debugging techniques and explain syntax errors.
The ITS Help Desk should be used to report any problems you're having with your computer, software, password, internet, etc. Normal hours are M‐F 8am‐12:30pm and 1:30‐4:30pm. Techs are available to answer questions and create tickets for problems that cannot be resolved over the phone. The Help Desk also handles student problems with related to the MyECC portal.
Location: Communications Building
Hours: Weekdays, 8 a.m. to 4:30 p.m.
Telephone: (310) 660-6571
FAX: (310) 660-6134
Email: helpdesk@elcamino.edu
After-hour calls are taken via voice mail and calls are returned the following weekday morning.

Compton Center Help Desk
Faculty needing assistance with technology can contact the Help Desk at Ext 2181 (310-900-1600) or Rudy Ramos at Ext 2184 (310-900-1600).
Arrangements for classroom AV equipment should be made through Division Chairs or deans.
---

Email Information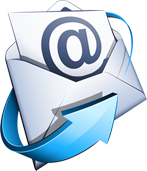 Email has a 180 day life. Items older than 180 days are automatically deleted from your account and cannot be recovered. To keep emails for a longer time create a personal folder to store items on your computer. Contact the Help Desk for assistance.
From on-campus access Email from your computer using Outlook or webmail.
From off‐campus access your email using webmail: mail.elcamino.edu using your same
username and password.
Smart phone set up: The instructions and settings may be found on the MyECC Portal. Log on and click the Help link near the top of the page. The instructions are under Email and Calendar.
Out of Office: When going on vacation please remember to turn on your out of office message. This
message is an automatic reply to any email message sent to you. It's a way of letting senders know who
to contact in your absence.
---

Account Security
You will use the same username and password for the network (logging on to your PC), email and the MyECC Portal (and Wi‐Fi). Passwords expire every 180 days. You should receive an email at least 10‐14 days prior to the expiration. If your password expires you cannot log in until the password is changed. Passwords must be at least 8 positions long and alpha/numeric. The number cannot be at the very start nor at the end of the password. Letters should not spell any dictionary words. Substitute numbers for letters or use a phrase i.e. itsaGr8day or iamgreen2d@y. Passwords are not to be shared. Do not log someone else on to a computer and let them use it. By doing so they have access to your documents and email and are acting as you. If you think your password is compromised contact the Help Desk.
When you walk away from your desk, secure your PC by locking the computer.
Use Ctrl + Alt + Del, or
The Windows Key + lower case L


Phishing and Scam Emails
"Phishing is a scam where Internet fraudsters send spam or pop‐up messages to lure personal and financial information from unsuspecting victims."

Many say you've reached your space limit, that there is something wrong with your account; the account will be terminated, etc. Don't' be fooled into giving up your private information (This includes username and password.)
These are not emails from the ITS office or El Camino. It is an attempt to gain your username and
password to use it for malicious activity. Responding to this type of email allows spammers immediate
access to your email account which they use to send millions of spam emails to the world as you. When
this happens all @elcamino.edu emails are blocked by other mail providers (other colleges, businesses,
hotmail, gmail, road runner, etc.) We have no control over how long the emails are blocked.
If there is a problem with your account we will contact you directly.
ITS or ECC never sends blanket emails requesting your username, password or other personal
information. If there is a problem a ITS staff member will contact you directly. We will never direct you to an anonymous non‐ECC site. Most of our notices will have the ITS banner at the top. The safest approach is to delete any suspicious email without opening it or responding to it. At any time contact the ITS Help Desk at x6571 whenever you have questions about a suspicious email.
Think before you click. If you do respond to a phishing email, immediately contact the Help Desk.
---

Faculty Laptop and Software

New full-time faculty will be receiving a new Dell laptop on their Orientation Day prior to the beginning of the semester.

Faculty Laptops
New full-time faculty will be issued a Dell Laptop. The laptops will have Windows 7 and Microsoft Office 2010.

Things to keep in mind
Campus issued laptops must be brought to campus once every 6 months for software updates and
software verification, and to sync passwords whenever a system password change is made.
If you have problems with your laptop, email or call the Help Desk at x6571.
---

ITS Bulletins
ITS will occasionally send out an important bulletin to the campus about various technology related issues or problems.


Official ITS email bulletins or notices should have the ITS header and will never ask for personal information.
---

Colleague

Colleague/Datatel is the campus ERP, Enterprise Resource System, for ECC business. It is used for student data, applications, class section information, basic HR information, budgeting and requisitions. Colleague access requires a separate username and password. It is generally assign to office employees. Each office use of Colleague is unique. Individualized training and requests for access to the system is handled by the hiring office or division.
---

Telephone / Voicemail


The Telephone Set
The Directories Button: Provides a list of missed, received and placed calls, and searchable campus directory.
CFwdALL button – Forwards all incoming calls to another extension. Your phone will not ring.
Transfer ring a Call ‐‐ press the Transfer button and dial the extension. To transfer the caller directly to
voice mail press # before dialing the extension.
Calling the Compton Center: Dial the 4‐digit extension, 2xxx. You do not need to dial the 310‐900‐1600 telephone number.

Voicemail
Voice mail messages may be accessed from your email account, the telephone messages button or from
off campus. When you delete a message it is removed from the system and cannot be retrieved. To
access voice mail from off campus:
Dial 310‐660‐3593
Press *
When prompted for your ID, enter your extension or mailbox number followed by # (1234#)
When prompted, enter your password
Out of office – There are options for recording various outgoing messages. You may record an alternate
greeting that will be played to callers for a specified period of time.

Things to keep in mind
Voicemail and email messages are considered college property and should not be considered confidential.
---

ECC Email Setup on your Cell Phone
Instructions for access to your ECC Email from your cell phone. Included in this section are step by step instructions for iPhone set up too.


General Settings for Email Setup on your Cell Phone
Use the settings below to set up your Smart Phone to access your ECC email.
Your Smart Phone must be equipped with Microsoft ActiveSync OR Exchange ActiveSync .
Most phones are running Windows Mobile OS.
Configuration steps vary depending on the phone you have but the basic information needed is as follows:
Mail server: mail.elcamino.edu
Username: your myecc logon id, i.e. jsmith
Email address: user_name@elcamino.edu
Domain: isdomain
Imap or pop3? Neither, the correct option should be active sync or exchange
Incoming service type and port: mail.elcamino.edu
SSL: yes
Outgoing server and port: Not needed for exchange or active sync
Depending on your wireless plan you may be charged additional fees.
Please consult your wireless phone provider for charges and additional technical support.
https://secure.elcamino.edu/portal/helpfiles/sp-portal/cellphoneemailsettings.html

Directions for Setting Up ECC Email on your iPhone
1. Go to the settings icon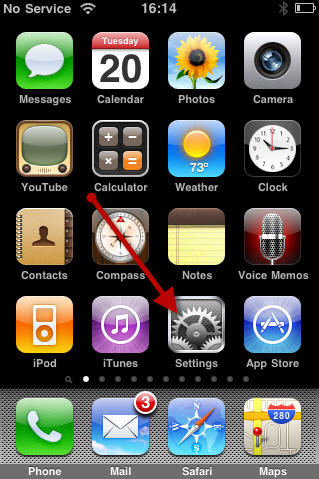 2. Scroll down to "Mail, Contacts, Calendars"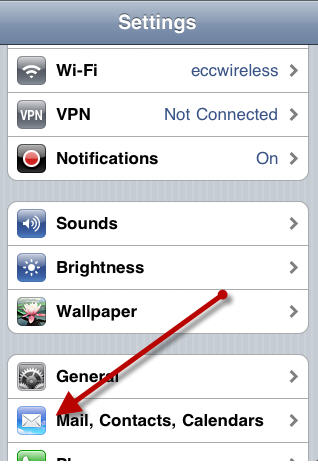 3. Select "Add Account"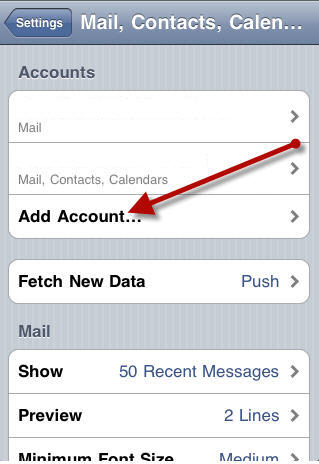 4. Select "Microsoft Exchange"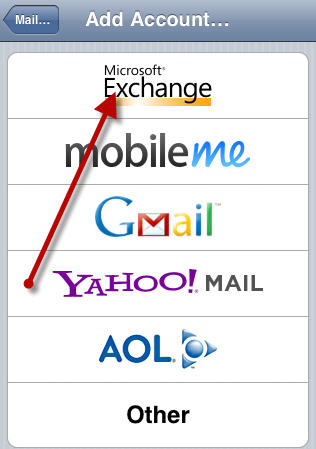 5. On the next screen fill in:
Email Account
Domain: isdomain
Username
Password
Here is what it looks like after it is configured.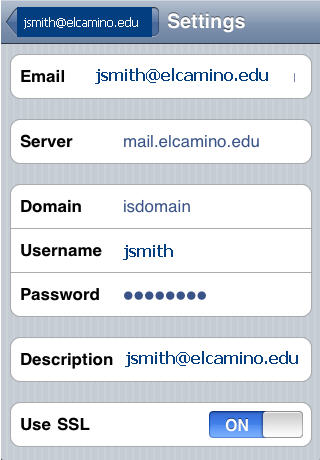 6. Select: "Next"
7. After a short while it will ask you for the email server name: mail.elcamino.edu
For additional assistance contact the ITS help desk (ext. 6571 or helpdesk@elcamino.edu).
---

Campus Internet / Wi-Fi
Wi-Fi wireless internet is available in most areas of El Camino College campus.

Click here to see a map of El Camino College Wi-Fi Hotspots (PDF).
Here are instructions for connecting to the "eccwireless" network and logging in securely to gain internet access:
ECC Wireless Internet Access - Logon Instructions (PDF).

---
Professional Development Workshop Materials
Here's a link to our helpful Technology Workshop Resources:
Professional Development Workshop Resources
---