El Camino College MESA|STEM Engineering Students Complete Research at UCLA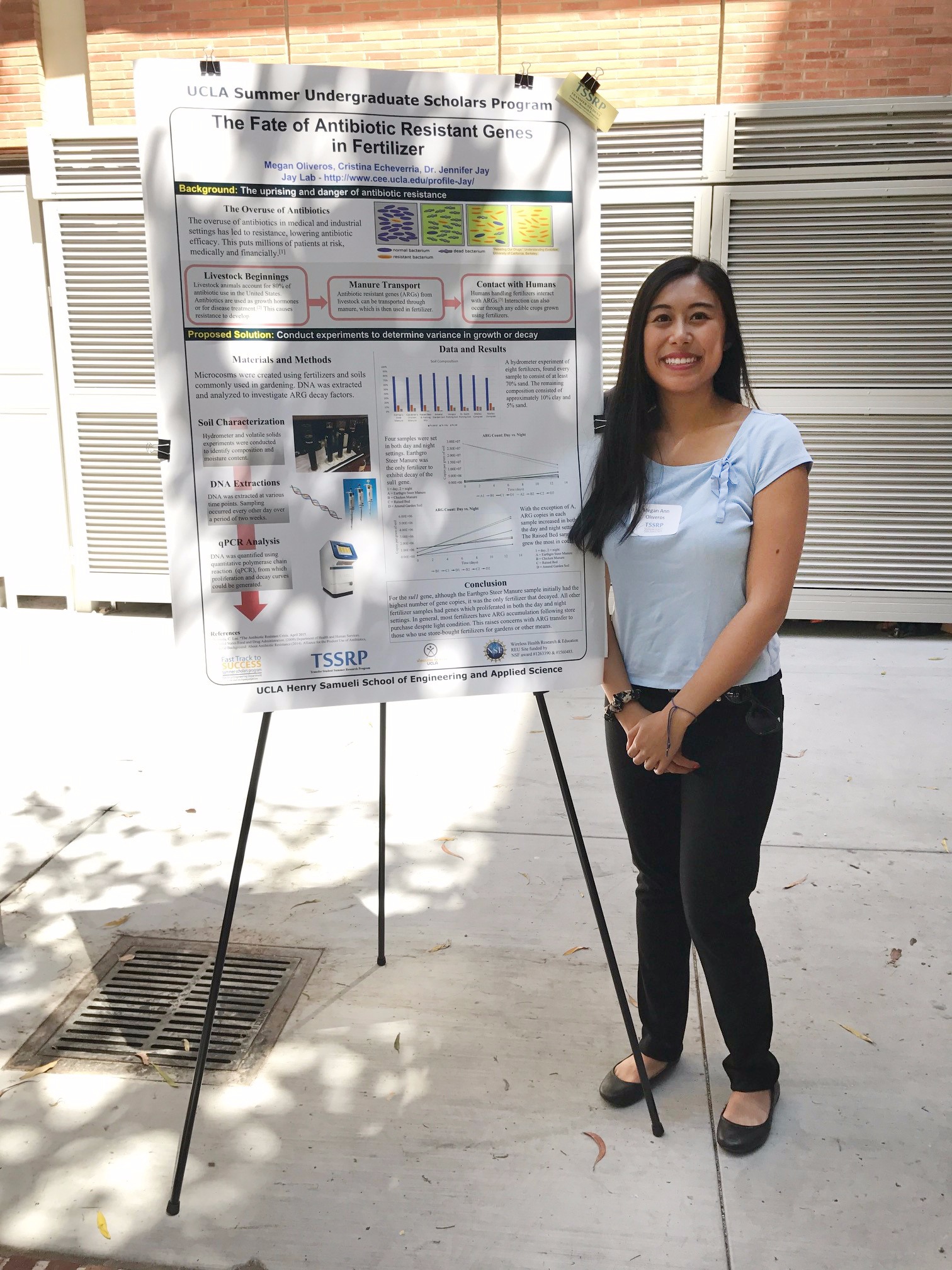 Students participated in hands-on research, networking and professional activities
El Camino College graduate Megan Oliveros spent the summer immersed in engineering research. As a participant in the UCLA Henry Samueli School of Engineering and Applied Science Transfer Student Summer Research Program, she had access to hands-on research, the scientific process and a glimpse at her future – she transferred to UCLA this fall to continue her engineering studies.
"I became quite familiar with the research process, making plans on how to answer a problem and conduct experiments with my lab mate and Ph.D. mentor," said the engineering major, who is also a 2015 graduate of West High School in Torrance. "The experience confirmed that I have a strong interest in the field of environmental engineering. I am more interested in research now and may pursue higher degrees in the future."
Megan was one of eight ECC Mathematics, Engineering, Science Achievement (MESA) | Science, Technology, Engineering & Mathematics (STEM) students who attended the eight-week UCLA student summer research program this past June. She joined ECC students Julio Acevedo, Michael Evans, Luis Gonzalez, Justin Kuo, Phat Ngo, Malik Smith and Craig Sugiyama, along with other engineering majors from Los Angeles-area community colleges to assist researchers in the UCLA engineering program.
"Working in the lab can be quite inspiring because we get to see how much effort our mentors put into making their ideas tangible," said ECC aerospace engineering major Malik Smith, a 2015 graduate of Mira Costa High School in Manhattan Beach. "Also, my mentor showed me that when you're creating something you're passionate about, it's more fun than it is work."
The full-time, summer undergraduate internship is designed specifically for community college students who plan to transfer to a university to study engineering. Each scholar was challenged with extensive hands-on research activities under the guidance of faculty and graduate student mentoring teams. These research projects culminated with a presentation at a final poster session, where scholars presented findings from their summer research. Student work will also be published in the annual Summer Undergraduate Scholars Program journal.
Additionally, students participated in a number of professional development and networking activities including technical presentations by UCLA faculty and researchers, as well as pathways workshops. These workshops were designed to provide support to students as they conduct their research projects, while giving them valuable information and insight regarding their educational and professional careers.
ECC students were supported by a National Science Foundation (NSF) Research Experiences for Undergraduates (REU) UCLA Wireless Health Research Education grant, the Washington Baltimore Hampton Roads-Louis Stokes Alliance for Minority Participation grant and the El Camino College Foundation.
Overall, Megan said the summer program was an insightful experience.
"I would definitely recommend this program for any aspiring engineers who are interested in research!" she said.
Photo available online:
El Camino College graduate Megan Oliveros spent the summer in an UCLA Engineering and Applied Science research program; she transferred to UCLA this fall as a civil engineering major.
http://www.elcamino.edu/about/depts/publicrelations/photos/2017/Megan-Ann-Oliveros.jpg
November 22, 2017