Moving Line

Work by:
Ahmet Arslan, Barbara Berk, Angie Bray, Robin Bush-Vance, Chenhung Chen,
Marsia Alexander-Clarke, Joyce Kohl,
Norm Looney, Karena Massengill,
John Montich, Pierre Picot, Anne Scheid, Joann Tomsche, Philip Vaughan,
Cheryl Walker

Artwork in a wide variety of media including drawing, painting, sculpture, digital media and video focusing on the wiles of the moving line.

February 12 - March 8, 2018
(Gallery closed February 19)


Reception: Thursday, February 22, 7-9 p.m.

Artists' Talk: Tuesday, February 27 at 1 p.m.

El Camino College Art Gallery is delighted to present to works of 15 artists from Southern California in Moving Line. From the time that early man lifted a piece of charcoal in his cave to depict the action of animals, air or fellow humanoids to the wind blown curves of sky writing we have been fascinated by the capacity of line to evoke motion and emotion. Whether the sense of movement is achieved through repetition and proximity of lines to each other or through fragmentation of boundaries, or through a particular media itself, all of the artists in this exhibition share a timeless captivation with movement.

Ahmet Arslan presents intimate several ink wash drawings/paintings in which human features sequentially emerge.

Barbara Berk exhibits drawings in which movements of her body circumscribe the drawing itself- i.e. with an anchored elbow the drawing indicates the range of motion of her hand.

Angie Bray presents Walking Breathing Drawings. These drawings are done while walking beside a long strip of clear acetate with brush in hand loaded with watery ink. The residue of the action is the image.

Robin Bush Vance shows paintings done with spray paint, stencils and lace on paper, in which shapes fall and rise.

Chenhung Chen presents colossal seething sculptural works made of twisted electrical wire and electrical components.

Marsia Alexander-Clarke presents meditative video abstractions in which lines continuously pulsate and travel while reconstructing the image.

Joyce Kohl exhibits subtle clay sculptural wall works in which the surface is imprinted with waving lines that resemble traces of the ocean on a sandy shore.

Norm Looney presents large drawings in mixed media on paper from his Chaos Series that indicate movement through the curving and subsequent breaking of the line.

Karena Massengill shows two interpretations of a vibrating Hindu Buddhist Spirit. One in fabricated steel, the other in acrylic and charcoal on paper.

John Montich exhibits a scintillating photographic abstraction on aluminum in which the artist repeats and rotates the original image to create a completed whole.

Pierre Picot exhibits mixed media paintings in which lines whirl and vibrate, creating charged abstracted landscapes.

Anne Scheid presents a singular figurative drawing, Tension and Balance, in charcoal with compressed charcoal as well as her video: What's in a Line.

Joann Tomsche presents strong figurative contour drawings in ink with ink wash on paper.

Philip Vaughan shows energetic gestural line abstractions in graphite and charcoal on paper. The artist draws as he listens to Jazz and the rhythm of the music translates into the way he draws.

Cheryl Walker exhibits exquisite ribbons of graphite that swirl over the large (8'x50") paper like smoke in mid air.




Philip Vaughn; Skylight one;
graphite on paper; 40" x 40"


Joyce Kohl; Blue impline; ceramic;
15' x 12" x 2"


Cheryl Walker; For Emile IV; graphite on paper;
108" x 50"



Norm Looney; Chaos Series/Chaos in Color;
ink on paper; 7' x 5'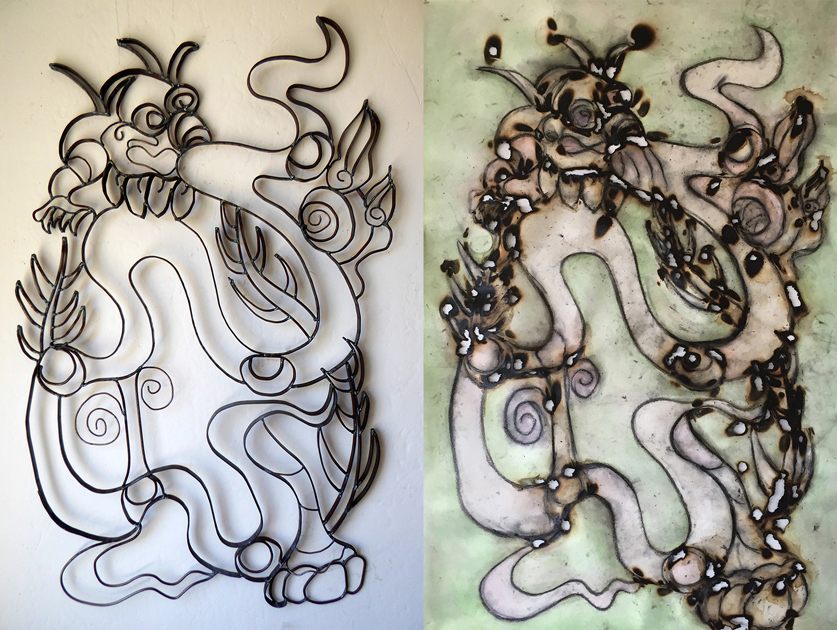 Karena Massengill; Hindu Bhuddist Spirit; fabricated steel; 42" x 25" x 1.5" (left) Hindus Bhuddist Spirit Echo; acrylic w/ mixed media; 42" x 25" x 1.5"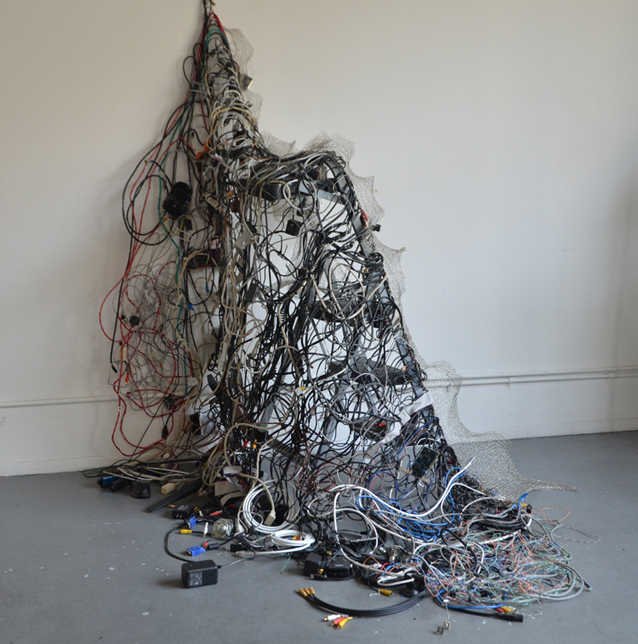 Chenhung Chen; I Ching in America, Hexagram 35 Advancing; electrical wire and mixed media; 72' x 62" x 68"