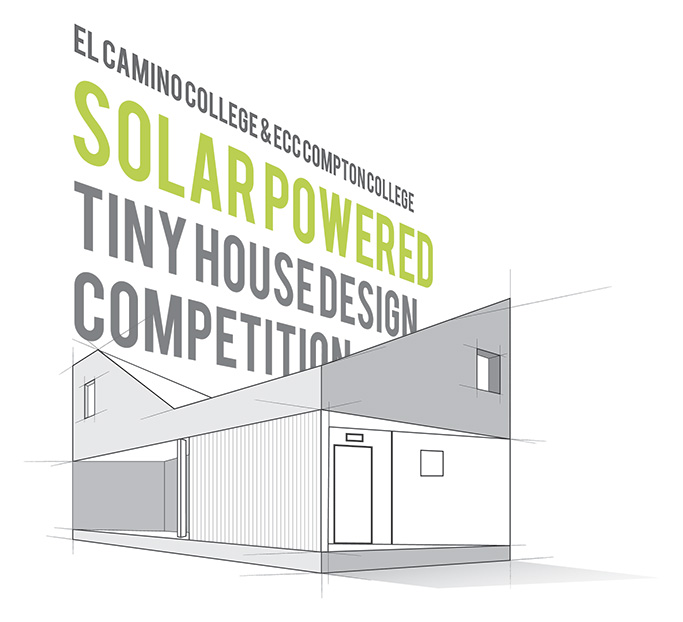 El Camino College and El Camino Compton Center
Solar Powered Tiny House Design Competition.
El Camino College in conjunction with the ECC Compton Center is having a Solar Powered Tiny House Design Competition. Any student or student teams consisting of no more than 4 persons of these two colleges can submit a proposal to design and build the most attractive, effective, and energy-efficient solar powered tiny 400 sq. feet house or house trailer (for Compton students only) that can be built for less than $40,000 in system and material costs.
The winner of the competition will be the student(s) that has a conceptual theme that best blends affordability, consumer appeal, and design excellence with optimal energy production and efficiency.

Prize: $100 per person (group of four max.)


All Presentations due to the ECC Architecture Program
ITEC 202,

by 5:00p.m. on February 21, 2017.
Judging will take place on February 25

For more information please contact:


El Camino College

Architecture

Electronics


Electronics and Engineering

HVAC

Tim Muckey
tnuckey@elcamino.edu


El Camino Compton Center

Dale Ueda
dtueda@elcamino.edu

Solar Powered Tiny House Design




Competition Application
ECC Compton Center 5x8 Tiny
Market

House Sample Book

ECC 8x16 Tiny House Plans




Sample Book

ECC 8x20 Tiny House Plans




Sample Book

The Little Book of Tiny House




Floor Plans

Tiny House Sample




Book

Solar Powered Design
Competition Flyer
Tiny House
Solar Requirements

Competition Description
The building will be an attractive, high-performance Net-Zero tiny house to be built on a trailer that integrates passive and active solar systems and energy efficiency technology seamlessly into the design. The house should provide all the necessary to heat water for domestic uses. The student will also provide a comfortable living setting both inside and outside the house with power for the electronics, appliances, and modern conveniences that we love. Its compacted traveling mode should be no larger than eight feet wide, ten feet tall and twenty feet long. The student will be required to present a proposal of their design solution of their proposed building using Site/Floor Plan(s) & Sections that show interior elevations, structure and how all the environmental control systems work; as well as Exterior Elevations that show the geometric shapes of the structure and materials used. Other presentation drawings such as Details, Perspectives, Exploded Axonometric and Models will be helpful to explain the design and how it works. The presentation will be limited to 2 – 24" x 36" boards presented in the medium of the designers choice and the drawings will be drawn at a large enough scale so that people viewing it will clearly see all the details.
Competition Jury
A jury of professors, architects, engineers and construction professionals will evaluate the students design documents. They will evaluate three main factors: architectural elements, holistic design, and inspiration. The winning student will supervise a crew of students in the building of the winning design in a Design Build Class offered at El Camino College.
All Presentations along with the Competition Application are due to the ECC Architecture Program by February 21, 2017.