Women In Technology
"Empowers Women for Economic Success"
Women in Technology (WIT) is an El Camino College program and a campus club that supports women pursuing non-traditional majors and careers.
We encourage women to view non-traditional employment from a practical,
hands-on interactive stance.
--------------------------------------------------------------
Girls & Women Technical Conference
Friday, March 15, 2013 from 8:00 a.m. - 2:00 p.m. at El Camino College
8:00 am - Registration & Keynote Presentation - East Dining Room
9:15 am - 10:45 am Workshop 1 (various Industry & Technology Departments)
11:00 am - 12:30 pm Workshop 2 (various Industry & Technology Departments)
12:30 pm - 2:00 pm Lunch, Resource & Job Fair, Raffle Prizes!!!
STUDENTS REGISTER (Registration is closed!  You may still show up but lunch is not guaranteed.
EMPLOYER / ORGANIZATION - Resource Fair Registration - HERE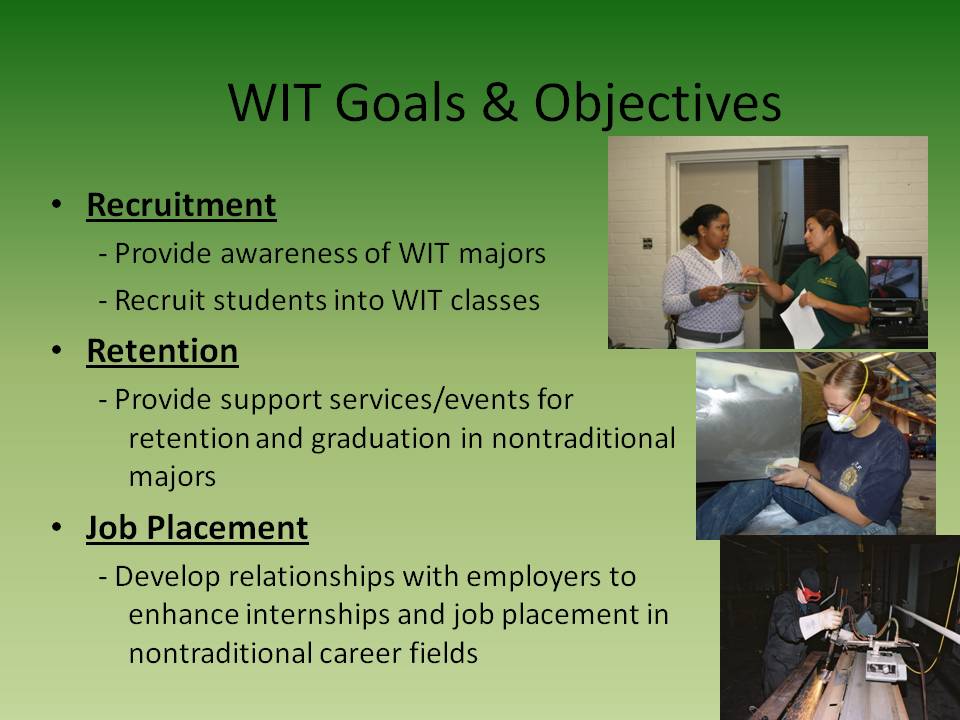 ---
Visit us at the WIT Center located in the Technical Arts Building, Room 104 B.
Contact Info:
Victoria Martinez
Program Coodinator
Women in Technology (WIT)
310-660-3593 ext 6780
vmartinez@elcamino.edu
---
Did you know...???
---
Check out this video about Women and Technology.
---
Please visit our Facebook page and click on 'LIKE' to get the latest information pertaining to the Women In Technology program at El Camino College.  You can also view photos of past WIT events and tours and even create a discussion board.
---
Calendar of Upcoming Events
Join us for WIT Wednesdays every Wednesday (except during special events or tours) in
Tech Arts 104 B from 1:00 - 3:00 p.m. Meet other members and join us for some camaraderie and support.
---
Programs/Majors Offered under the WIT Program
---
Resources & Related Links
 

Special Programs
 

Websites