Mathematics Placement Test
The El Camino College Mathematics Placement Test consists of three tests:
Arithmetic (17 Questions)
Multiplication, division, addition and subtraction of whole numbers, fractions, mixed numbers,decimals and percentages.
Estimation.
Recognizing equivalent fractions and decimals.
Problem-solving including measurement and rate.
Algebra (12 Questions)
Solving equations, inequalities and practical problems.
Operations with algebraic expressions and formulas.
Equations with integers and rational numbers.
College-Level Math (20 Questions)
Trigonometric, logarithmic and exponential functions.
Geometry: graphs, coordinates, slope, lines, cones and sets of points in the plane.
Systems of equations.
Series and sequences.
Complex numbers.
Simplifying and manipulating expressions with square roots and exponents.
Practical problems.
---
Before you take the Placement Test
Students who do some review and practice prior to taking the placement test often place one or two or even three levels higher, allowing them to skip one or more semesters of math. El Camino College students have access to an online program, My Math Test, which has practice tests and creates an individualized study program specifically for the ECC Math Placement Test.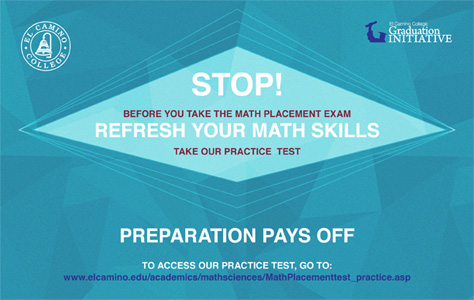 (click to above to download pdf)
Register:
To register for My Math Test, go to www.mymathtest.com and click Register under "New User". Please, read all the information and follow the instructions. You will need the following:
| | |
| --- | --- |
| Access Code: | WSSMMT-AUXIL-BLOOD-WANNA-BRUSH-GLEES |
| El Camino College's zip code: | 90506 |
Log In:
After you complete the registration you will log in. The first time you log in you need to enter a Program ID. Use the program ID from the list below corresponding to the first three letters of your last name:
Program ID's by your last name:
| | |
| --- | --- |
| Last names with AAA - CAR: | XL30-K1T6-801Y-8EV2 |
| Last names with CAS - FES: | |
| Last names with FET - HER: | |
| Last names with HES - LOO: | |
| Last names with LOP - MEI: | |
| Last names with MEJ - POV: | |
| Last names with POW - SOM: | |
| Last names with SON - ZZZ: | |
For more information please, contact the Mathematical Sciences Division Office, MBA 130.
---
Students are allowed to take the placement test two times. If you are not satisfied with your initial score, it is a good idea to review using My Math Test before you take the exam a second time.