OBTAINING INTERNATIONAL STUDENT ID CARDS
International Student Identity Card (For full-time students)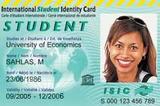 In most cases, this ID card is acceptable to receive discounts on museum admission, theater tickets, and local transportation. Some establishments may require that you have this International Student Identity Card (ASIC). If you are enrolled on a study-traveling program, or plan on doing extensive traveling on your own either before or after the program, this card is recommended. The following information is from the U.S. Department of State.
Students may obtain their ID's by visiting:
U.S. Department of State
Student Travel Agency
To Obtain an International Student ID Card (ISIC):
First check with the student travel office at your university. If there is not a student travel service on your campus, you can call:
1-800-226-8624 then press 3.
They can send you an application in the mail.
What You Will Need to Obtain an ISIC:
Current dated proof of your status as a full-time student. Some suggestions are a photocopied transcript or a letter from the registrar on school stationary.
An application. To obtain an application, call the number listed above.
A passport photo with your name printed in ink on the back.
Your birth date and nationality.
Fee of $22.00 plus postage (as of December 2002). Please confirm the mailing fees you prefer.
Note: A card cannot be purchased if you are not officially matriculated as a full-time student or if you are over 26 years of age. You can purchase a card if you have just graduated as long as it is acquired during the actual year of graduation.