3/23/17: Lot F Partial Closure Until June 2017
Please be advised: Starting Monday, March 27, 2017 the north third of Lot F, both upper and lower levels, will be closed until June. There will be no vehicle or pedestrian access to Lot F from Manhattan Beach Blvd. All access will be from Redondo Beach Blvd. The fire road adjacent to Construction Tech and baseball field will still have a walkway for pedestrians. See the map below for clarification.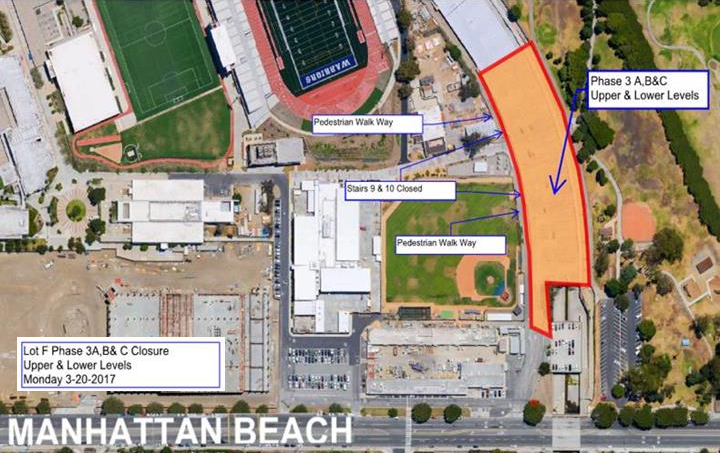 3/14/17: Bookstore Walkway Closure 3/15-3/26 2017
Please be advised: Lot C Parking Structure Project will be excavating and installing a new curb on the ramp of the Bookstore Walkway and Lot C Surface Parking. Contractors will be pouring concrete tomorrow, 3/14/17.  The walkway between the construction site and Bookstore will be closed beginning 3/15/17 and will reopen on 3/27/17. Please see the map below.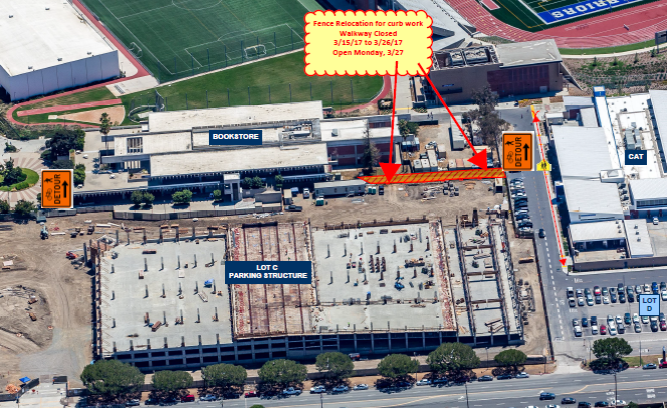 Please be advised that until further notice, the Lot F Parking Structure will be fenced off at gridline 68-78 for construction as shown in the image below. Both the northern and southern entrances to Lot F will be open, but there will be no through traffic on either the upper or lower levels. There will be limited parking on the northern end as shown in the image below.
UPDATE 3/20/17: The north and south sides of Lot F will remain open, however, no thru traffic will be available on either level. Additionally, stairs 9 & 10 will be closed off.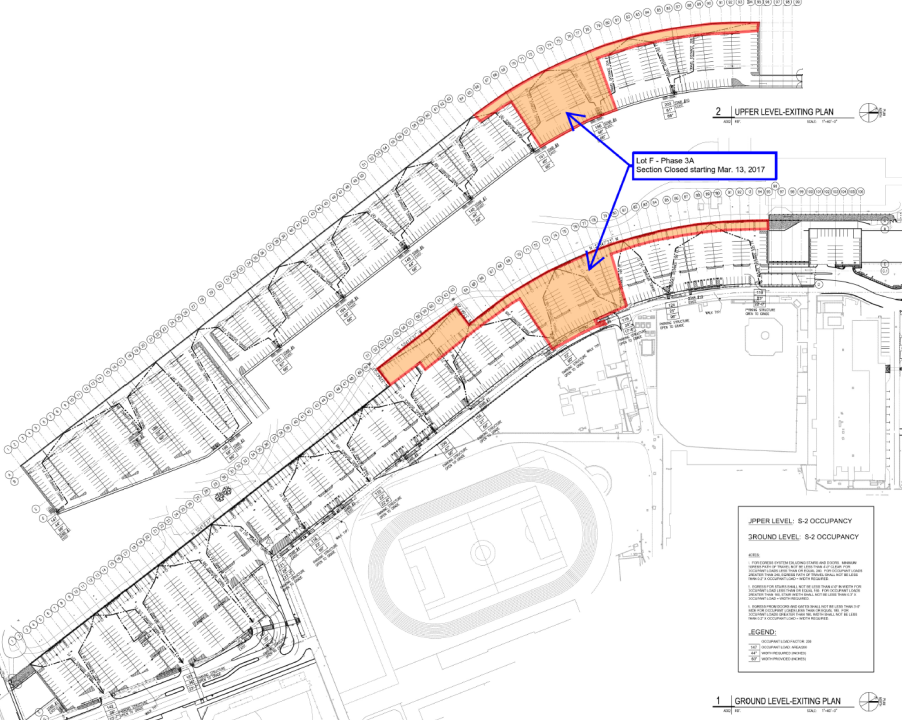 1/30/17: Lot D Road Closure Jan. 31 - Feb. 11
Beginning January 31, through February 11, the east driveway for Lot D will be for exiting only. The roadway between the Center for Applied Technology (CAT) building and Lot C construction area will continue to be one lane.
1/12/17: North Campus Construction
The map below shows the area that is closed from today through 5/7/18, for construction of the new Student Services Center building.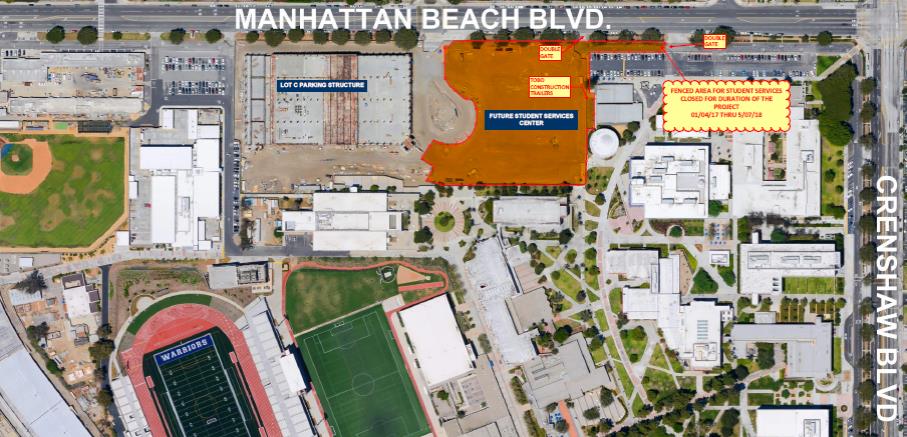 10/28/16: Detour and Walkway Notice
Please note, beginning August 10 a portion of the El Camino College perimeter road along Manhattan Beach Boulevard (between the Technical Arts Building and Lot B) will be closed, including walkways. All sections of Parking Lot C will also be closed.
The Lemoli Avenue/Manhattan Beach Boulevard entrance will be closed to all pedestrian and vehicular traffic. Pedestrian traffic will be directed around the construction area to the interior of campus. Please use caution near all construction sites.
Forty-minute visitor parking is available along the north side of the Receiving/Facilities Building. Disabled Person (DP) parking spaces have been moved to the west side of Lot B. Community Education is now located in the Manhattan Beach Boulevard Modules (MBBM).
The closure is part the next phase of campus construction, which will include a new parking structure and a new Student Services Center. Demolition begins in August and construction is scheduled to begin in early 2017. Improvements are supported by funds from both the 2002 and 2012 Measure E facilities bonds.
You are encouraged to arrive early and allow enough time to walk to your classes, meetings and other activities, particularly near the construction area and during peak periods of parking lot use. Thank you for your patience as we work to improve the El Camino College campus facilities.