On September 28, 2012 the Graduation initiative Project collaborated with the faculty association of CA community colleges and the First Year Experience Program to offer a Diversity Conference
Diversity Conference: Strategies for Change
The diversity focused at the conference included gender, race/ethnicity, culture, sexual orientation, and disabilities/abilities and related issues in the California Community Colleges. This informative one-day conference featured an exciting lineup of speakers and presentations that inspired, educated, and opened our minds and eyes to the many issues that faculty, students, and colleges are facing today.


Who Attended
Over 150 faculty members, administrators, counselors, librarians, and staff members attended the conference .


Workshops to Included
• Student Success Task Force: How Might it Negatively Impact Our Diverse Student Populations
• Battlin' to be Heard: A Freestyle on Hip Hop Composition Pedagogy
• Changing Campus Climate for LGBTQ Students and Staff
• Cultural Competencies in CTE Programs
• Responding to the Needs of Our Returning Veterans
• Can Intercultural Competence be Learned?
• Effectively Reaching Women of Color
Click here to download the event flyer (jpg format)
Speaker Panel - Fall 2011
The Graduation Initiative wants to thank all of the participants, staff, guest speakers, and of course you, for making our first event a huge success!
Students who attended got the chance to:
Meet inspirational speakers
Learned how to getting an associate degree can help you earn money
Received insight on career pathways
Had the opportunity to network with alumni
Slogan Competition
| | | |
| --- | --- | --- |
| In spring 2011, the Graduation Initiative Project announced a Slogan Competition where students were asked to help create a slogan to be used in the program's marketing campaign. An amazing 131 slogans were received from the online competition and Professor Andrea Micallef's Graphic Design Art students, including the winning slogan, Your Future Begins With You! submitted by Del Parvazi and Bee Park. | | |
| | Student slogan competition winners, Del Parvazi and Bee Park. | |
Your Future Begins With You!
Professor Micallef's graphic design students also held a class competition to create a poster to promote getting a degree. Students produced 73 professional posters, which were reviewed by a committee and one was selected to be used in the project's marketing efforts.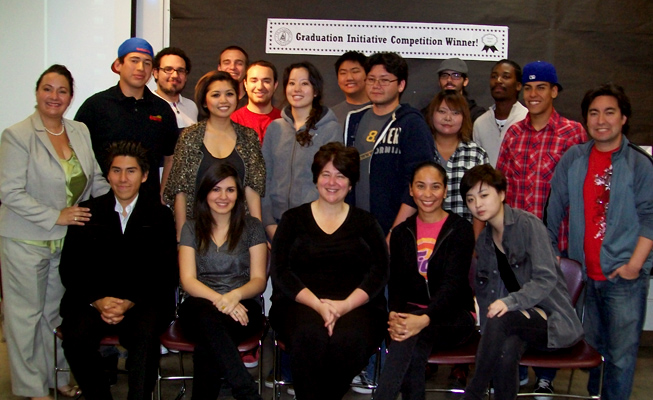 From left to right (top row): Graduation Initiative Director Idania Reyes, Christian Morales, Linley Regalado, Leanna Cortez, Dylan Cunningham, Socrates Torres, Cassandra Volonakis , Justin Chen, Jorge Mostacero, Kana Osozawa, Timothy Kloss, Kenneth Blackmon, Michael Cruz, Evan Yabu Bottom row: Oscar Armenta, Delaram Parvazi, Professor Andrea Micallef, Nancy Lopez, Bee Park
The poster winners are George Chen, Michael Cruz, and Jorge Mostacero. Congratulations guys!

From left to right: Graduation Initiative Director, Idania Reyes; student poster competition winners, Michael Cruz and Jorge Mostacero (not pictured George Chen).