Slogan Competition
This past spring, the Graduation Initiative Project announced a Slogan Competition where students were asked to help create a slogan to be used in the program's marketing campaign.

An amazing 131 slogans were received from the online competition and Professor Andrea Micallef's Graphic Design Art students, including the winning slogan, Your Future Begins With You! submitted by Del Parvazi and Bee Park.




Student slogan competition winners, Del Parvazi and Bee Park.
Your Future Begins With You!
Professor Micallef's graphic design students also held a class competition to create a poster to promote getting a degree. Students produced 73 professional posters, which were reviewed by a committee and one was selected to be used in the project's marketing efforts.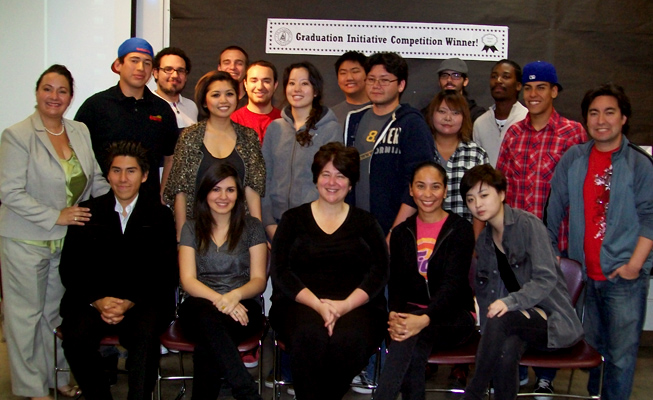 From left to right (top row): Graduation Initiative Director Idania Reyes, Christian Morales, Linley Regalado, Leanna Cortez, Dylan Cunningham, Socrates Torres, Cassandra Volonakis , Justin Chen, Jorge Mostacero, Kana Osozawa, Timothy Kloss, Kenneth Blackmon, Michael Cruz, Evan Yabu Bottom row: Oscar Armenta, Delaram Parvazi, Professor Andrea Micallef, Nancy Lopez, Bee Park


The poster winners are George Chen, Michael Cruz, and Jorge Mostacero. Congratulations guys!

From left to right: Graduation Initiative Director, Idania Reyes; student poster
competition winners, Michael Cruz and Jorge Mostacero (not pictured George Chen).