MICHAEL DAVIS / NO PLACE TO HIDE
Sculpture, drawing, installation, and digital media
October 6 - 30, 2014
Reception: Thursday, October 9, 7-9 p.m.
Artist's Lecture: Tuesday, October 14, 1 p.m.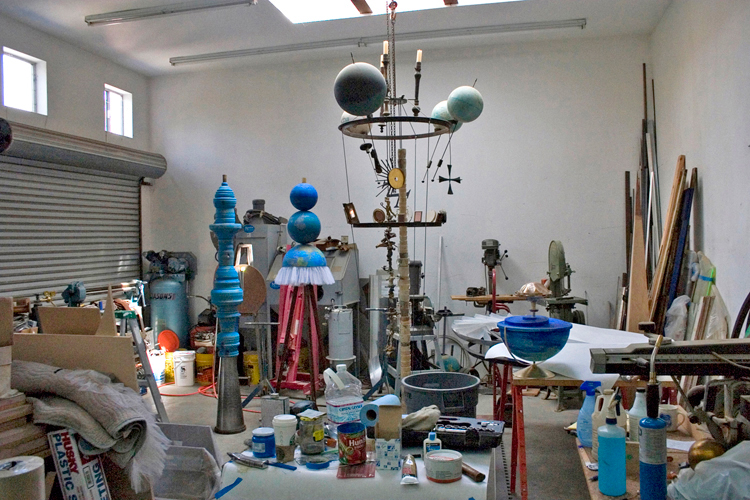 Native-born Los Angelino, Michael Davis came of age during the period of McCarthyism and the Cold War, when the witch-hunt for all perceived Communists was at its height and the United States lived in a precarious state balanced between the terrible threat of nuclear war and a slightly suffocating conventionality.  Public schools taught capitalist ideals and Christian ideology.  Children memorized the names of foreign countries and political leaders from both international and national domains while their teachers lectured on the capitalistic perspective of the horrors of "oppressed people" living in foreign countries under non-capitalistic governments.  School children were drilled to duck under their desks and cover their heads in anticipation of atomic bomb attack while their parents built bomb shelters in their backyards and stored food. The initials M.A.D. (mutually assured destruction) were coined in response to the genuine peril of global annihilation from nuclear explosion, and paranoia was the psychic condition of the era.   
                                                                                                                               
In the 1960's artist, Michael Davis began his formal art education and simultaneously developed his overall adult perspective towards the galloping expansionism of Western capitalism. His mounting discomfort with narrow attitudes espoused towards alternate social and political ways of life found a locus in his artwork.  Rapidly Davis came to a Minimalist esthetic and affinity with Minimalist theory that he equates with political consciousness:
   "Minimalism provoked us to rely on our own perception.  This applied to our conception of the relationship of an object to a particular space and greater still, how this perception was a springboard to ideas beyond the object and its immediate surrounding, and referred to the world at large.  Minimalism asked us to consider how we see, how we think and how we react.
   The symbology of the 1950's was embedded in my consciousness early on and remains relevant today.  Industrial refuse, the excess of cold war industry, is included in my art materials.  But I also look to science and astronomy, the infinitesimally small and infinitely large to seek connections that bind us together in spirit if not ideology."
This exhibition provides a glimpse at Michael Davis' stunning creative output from the 1980's - 2014.  No Place to Hide includes sculptural and two-dimensional works that range from quizzical to didactic and from philosophic to apocalyptic.  All bear the earmarks of precision, rigorous artistic scrutiny and elegance that are typical of Michael Davis.  El Camino College Art Gallery is proud to present an exhibition of the work of this outstanding artist.


(Image: Photograph of artist's studio.)
ECC FACULTY SHOW        
Works by Art Department and Photography Department Faculty        

November 17 - December 10
(Gallery closed November 27, Thanksgiving)
Reception: November 20, 5-8  p.m.
Faculty    Artists' Lecture: December 2 at 1 p.m.
BEAUTIFUL PLANET 
In reverence for nature
Elizabeth Bloom, Lorraine Bubar, Josh Cho, Daniel du Plessis, Renee Fox, Ellen Giamportone, Carol Goldmark, Betsy Lohrer Hall, Margaret Lazzari, Kenneth Ober, Christine Nguyen, Ann Page, Deborah Patterson, Anne Scheid, Laura Stickney, Jean Towgood, Victoria Veedell, Pat Warner, David Jordan Williams

January 20 - February 12
Reception: January 29, 7-9 p.m.            
Artists' Lecture:  February 3 at 1 p.m.  
CONVERSATIONS AND SOLILOQUIES
Paintings, prints, puppetry, drawings, sculpture, collage, and mixed media
Poli Marichal and  Marianne Sadowski with Los de Abajo Printmaking Collective including Kay Brown, Nguyen Ly, Don Newton

March 2 - April 2
(Gallery closed 3/16-3/19)
Reception: March 5, 7-9 p.m
Artists' Lecture: March 10 at 1
STUDENT SHOW  2015
April 20 - May 7

Reception and Art and Photography Department Open House: April 24, 5-8 p.m.