Athletic News
171 Student-Athletes Named Scholar-Ballers
TORRANCE, Calif. – A total of 171 student-athletes were named Academic Scholar-Ballers for the 2014-15 athletic season.
El Camino College is proud to be an active member of the Scholar-Baller organization. This organization is geared to create academic success through competition and reward. Student-athletes who excel in academics by achieving a 3.0 GPA or higher are honored. They represent the excellence that is a part of El Camino College Athletics.
In the fall, football led the way with 22 student-athletes being honored. Baseball led all sports in the spring with 14 selections.
View a full list of honorees here.
---
ECC Athletics Celebrates Historic Year
May 21, 2015
TORRANCE, Calif. - The El Camino College Athletics Department had one for the ages. Five teams won conference titles with several coaches and student-athletes earning top honors. Academically, 171 student-athletes were names Scholar-Ballers by earning at least a 3.0 GPA.
Sophomores Shontalene Trudeau (women's basketball) and Teddy Kassa (men's cross country and track and field) were named the ECC Student-Athletes of the Year. Trudeau was a second-team all-state selection and the South Coast Conference Co-Player of the Year. Kassa was the SCC Athlete of the Meet, winning two conference track titles and a Southern California track title.
It all started in the fall as women's volleyball won its fifth-straight conference title and 26th overall. They swept through the SCC with a perfect 14-0 record. Head coach Le Valley Pattison was named the SCC Coach of the Year for the 13th time. Sophomore Kim Haney was the SCC Most Valuable Player and a Second-Team AVCA All-American. They lost to eventual state champion Irvine Valley in the third round of playoffs.
Men's soccer was next to take a conference title. It was the first for the Warriors in the sport since 1991 and sixth overall. Head coach John Britton was the SCC Coach of the Year. They earned the No. 3 seed in the Southern California Regional Playoffs but were upset by Southwestern in the first round. They finished with an overall record of 9-2-10.
Women's basketball, led by Trudeau and SCC Coach of the Year Steve Shaw, won its second conference title in school history and first since 2005. They lost in the third round of playoffs to East LA. They won the SCC-South and earned the automatic berth into the playoffs.
In the spring, women's swimming won its fifth conference title and first since 2002, edging East LA, 605-568. The women finished ninth at the state meet setting many school records throughout the season. They were led by sophomore Martina Exlerova all season on the relay teams, freestyle and backstroke events.
Under first-year head coach Jessica Rapoza, the softball team had arguably its best season in school history. The Warriors won their second conference title and first since 1989. They advanced to the Super Regional finals before falling to No. 1 and state champion, Palomar. Rapoza was named the SCC Coach of the Year and the Southern California Coach of the Year. Sophomore Reina Trejo was the SCC Pitcher of the Year and to the all-state team along with sophomore Tori Garcia who was named an NFCA All-American.
The men's volleyball team was the state runner-up, falling to Santa Monica in the state championship. They finished second in the Western State Conference. Newcomers, sophomore Peter Nordel and freshmen Cesar Medina were named to the all-state team having huge impacts in their first year as Warriors.
Men's diver Shane Guerrero was named the SCC Diver of the Year and Jose Bahena was named the SCC Diving Coach of the Year. Guerrero won SCC titles on both the 1M and 3M and the Regional title on the 1M. At the state meet, he was fourth on the 1M and seventh on the 3M.
Kassa earned a third-place finish at the state track and field championships in the 3,000 steeplechase and placed fourth in the 10,000. Several of his teammates had top finishes at state, with Daniel York-Mouton placing second in the 400. Chris Graham took fourth in the 110 hurdles. The women's 1600 relay placed second, Haley Heinemann was third in the 3,000 steeplechase and Sara Curren was fourth in the pole vault. Assistant coach Kevin Hughley was named the SCC Assistant Coach of the Year.
The men's and women's tennis teams sent 10 student-athletes to the state tournament. Sophomore Rose Sgolsutyatorn, who fought injuries all season, finished strong, advancing to the Round of 16 in singles.
Three men's golfers qualified for the Regional tournament: Michael Ozawa, Cody Nakazaki and Kevin Oshiro by finishing as top individuals at the PCAC Championships.
The CCCAA sponsored women's sand volleyball for the first time in the spring of 2015. The Warriors, led by Pattison and mostly made up of the indoor team, placed second in the Orange Empire Conference – Kerry Walsh Jennings Division. Brooke Russell and Nickeisha Williams advanced to the state individual championships and fell to the championship team from IVC in the semifinals.
Several student-athletes have already committed to a four-year college for the Fall of 2015 to continue their academics and/or athletic careers. While some are still deciding, several sports have athletes already on campuses. Tanner Blain (San Diego State) and Joe Anderson (Ohio University) from the football team started the spring semester and their respective schools.
Other football players that have committed: Ralph Harvey Jr. (Houston), Raphael Lawson-Gayle (SW Minnesota State), Marcus Manelepa (Hawai'i), Davion Shelton (SW Minnesota State) and Andre Taylor (Montana Tech).
Women's volleyball players Darlene Lee and SukeKalena Tafoa have both committed to Cal State East Bay.
Casey Wood from men's volleyball is heading to Missouri Valley College.
See a full list of where all the student-athletes have currently committed: http://www.elcamino.edu/athletics/warriorsonthemove.asp.
Scholar-Baller List: http://www.elcamino.edu/athletics/scholar-baller.asp
---
ECC Hall Of Famer Al Greenleaf Passes Away
TORRANCE, Calif. – Al Greenleaf passed away on Sunday, March 1 at the age of 88. Greenleaf served in several roles at El Camino College from 1957-1998.
He was inducted into the ECC Hall of Fame individually in 2000 and in 2014 as a part of the 1963 state championship golf team as the head coach.
Greenleaf coached the men's golf team starting in 1957. He took over as athletic director in the 1970's and then finished his career as the head golf coach in his second stint.
Greenleaf was instrumental in starting ECC's annual fundraising golf tournament which is in its 28th year. He was involved with the tournament up until he retired.
Friends, faculty, staff, students and the community will remember him as a mentor, a professional and a valued member of the ECC community.
---
ECC Inducts Eight Individuals/One Team 
May 2, 2014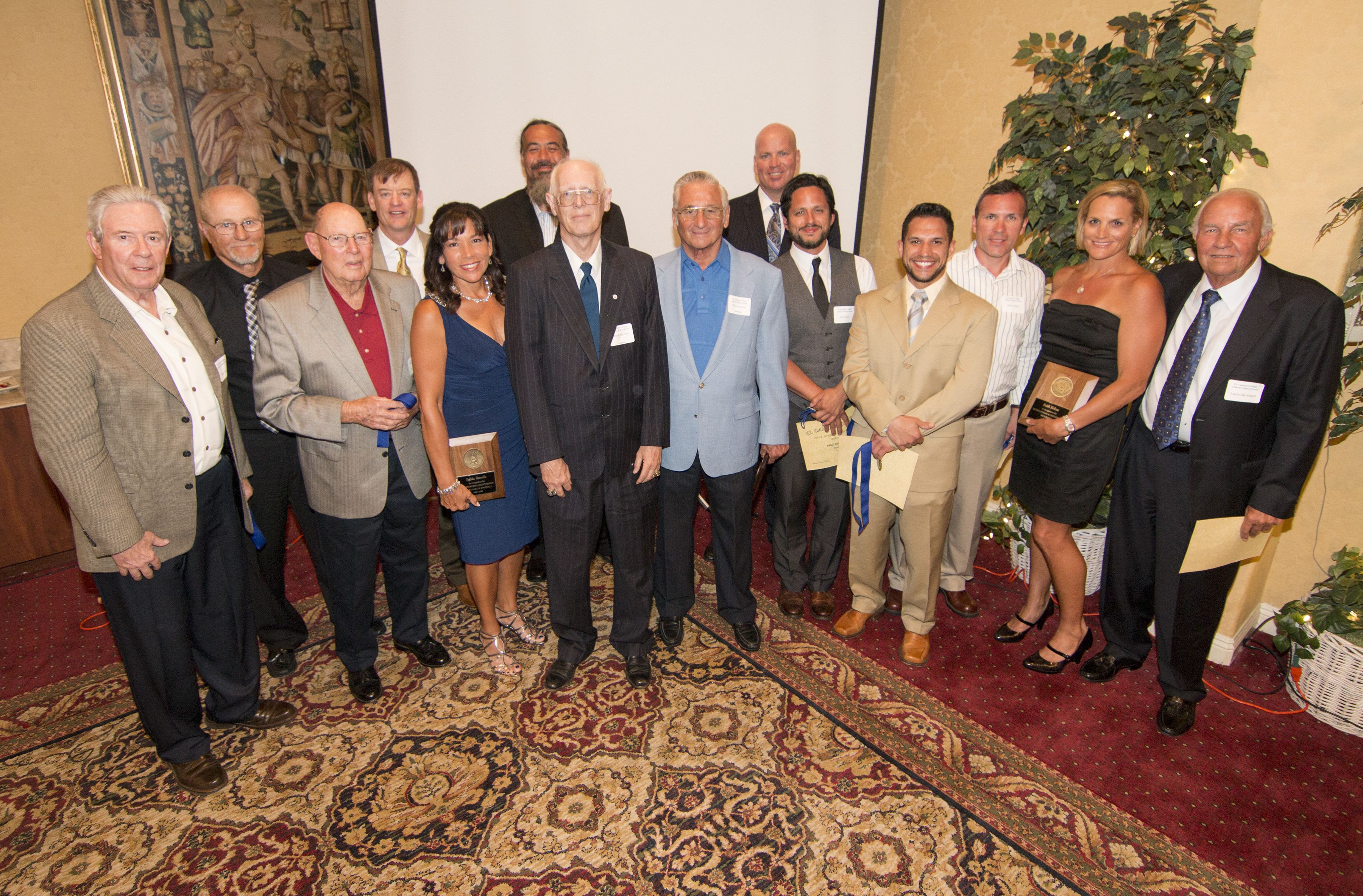 El Camino College inducted eight individuals and one team into the Athletic Hall of Fame on Friday night at the Ayres Hotel in Hawthorne, Calif. Complete bios of all inductees are below.
Nick Carr - Cross Country/Track - 1978-1981
In his first track season, Nick Carr won the Bakersfield Invitational 1500-meter race; placed second in the Southern California Championships 1500-meter final; ran a leg on the school-record 4 x 800-meter relay (a record which still stands today); and ended the season among the state leaders. The next year, Nick went on to win the Southern California Championship 1500-meter Title and set an ECC record of 3:49.08, which stood for 30 years. Additionally, he ran the mile anchor leg of the current school-record 9:56.7 distance medley relay team.
Nick's athletic and academic achievements earned him a scholarship to the University of Colorado, Boulder where he was a member of two Big 8 championship cross country teams; won the 1500-meter at the 1982 Kansas and Drake Relays; won the University of Colorado relays mile and 5,000 meters in 1982 and 1983; and came within seconds of breaking the four-minute mile barrier.
Nick continued to compete at the national level after college and still officiates track & field meets in Northern California where he has worked for more than 15 years as director of the fitness center, as well as an associate professor of exercise sciences at Cañada College in the San Mateo Community College District.
Sylvia Gurrola - Volleyball/Softball - 1980-1982
Sylvia Gurrola led her El Camino College teammates to not one, but two state titles: one in volleyball, and the other in softball in 1981 and 1982. Her athletic honors include being a member of the 1980 and 1981 conference championship teams, receiving the Honorable Mention Award in 1980, and being a force on the 1981 state championship team, the first ever in El Camino College history. That year, she was honored by making First-Team All-Conference. She was also named the Metro Conference's Most Valuable Player of the League, the all-state first-team, and El Camino College's Athlete of the Year.
Beginning with spring 1981, Sylvia competed in softball for two seasons. She was a pitcher and once again led a new group of athletes to become conference champions in l982 and was selected to the all-conference first-team, named the Metro Conference's Most Valuable Player of the League, made the All Star Team, and once again was named the Athlete of the Year at El Camino College.
Sylvia received a full athletic scholarship to United States International University in San Diego for volleyball. She was the El Camino College women's assistant volleyball coach for two years. Eventually, she took on a head coaching position at Leuzinger High School, where she coached both the boys and girls varsity volleyball teams for three years. She is a first-class athlete and coach who has a winning attitude toward life.
Dennis Hansen - Cross Country/Track - 1960-1961
Dennis Hansen was recruited by Coach Ray Southstone to run track and cross country at El Camino College from Torrance High School where he had just broken the venerable Louis Zamperini's long-standing Torrance High mile record. In his one year of both sports, Dennis excelled and helped the cross country team to a successful season, while also setting the school record in the mile of 4:23.2 and earning the "Blanket Award" for both sports. Even more impressive though, was his earning the Outstanding Runner Award, the Outstanding Performance Award; and ultimately, the Athlete of the Year Award for all sports. At that time, he was the first athlete in El Camino College's history to win both the Outstanding Performance and Athlete of the Year awards in the same year.
Dennis was hired straight from El Camino College by the Torrance Fire Department where he continued with a long, successful career, most recently as an operations specialist. He currently resides in Whittier with his wife Susan.
Tike Karavas - Basketball - 1956-1959
Tike Karavas came to El Camino College from Redondo Union High School where he played basketball and baseball. He spent two seasons at ECC, from 1956-57 and 1958-59, playing basketball under Coach George Stanich. He earned the All-Metro honorable mention honors as a forward in 1958-59. He shot 40 percent from the field, 67 percent at the free throw line, and averaged 13 points per game for the season, with 36 assists.
After El Camino College, the Redondo Beach native went on to play at Pasadena Nazarene College and coached at the junior high level for five years. In 1963, Tike led the summer Amateur Athletic Union (AAU) league in scoring at Bell Gardens. One night he scored 43 points and was offered a contract to travel with the Harlem Globetrotters to play on the opposing team. Tike traveled the world with the Harlem Globetrotters for seven years, where he also was an advocate for other South Bay players to come on tour, such as Harry Dinnel, Bob Combs, Bobby Garcia, Dan Kerberg and his brother Dan Karavas. Tike credits Coach Stanich for his successful career, "without Coach Stanich's guidance and encouragement, my athletic career would not have been the same."
Heidi Nelson - Swimming - 1999
Heidi Nelson swam at El Camino College in 1999. She already had a degree from UC Santa Barbara after transferring there from Northwestern University. Deciding to return to school to pursue a nursing degree brought her to the pool and a return to collegiate swimming. She had only used one year of eligibility at Northwestern. Heidi stayed involved with aquatics via masters swimming to stay in shape for her LA County Beach Lifeguard job and ocean competition. At the grand old age of 28 she decided that one more year of competition would be fun since she was going to school full time again.
Heidi stepped up her training and ended up with fantastic results. She broke two national records, three state records, three conference records, and eight school records. Best part of all was the lifetime best in the 100-meter butterfly, which was her signature event. She was selected the high point winner at the state championships and never lost a race all season. Heidi was very encouraging to all the members of her team. She turned her education into a career in nursing and continues to give back to swimming by helping to coach the Mira Costa High School swim team for the last several years. Heidi is an outstanding representative of the sport of swimming.
Scott Provin - Football - 1983-1984
Scott Provin came to El Camino College from West Torrance High School where he participated in both football and volleyball. He was a two-year starter at offensive tackle for the Warriors, where he earned All Conference, All State, and All American honors. Scott remains one of the finest offensive linemen to ever play for the El Camino College Warriors.
Scott received a full scholarship to the University of Miami where he played in two national championship games, winning in 1987. Scott earned Metro Conference Honorable Mention honors in 1983. He had the opportunity to block for Heisman Trophy winning quarterback Vinnie Testaverde, and visit the White House to meet then-President Ronald Reagan. As a senior, Scott received the Toyota National Leadership Award presented to the scholar-athlete who excelled in leadership, citizenship, and athletic performance. He currently lives in Fort Lauderdale with his wife Cindy and two sons.
Chuck Shaffer - Meritorious Award - Football
Chuck Shaffer has been the game ball manager for the El Camino College football team for the past 34 seasons. He has faithfully devoted countless hours to helping support the success of the Warrior Football program. Chuck's longevity is truly remarkable as he has served through the coaching reigns of three different head coaches and in the entire time Chuck has not missed a single game!
Prior to El Camino College, Chuck served in the same capacity with both Beverly Hills High School and El Segundo High School. Besides football, he would also serve with each school's basketball and baseball programs. He continues to do double duty at both El Camino College and El Segundo High School to this day. In 2002 Chuck was honored by being named the Grand Marshall of the El Segundo Homecoming Parade.
As game ball manager, one of Chuck's responsibilities has been to supervise the young ball boys who work the games. He is responsible to not only keep them on task but also make sure they are safe on the sidelines. Under his tutelage, these boys have grown into young men who have a deep appreciation and respect for the game. For 34 years Chuck has rendered amazing service to these boys, the players, coaches, and equipment attendants at El Camino College.
Kenny Talanoa - Football - 1991-1992
Kenny Talanoa was a three-sport athlete at El Segundo High School, excelling in baseball, basketball and football. He received All-Star recognition in all three. He received a football scholarship to the University of Hawaii but after a red shirt year he returned home to help support his family and play for the Warriors. In his two years at El Camino College, Kenny developed into one of the fiercest and most dominating defensive linemen in the country. His fourth quarter hit on Long Beach's quarterback in 1992 remains one of the most memorable hits in Warrior football history.
Kenny received a scholarship to Arizona State University where he started for the Sun Devils in 1993 and 1994. After his collegiate playing days, Kenny moved on to professional football, playing three seasons in the NFL with the Redskins and Broncos and then nine years in the Arena Football League. Kenny is currently serving as an assistant coach for the Warriors where he is coaching the defensive line. In his several years of coaching he has produced numerous All Conference players and many have received Division I scholarships.
1963 State Championship Golf Team
The El Camino College 1963 Golf Team was the first athletic team to win a state championship in the history of El Camino College. The state tournament was held at Torrey Pines Golf Course in San Diego. The one-day tournament consisted of 36 holes over both the north and south courses. The El Camino College Golf Team upset San Mateo, who had won the state championship the previous four years. El Camino College's final standing was 780, with San Mateo at 781. They avoided a playoff round when San Mateo missed a chip on the 36th hole.
Prior to 1963, golf teams consisted of five players counting the four best scores. In 1963 rules were changed and all five scores counted. The following year a sixth player was added and we have what comprises a golf team today: six players with all six scores counting. The 1963 team finished the season with a record of 20 wins and 0 losses, in addition to winning the Metropolitan Conference.
1963 El Camino College Golf Team
Al Greenleaf, Coach
Dennis Drury
Ken Ghirardi
Steve Hallberg
Dave Scott
Larry Sprengel
Steve Strom
Dan Titus
Les Warr
---