WELCOME TO COMMUNITY EDUCATION
Office Location:  MBBM 131 (Manhattan Beach Blvd. Module #131), listed as CADV on the campus map.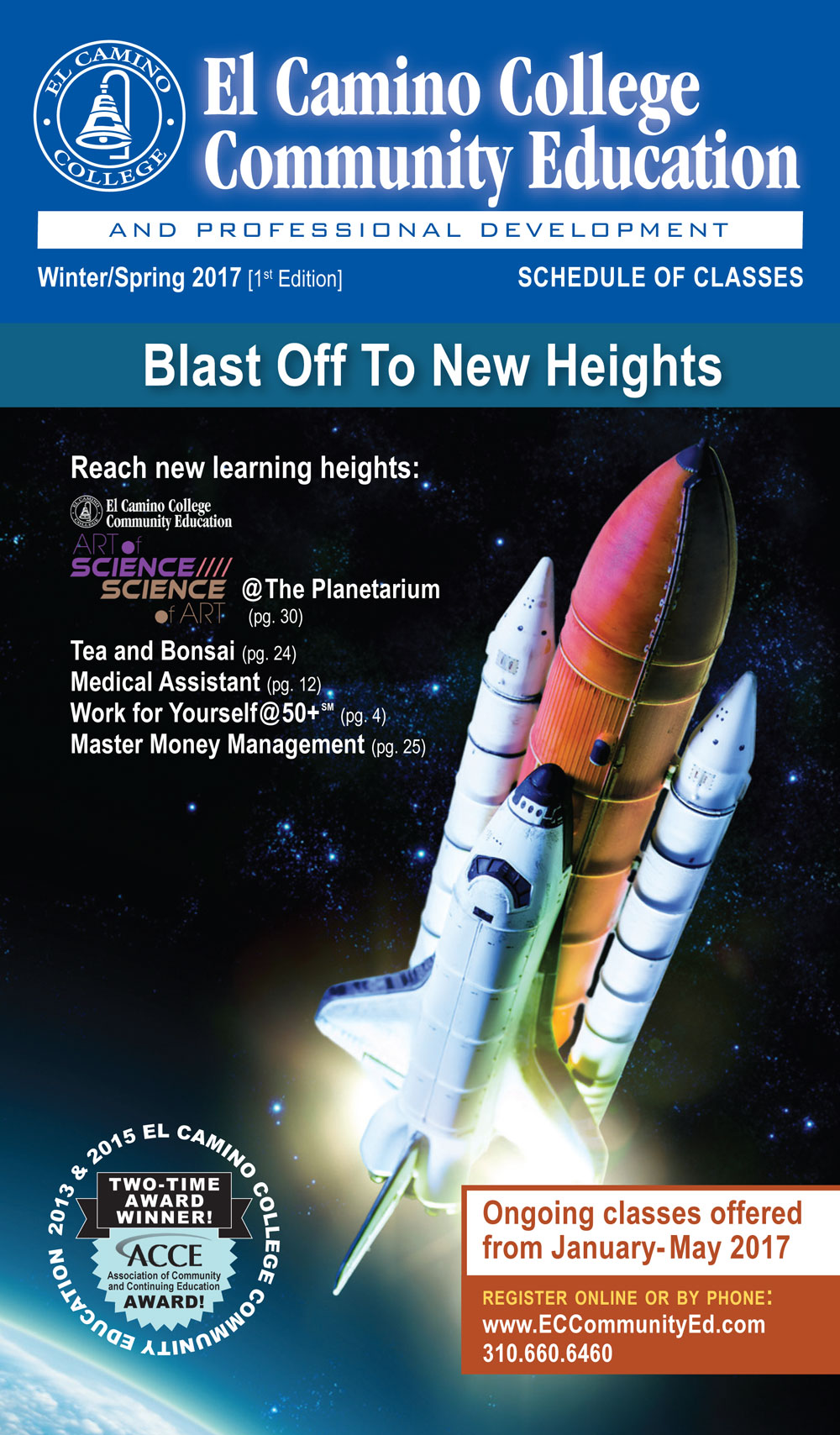 CLOSED FOR THE HOLIDAYS:  Please be advised that the Community Education offices will close at 1:15pm on Friday, December 16th and remain closed for the winter holidays , reopening at 8:30am on Monday, January 9th, 2017.  
While we're closed for the holidays, you can still register on online!  www.ECCommunityEd.com
Mission Statement:  The El Camino College Community Education department provides fee-based, short-term, not-for-credit classes, workshops, career-training programs and events for professional and/or personal development with an emphasis on inspiring a sense of wonder and imagination for lifelong learning.
Overarching Outcomes: The desired overarching outcome(s) of the Community Education department is to provide high-quality, engaging, community-driven and market-driven classes, workshops, and events that are responsive to the recreational and vocational needs of our diverse demographic of students while maintaining high levels of student-satisfaction ratings.
Not-for-Credit Classes, Workshops, Career-Training Programs and Events: College credit is not given for classes conducted by the Community Education department.  There are no transcripts or grades.  Community Education is a self-supporting entity of the college and is not funded by taxpayer dollars. 
Service Area Outcome (SAO): After attending an El Camino College Community Education class, students will be able to use the information received from the class for personal or professional development.
We are here to help!  If you have a special interest or a particular need for a class, please send us your suggestion(s) to commed@elcamino.edu.  Visit our registration website for class listings and to enroll:  www.eccommunityed.com
For more information or to register for a Community Education class or event:
 310-660-6460
For a complete list of the Winter/Spring 2017 Community Education offerings, including the schedule and a registration form: