Women's History Month 2017
"Honoring Trailblazing Women in Labor and Business"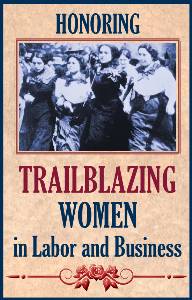 March is Women's History Month!
A variety of activities are planned at El Camino College to celebrate Women's History Month throughout March. All are welcome to attend!
The 2017 theme honors women who have successfully challenged the role of women in both business and the paid labor force.  Women have always worked, but often their work has been undervalued and underpaid. 
Women's Wellness Resource Fair
Wednesday, March 8, 2017
12:00pm-2:00pm
Library Lawn
(Film & Discussion)
Hosted by Sue Dowden & Stacey Allen
Tuesday, March 14, 2017
1:00pm-2:00pm
Decathlon Room
Thursday, March 23, 2017
12:00pm-2:00pm
East Dining Room
Ticket: $20.00
Hosted by Professor: Priscilla "Priscy" Ratcliff
Saturday, March 25, 2017
12:00pm-3:00pm
ITEC Building, First Floor

 
El Camino College Women's History Month Links