Congratulations to the 2012 El Camino College
"Women of Distinction"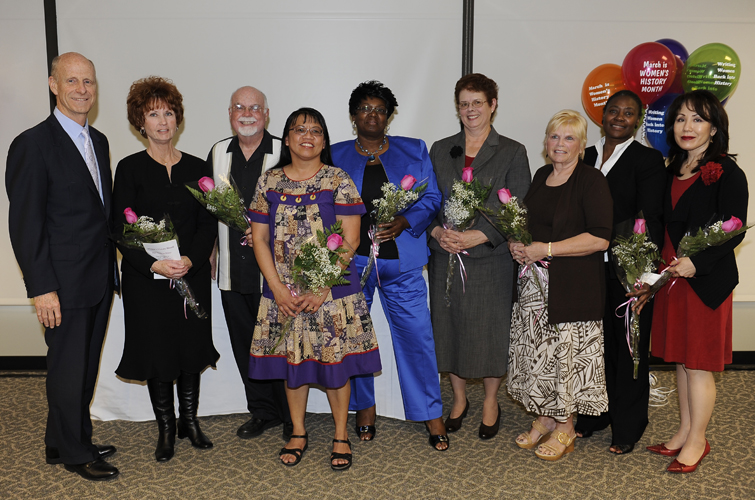 Eight exceptional community leaders were honored at the 2012 El Camino College Women of Distinction Ceremony.
All eight of these "Women of Distinction" were recognized for their dedicated service and contributions to the community.
Nominated by friends, family, and colleagues, award winners were selected by the ECC Women's History Month Committee, based on service in one or more of the following areas: professional accomplishments; leadership and/or mentorship; and social, educational, or health services. All honorees live or work within the El Camino Community College District.
The accomplishments of these award winners will be featured on the El Camino College
Women's Wall of Fame (in the Schauerman Library) throughout the year and their names will be engraved on a plaque that is a permanent part of the display.
"Women of Distinction" 2012
Heidi Ann Ashcraft is a longtime South Bay resident who continues to dedicate many hours of volunteer service to the community. She has served on the board of managers of the Torrance South Bay YMCA since 1999 and served as the first female chair from 2007-2010. Ashcraft recently served on the El Camino College Boundary Review Committee and continues to serve her community in both elected and appointed positions. She also serves as chief financial officer of Ashcraft Design, her family's award-winning product design company in El Segundo. As a volunteer for Court Appointed Special Advocates, she has provided mentoring and support to a number of young people.
Janice Ball taught academic strategies courses and tutor training at El Camino College for 21 years. She created a customized course in test-taking strategies for students in ECC's nursing program (many of whom she was pleased to later see working as nurses at Torrance Memorial Medical Center) and established free breast cancer awareness mammogram screenings at ECC for low-income women. Her career was dedicated to helping students and reflected a lifelong commitment to developmental education. She remained mentally and spiritually steadfast and was an inspiration to her colleagues, even as she courageously fought cancer for many years. She passed away on January 31, 2012.
Arlene Bautista has worked for EI Camino College for more than 26 years, most recently serving as the administrative assistant to the ECC Chief of Police. She is also a member and counselor for a women's auxiliary in her church called the Relief Society, which services church members and the community at large. Bautista has worked as an adviser to a group of girls ages 8-11 in her church's children's auxiliary program, instructing them in social, mental, physical, and creative skills. She also works as an advisor to teenage girls ages 12-17, teaching them leadership skills and the importance of community service.
Ora Bryant is a supervisor in the Facilities Planning & Services Department at EI Camino College. Her consistent dedication to the college, students, faculty, and staff is seen in all aspects of her work, especially in her role with the partnership with ECC Compton Center, helping to incorporate procedures and protocols. In the community, Bryant is a minister at Christian Unity Missionary Baptist Church in Inglewood, where she devotes many hours to teaching children and encouraging young people. She also volunteers to collect used clothing and furniture, gathering it from those who no longer need it and delivering it to those in need.
In her position as purchasing assistant lead at El Camino College, Linda Mobley consistently displays professionalism and provides professional growth to her peers by training her co-workers on how to use the Datatel system. During her 18 years at ECC, Linda's handling of college business has been consistently marked with efficiency that embodies respect and integrity. She also serves her community through volunteer work at her church, Christ Centered A.R.M.E.D. Ministries, where she is a Sunday school teacher for children 3-7 years old. Additionally, she is the assistant director of Youth Empowered to Succeed, a youth ministry at her church, and also actively works with the Chosen Women ministry at her church.
Jeanie Nishime is the vice president of student & community advancement at EI Camino College. Her career in the California Community Colleges system spans more than 30 years, starting at Fullerton College as the EOPS peer counseling coordinator. She later became an EOPS counselor and matriculation coordinator and went on to serve as the dean of counseling at Riverside City College and Pasadena City College. Nishime is involved in various professional organizations and currently serves on the board of the Association of California Community College Administrators (ACCCA), which named her Volunteer of the Year in 2009. She was also recently elected to the EI Segundo Unified School District board.
Jane Smolens is a registered nurse who has created and facilitated bereavement classes for teens throughout the South Bay. Since 1995, she has volunteered to help teens deal with the loss of a parent, grandparent, sibling, other family member, or friend. Smolens generously volunteers to conduct sessions for Trinity Hospice (Gathering Place at Beach Cities Health District), several local high schools, and is called upon for crisis intervention. She has been diagnosed with neuropathy, a painful nerve disease, and started a chronic pain support group in Palos Verdes. Despite periods of intense pain, nothing keeps her from helping the teens who need her; she never misses a class.
Sue Ellen Warren has been an adjunct instructor of nutrition at El Camino College since 1987, and also teaches at Concordia University, National University, and ECC Compton Center. Warren served as a support provider for BTSA (Beginning Teacher Support and Assessment) through the Orange County Department of Education and Concordia University. In the community, her volunteer activities include serving as a Missionettes coordinator, Sunday school teacher, member of the School Age Child Care Advisory Committee at Long Beach City College, director of Royal Family Kid's Camp, a board member of the Chris Bagley Crisis Prevention Foundation, and as a vestry member at All Saints' Anglican Church, Long Beach.