Richard Mascolo, Ph.D.
Professor of Psychology, El Camino College
Tuesday, June 20, 2017
Both 4204 & 4206 are up and running on Canvas. There are links to both the Course Syllabus and Course Schedule below. The Course Syllabus includes links to the Canvas and REVEL websites for each section.

The textbook is Pinel Biopsychology 10th edition. I'm also going to take advantage of the publisher's new website REVEL. The Bookstore lists 2 options for purchase: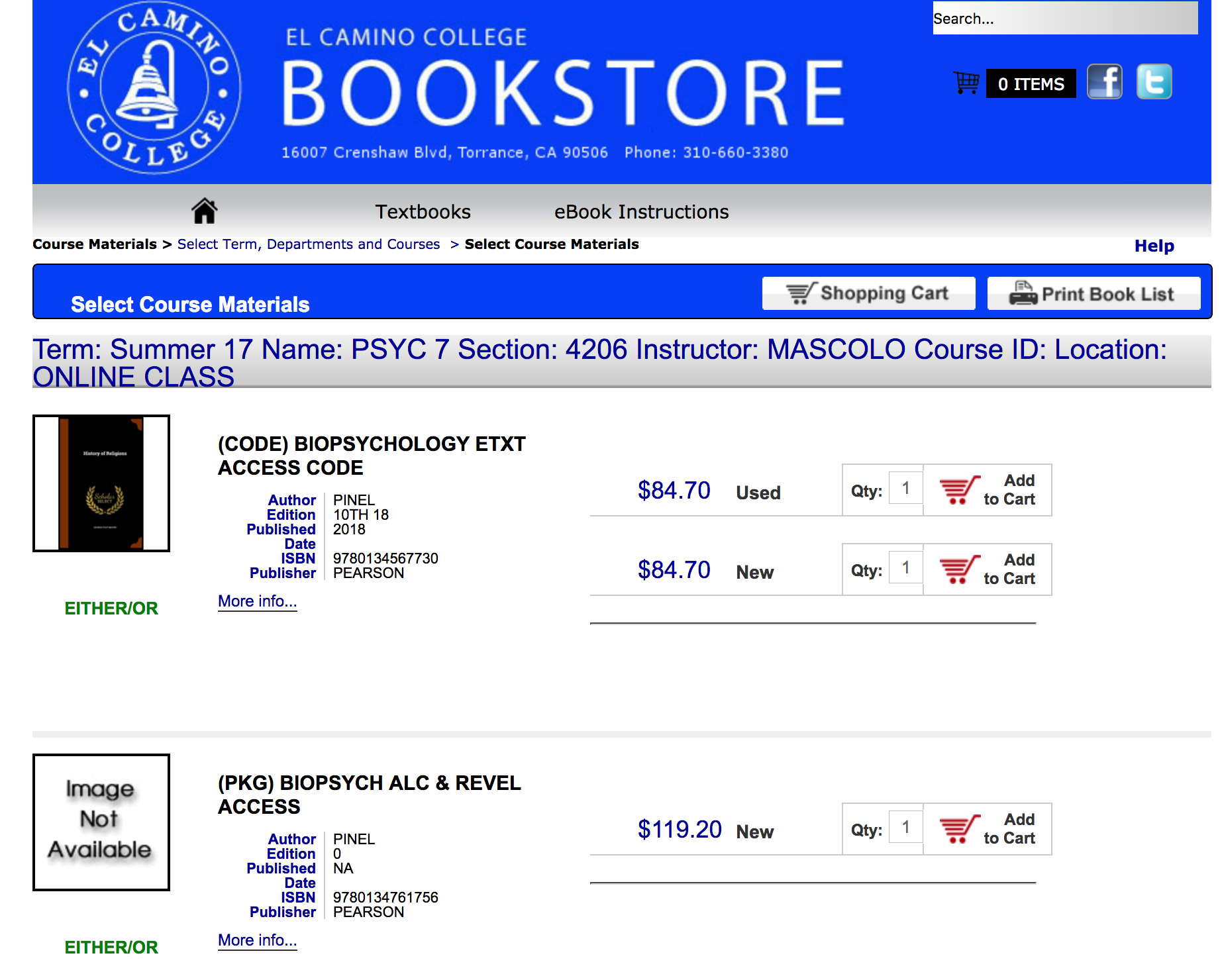 The top option includes an access code to the Revel website for your specific section, and the website includes an eText version of the 10th edition. The bottom option includes all the above as well as a loose-leaf hardcopy of the 10th edition.
I strongly urge you to head over to the ECC Distance Ed Website and study all the helpful materials for DE students:
http://www.elcamino.edu/library/distance-ed/index.asp

Richard Mascolo
Course Materials
Summer 2017

Psych7OnlineSu17CourseSyllabus

Psych7OnlineSu17CourseSchedule
Psych7MascoloCourseNotes -- Downloadable from Canvas

Fall 2017
Psych15MascoloCourseNotes: (Inactivated 'til Fall)

Major Perspectives in Abnormal Psychology
Mental Status Exam
ChangestoDSM
DSM5Overview
MascoloNotes(Anxiety/OCD/PTSD/Dep/Bipolar)
MascoloNotes(Schizophrenia/PsychoticDisorders)
MascoloNotes(Personality/ChildhoodDisorders)
MascoloNotes(NeurocognitiveDisorders)
Psych9ANotes
Spring 2018
Psych9BReadings: (Inactivated 'til Spring)

Lilienfeld (2010)
CozbyCh4Slides
MascoloDoc
Wilkinson & TFSI (1999)
Anthony (2004)
Last Published 7/12/17