Alumni
Distinguished Alumni Awards
The El Camino College Foundation is pleased to announce the revitalization of the Distinguished Alumni program. Our alumni represent outstanding professionals who have achieved great success in their careers, and in their lives. We want to recognize those individuals and acknowledge the foundation El Camino College provided for them as they embarked upon their educational path.
We are proud to announce the 2012 Distinguished Alumni Awards honorees:

Col. Edward Michael "Mike" Fincke, NASA Astronaut
Michael Lacey, business owner, Comedy & Magic Club
Anita McLaughlin, artist/art director
Candace Messer, business owner
Chris Montez, singer/songwriter
The 2012 Distinguished Alumni Awards event is scheduled for 6:30 p.m. October 20 in the college's East Dining Room.
Nominations for induction into the Distinguished Alumni of El Camino College are accepted throughout the year.  An active solicitation of names occurs for two months during the spring.  Anyone who wishes to nominate a former student for this award may do so by completing a nomination form.  Please include any available background information such as resume, newspaper or magazine clippings, etc.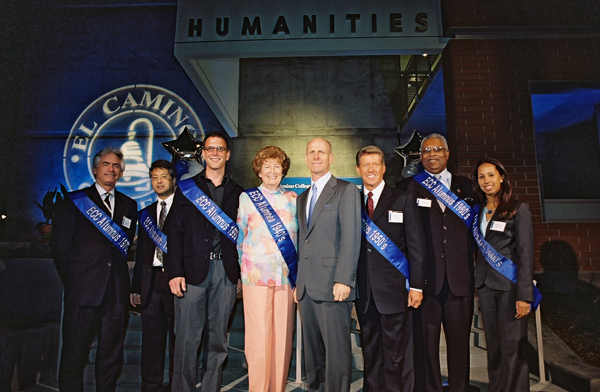 At the opening of the new Humanities Building, Alumni represented seven decades of El Camino College students.

Phone: (310) 660-3683
kgleason@elcamino.edu