Reading Success Center
Library
East Basement E36
View Campus Map
Hours
Mon: 9 a.m. - 3 p.m.
Tues: 9 a.m. - 5 p.m.
Wed: 9 a.m. - 3 p.m.
Thur: 9 a.m. - 3 p.m.
Contact Information
Sarah Leinen
Reading Success Center
Coordinator
(310) 660-3593 x6729
sleinen@elcamino.edu
Reading Success Center
Welcome to the Reading Success Center Website! The Reading Success Center is a new reading resource center designed to support all ECC students with their reading course load. Our trained specialists will work with students individually to help them become better readers. Students will learn reading strategies that will not only help in classes right now, but throughout all academic endeavors and beyond.
The Reading Success Center is partially based on the Chaffey College model of Success Centers. The Center resembles the classroom environment and expectations, and students who participate are significantly more likely to succeed in the their courses. The focus is more on experiences, designed by the Humanities Learning Teams, that create an extension of the classroom.
There is no need to schedule an appointment to utilize the Reading Success Center. Simply drop in and take advantage of everything the Reading Success Center offers. Instructors and tutors are available to help students on a walk-in basis. For help with a specific class, bring a textbook or novel, supporting articles/notes, and course syllabus. Also, don't forget student ID.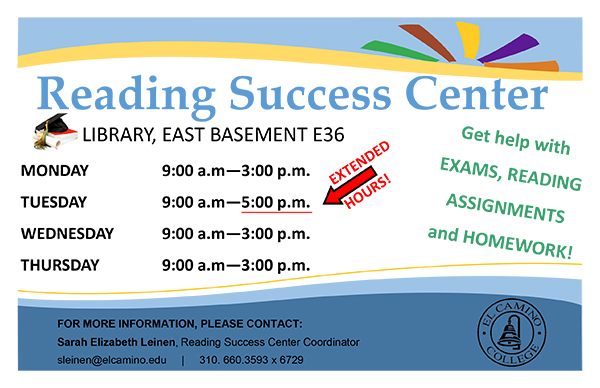 Reading Success Center Workshops
Space is limited! You must sign-up ahead of time in the Reading Success Center for the workshop(s) you wish to attend. Please, provide your student ID card. 
Reading Success Center Resources
The Reading Success Center is making the most requested forms available online for students and faculty members. All forms are presented in the PDF format and may require additional software on your computer to view. Some forms are also PDF forms so you can fill them out easily on your computer without the need to print them out. You can visit our new resource page by clicking the link below:
Reading Success Center Resources
It Is Never Too Late To Become a Great Reader


Need help with a reading assignment?

 

Assistance Available at the RSC

Understanding!

Understand what is on the page so you can talk about it, write about it, remember it… and ace the exam.

Develop a lifelong love of reading.

"No entertainment is so cheap as reading, nor any pleasure so lasting."
                                     - Lady Mary Wortley Montagu (1689-1762)

Build your vocabulary! 

Learn how to grasp word meaning from contextual clues (clues in the reading). Then, use your new word knowledge to figure out what the reading is all about.

Finally "GET IT" – the first time.

Read FASTER

It will lighten your workload.

"I took a speed reading course and read 'War and Peace' in 20 minutes.
It involves Russia."

                                                                        - Woody Allen

 Mark Up Your Books!

Learn how to annotate all of your reading assignments so when it comes time to study for finals or produce a final paper… your work is half done.

"Reading furnishes the mind only with materials of knowledge; it is Thinking that makes what we read ours.                                                                                                   - John Locke (1632-1704)