Black History Month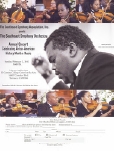 Everyone is invited to join the collegewide celebration of Black History Month, with a variety of events planned throughout February. Be sure to visit the exhibit at the Schauerman Library titled, "Let Freedom Ring," created by ECC history professor Maria Brown. The exhibit runs through February. Other events include a presentation by Francis Awe & the Nigerian Talking Drum Ensemble from 1:00-2:00 p.m. February 21 at the Student Activities Center Outdoor Stage; Guest Speaker Daniel Armstrong will discuss "Find a Tree: A Pathway to Your Dreams" from 1:00-2:00 p.m. February 23 in the Campus Theater; and "A Timeline of our History" presented by ECC history students 1:00-2:00 p.m. February 28 in the Campus Theater. The festivities conclude with A "Taste of Soul" Festival from 11:00 a.m.-2:00 p.m. February 29 in the East Dining Room. Join in the celebration! For more information, click here.  
Save the Date: SSTARS Breakfast!
Several outstanding students will be honored at the Sixth Annual SSTARS (Student Services Transfer and Retention Services) breakfast banquet 9:00 a.m. to 11:00 a.m. March 2 in the ECC East Dining Room. The event celebrates the achievements of El Camino College students while also raising money for student scholarships. El Camino College's 28 support services will also highlighted at the event. In addition, special recognition will be given to counselor Elaine Moore for her years of dedicated service. Tickets cost $35 per person; sponsorships are also available. To purchase tickets, or for more information, contact Kelsey Iino at extension 3404, or Kiino@elcamino.edu.
Cash for College Fair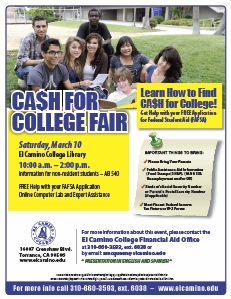 All are invited to the El Camino College Cash for College Fair, scheduled from 10 a.m. to 2 p.m. March 10 in the Library. The fair offers students and the community an opportunity to learn about financial aid and all the assistance programs available at El Camino College. Substantial amounts of financial assistance are available each year. Students are encouraged to apply for financial aid using the FAFSA (www.fafsa.ed.gov) a free application used by the federal government, states and most colleges to award financial aid. Grants, scholarships, loans – there are many ways to get cash for college. For more information contact the El Camino College Financial Aid Office.
ECC Student Wins Prestigious Photo Award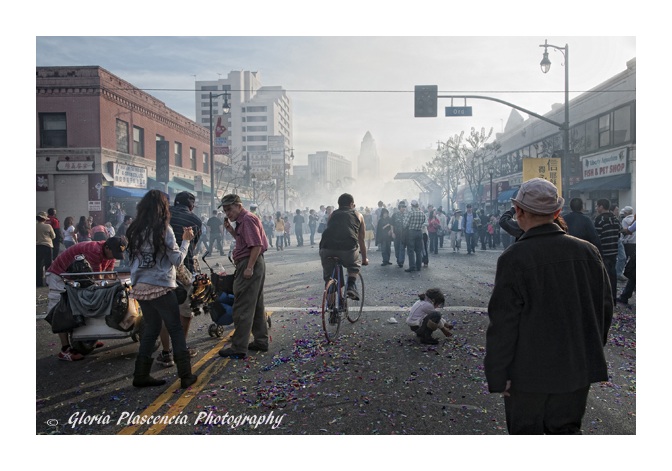 Congratulations to photography student Gloria Plascencia, whose photograph has been named a finalist in the Photographer's Forum Best of College Photography International Competition 2012. This competition regularly draws more than 20,000 entries; the top 5 percent are selected as finalists. Her photograph, "Child at Chinatown," will be published in the Best of College Photography Annual: 2012. Gloria joins two other ECC photography students in earning a finalist status in the competition, which includes college students from two-year and four-year public and private colleges and universities around the world. The ECC Photography Department is led by Professor Darilyn R. Rowan.
ECC Future Firefighters Association
Members Help Out

Photo by Katharine
Blossom Lowrie
Joining in the fitness festivities of the Redondo Beach 34th Annual Super Bowl Sunday 10K/5K Run/Walk were three Future Firefighters Association members from El Camino College: Allan Montoya, Robbie Clough, Anthony Rosas and their friend, Bernice Bareng, who were on hand to help participants learn the new technology embedded in the race bibs that would record race times down to the second. Thousands turned out for this community race, a major fundraiser for the Redondo Beach Chamber of Commerce.
Observatory Open House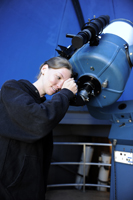 The public is invited to an upcoming ECC Observatory Open House from 6:00–8:00 p.m. February 24, where area residents can to look through telescopes for spectacular celestial views of the moon, Jupiter, double stars, and star clusters. Astronomy faculty member Vincent Lloyd will be on hand to help visitors view the night sky. The Observatory is located on the roof of the El Camino College Math Building and features a Celestron 16-inch Schmidt-Cassegrain telescope. The observatory is also equipped with a Hydrogen-Alpha solar filter for viewing solar prominences and flares during the day. Watch for additional open house events this semester. All are free and open to the public. More…
ECC Compton Center Black History Month Events
Everyone is invited to enjoy a variety of Black History Month events February 21-29 at El Camino College Compton Center. Events kick off on February 21 at 7:00 p.m. in the Student Lounge with "Roots of Rhythm" exploring the history of African dance and more current dance forms. For info & a complete schedule of events, click here.

Alumnus Drummer Featured on New CD Releases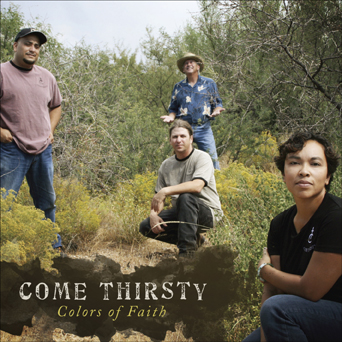 Carlos Solorzano is a graduate of the ECC Music Program and works as a professional drummer in the Southern Arizona area. Aside from his work with the Christian band Come Thirsty, he also writes tribal drumming compositions and drum set solos that adapt world rhythms to the kit. Both are featured on the CD "Desert Drummer," available now at retailers. Come Thirsty's debut CD, "Colors of Faith" is also available.
2012 Women of Distinction Award Nominations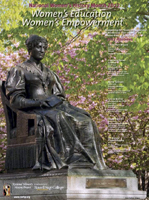 Members of the Women's History Month Committee at El Camino College are seeking nominees for the 2012 Women of Distinction Award. This award recognizes outstanding women from the El Camino College area, honoring them for their contributions to the community. Honorees are selected by the committee each year during March – Women's History Month. Nominations can be made by friends, family, and colleagues; or individuals may nominate themselves. Nominees will be judged for their contributions in one or more of the following areas: professional accomplishments, leadership and/or mentorship, and social, educational, or health services. Those nominated must also live or work in the communities within the El Camino Community College District: El Segundo, Redondo Beach, Manhattan Beach, Hermosa Beach, Lawndale, Lennox, Inglewood, Hawthorne, and Torrance. Honorees will be announced at the Women's Wall of Fame Program on March 22. The nomination deadline is March 9. Click here to submit a nomination.

ECC Compton Center Offers Robotics Class to High School Students
El Camino College Compton Center offers a Basic Robotics class where area high school students earn two semester units of college credit while nurturing their interests in science, mathematics, and engineering. The Basic Robotics class takes place on Saturdays and consists of a lecture followed by a lab. During the course, students become familiar with the technologies used to design, build, and program robotics systems. Other related topics covered include basic electronics theory, electromechanical fabrication, micro-controller operation, machining processes, metal fabrication and careers in technology. More…
Share your comments about these stories!
You can use your Facebook, Hotmail, Yahoo or AOL account to make a comment!


Sections
Newsletters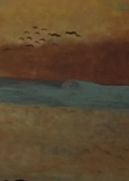 Can you guess where this photo was taken on campus? Submit your best guess hereand be eligible to win a fabulous prize! Submit entries by February 29.

Congratulations to Sue Oda Omori in the Transfer Center! Sue correctly indentified last month's photo, which was the outside stairs of the Student Services Center. Sue won a gift card to Starbucks for her correct answer.