Commencement 2014

Ryan Smith, director of education programs and policy for the United Way of Greater Los Angeles, will be the guest speaker for the 67th Annual El Camino College Commencement Ceremony. Smith oversees the education program and policy efforts for the United Way. He also oversees Communities for Los Angeles Student Success (CLASS), a Los Angeles-based coalition of civil rights, education, and community advocacy groups dedicated to closing the opportunity and achievement gaps for students-of-color and students living in poverty. El Camino College Commencement is scheduled for 4:00 p.m. May 16 on the softball field. The Commencement reception begins at 1:00 p.m. on the ECC Library Lawn. Parking and admission are free; no reservations required. All are welcome to attend this celebration of student success. Congratulations to the Class of 2014! For more about commencement, click here.
Celebrate the Class of 2014: Blue Carpet Event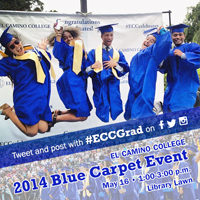 As part of the commencement festivities, everyone is invited to join the El Camino College Class of 2014 at the "Blue Carpet Event" during this year's Commencement Reception from 1:00 to 3:00 p.m. Friday, May 16 on the Library Lawn. Expanding on the celebration introduced last year at ECC, a custom photo backdrop will be available at the reception for graduates, family and friends. Attendees are invited to take photos and post them online using the hashtag #ECCGrad to be included in ECC's social media channels. We'll be live-tweeting on Twitter before, during and after commencement at @ecc_online and @compton_center. Alumni, friends, family and the ECC community are also encouraged to share their advice and best wishes to the Class of 2014! We look forward to seeing you at commencement!
We'll be live-tweeting on Twitter before, during and after commencement at @ecc_online.
Classified Service Awards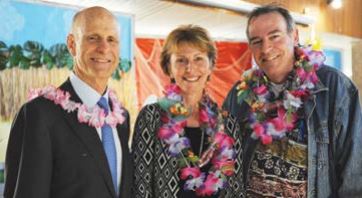 Congratulations to all staff members who were honored at the annual Classified Service Awards celebration on April 1. An aloha theme added to the festivities as staff members were recognized for their years of service. Click here for a list of honorees:

Trustee Brown Inducted into NAUW Hall of Fame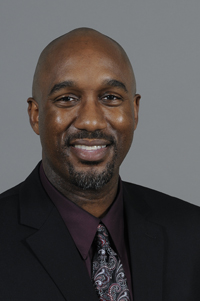 Congratulations to El Camino College District Board of Trustee Vice President Kenneth Brown, who was recently inducted into the National Association of University Women (NAUW) Hall of Fame by its West Coast Cities Branch. Brown was honored at the NAUW West Coast Cities "A Tribute to Excellence" Scholarship Luncheon on March 22. The mission of the National Association of University Women is to serve women, youth and the disadvantaged in our communities and in developing countries by addressing educational issues, advancing the status of women's issues, and strategically partnering with allied organizations.
Career Center Internship Workshop        
All students are invited to the Career Center workshop, "The Benefits of an Internship," scheduled for 1:00-2:00 p.m. April 22 in SSC 207. Participants will learn all about the advantages of internships, as well as how to search for and apply for internships. Seats are limited and registration is required, call: 310-660-3593, extension 6137.
Student Art Show 2014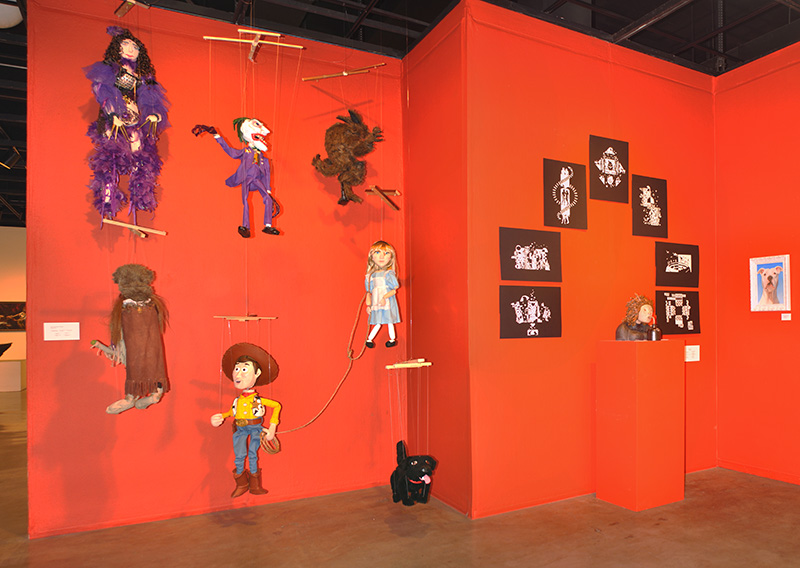 The El Camino College Art Gallery will present its annual showcase of student artwork from April 21-May 8. A Reception and Open House is set for 5:00-8:00 p.m. Friday, April 25. In addition, the Student Show in the ECC Art Gallery will be part of the Torrance Art Crawl: noon-6 p.m. May 3 and noon-5 p.m. May 4. All of the items in this exhibition were selected by instructors as some of the best examples of student work produced at the college. The Student Show includes a variety of works created in a wide range of media. The exhibit provides a glimpse into the educational and aesthetic philosophy advocated by the ECC Art Department and shows a diversity characteristic of the contemporary art world. The majority of the works in the gallery are grounded in an academic approach to art study and training. More…
Celebration of Chicano Culture             
Several events have been planned for "A Celebration of Chicano Culture" this month and through May. All are invited to attend any and all of the following events:
"The Spanish Colonial Casta System," lecture presented by ECC Professor Jason Suarez: 11:15 a.m.-12:40 p.m. April 22, Alondra Room
"Rampart Records and the Chicano Rock Scene," lecture presented by Rampart Records CEO Hector Gonzalez, 1:00 - 2:30 p.m. April 24, East Dining Room
"The Nahuatl Language," lecture presented by CSUN Professor Fermin Herrera, 11:15 a.m.-12:15 p.m. May 1, Distance Education Center
"The Son & The Cancion," concert presented by Conjunto Hueyapan & Mariachi Estrella de Jalisco, 1:00 - 2:30 p.m. May 1, Marsee Auditorium
"Mexican Stereotypes in Literature and the Media," lecture presented by CSUDH Chair of Chicano Studies Jose Lopez-Morin, 2:00-3:15 p.m. May 6 Distance Education Center
"Mexican Identity and the Arts in the South Bay Area," lecture and dance performance presented by LAVC Professor Argelia Andrade and Nuestras Raices, 1:00-2:30 p.m. May 8, Student Activities Center, East Lounge
Science Club Spring Break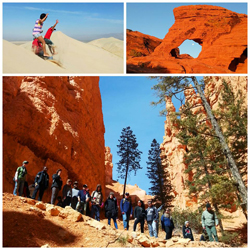 ECC Science Club students enjoyed a spring break trip that covered state and national parks in Nevada and Utah. Kelso Dunes, Valley of Fire State Park, Zion National Park, and Bryce Canyon National Park were some of the stops on the itinerary. The 32 students jumped off the highest dunes, walked through awesome canyons, and examined the biology, astronomy, and geology of some of the best places on earth.
Free, Fun, and Messy Activities for Children!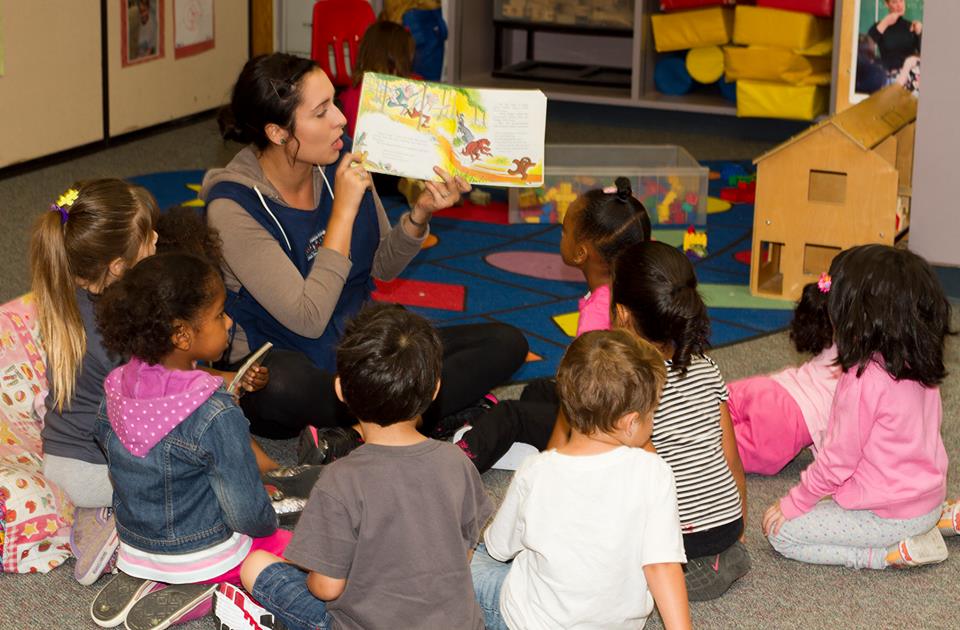 Children's Day is scheduled for 9:00 a.m. to noon April 26 on the Art Patio at El Camino College. This event is free, open to the public and features a wide variety of hands-on activities for children between the ages of 2 and 8. El Camino College Childhood Education students design and present these activities for the children under the supervision of faculty. Play clothes are encouraged and participants are asked to bring a bag to take home art creations. For more information, contact Michelle Moen at mmoen@elcamino.edu.
Photography News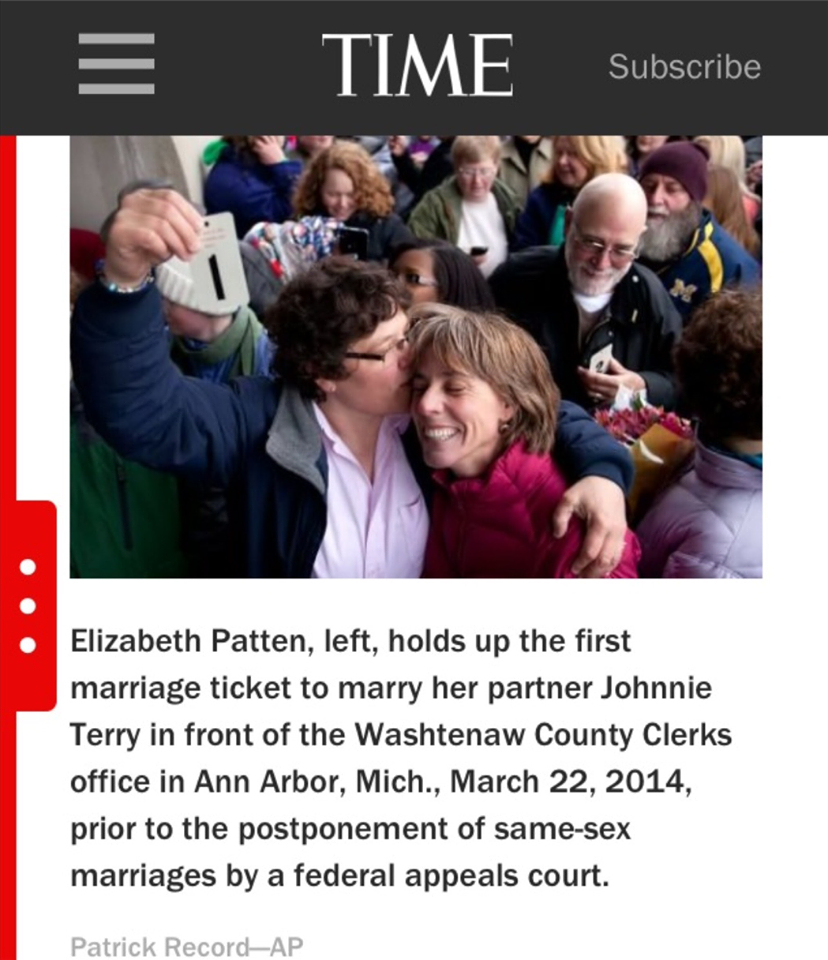 Congratulations to Photography Department alumnus Patrick Record, who is now a staff photographer for the Ann Arbor News. This is one of his photographs that was recently published in Time magazine.
Congratulations to 2014
ECC "Women of Distinction"  

Nine successful women were recently honored at the 2014 El Camino College Women of Distinction Ceremony. Nominated by friends, family, and colleagues, award winners were selected by the ECC Women's History Month Committee, based on service in one or more of the following areas: professional accomplishments; leadership and/or mentorship; and social, educational, or health services. All honorees live or work within the El Camino Community College District. The accomplishments of these award winners will be featured on the El Camino College Women's Wall of Fame (in the Schauerman Library) throughout the year and their names will be engraved on a plaque that is a permanent part of the display. For a full list of 2014 Women of Distinction, click here.
Student Photo Exhibit   
The El Camino College Photography Department will present a Student Photography Exhibition in the Schauerman Library through April. Dozens of photographs will be on display, showcasing a wide variety of work in film and digital images, ranging from beginning through advanced levels. Subject matter includes portraiture, landscapes, still life images, and abstracts. The exhibition is designed to give students the chance to participate in an exhibition, offering real-world experiences that will be helpful throughout their careers. Students also have the opportunity to interact with the community by sharing their hard work and talent with students, faculty and staff.
ECC Golf Classic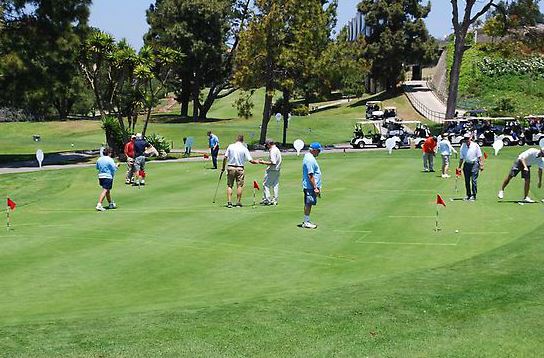 Registration is now open for El Camino College's 27th Annual Warrior Athletics Golf Tournament, set for May 9 at the scenic Los Verdes Golf Course in Rancho Palos Verdes. The tournament format is a four-person scramble beginning at 1 p.m. with awards dinner to follow. Proceeds will go toward academic support services, tutoring, equipment, supplies, facility improvements, staff development, and other needs throughout the year. More…
Stadium Groundbreaking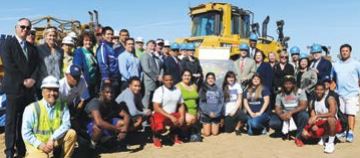 A groundbreaking on March 17 marked the start of construction of a new multi-purpose stadium complex. This $37.2 million project includes a brand new, modern stadium to support the college's outstanding athletic programs and kinesiology classes. The state-of-the-art complex will also include an athletic training and sports medicine facility. The new stadium replaces the original structure, which was built in 1949. Design features include a modern locker facility and a press box for both teams, as well as football and soccer fields, and a 10-lane running track and field facility for college competitions and instruction. Also included in the plans are elevated viewing areas and a roof-top filming deck. The two sides of the stadium will connect along an elevated walkway around the north side that culminates into a small plaza.
ECC Professor Publishes New Book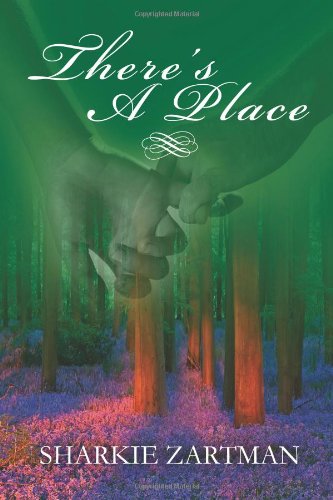 ECC Professor Sharkie Zartman offers a hopeful perspective on what happens after death in her new book, "There's a Place." In this book, Sharkie imagines a fantasy story that opens up crucial questions about the ethics of medical interventions. An advocate of taking charge of one's own health, Sharkie uses her book to stress the importance of advanced-care directives, so one's end-of-life wishes are recorded and followed if the person is unable to speak for him or herself. Describing her book as "uplifting, inspiring, romantic and thought provoking," Sharkie says, "It is a romantic fiction with a wake-up call." A professor of health, fitness and yoga at El Camino College, Sharkie is a former All-American volleyball athlete and champion competitor at UCLA and with the U.S. Women's National Volleyball Team. She has written five books, including "Youth Volleyball: the Guide for Coaches and Parents" and "Shark Sense, Getting in Touch with Your Inner Shark." She also hosts her own radio show on Healthy Life Radio, called "Sharkie's PEP Talk."
Reading Strategies Workshop   
The Reading Success Center will sponsor a Reading Strategies Workshop from 3:00-4:00 p.m. April 15 in the Reading Success Center (Library, East Basement, E36). The workshop is designed to teach students how to best navigate through reading assignments. Participants will learn to identify important text, make annotations, create an outline, and more. Students must sign up at the Reading Success Center, with student ID card, before the workshop date to reserve a spot. Space is limited.
Basketball Scholar-Athlete Honored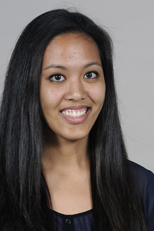 Congratulations to Clarizzah Macatugal who was recently selected to the Women's Basketball Academic All-State Team. Clarizzah is a Scholar Baller with a 4.0 grade point average and was recently honored at the California Community College Women's Basketball Coaches Association (CCCWBCA) Banquet of Champions. The Women's Basketball Academic All-State Team recognizes outstanding academic performance by student-athletes. Clarizza also earned All-South Coast Conference South Second Team honors, in addition to her outstanding performance in the classroom. She is a sophomore forward from North Torrance High. In league play she averaged 4.6 points, 6.1 rebounds, 1.7 assists and 1.2 blocks per game.
Science Club Volunteers at Mineral and Gem Show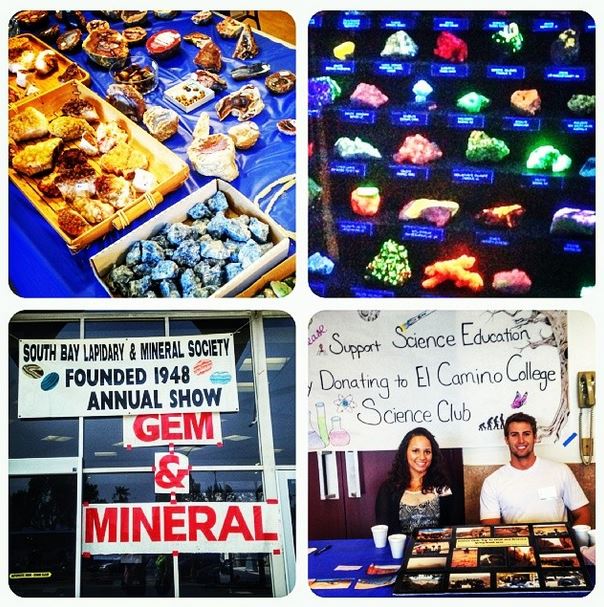 The El Camino College Science Club recently had a booth at the Mineral and Gem Show, sponsored by the South Bay Lapidary and Mineral Society (SBLMS). More than 20 ECC Science Club members volunteered at the show at the Torrance Community Center as a gesture of appreciation for the SBLMS, which provides funding for three annual ECC geology scholarships. El Camino College students provided the bulk of the volunteers at the show, which featured beautiful jewelry and mineral objects. In addition to their volunteer duties, students had the opportunity to gain practical experience in the earth science field and to meet experts in mineral and rock collecting. More…
ECC Instructor to Present Movie Retrospective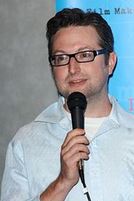 ECC film instructor Kent Hayward will present a retrospective of his films at the 7 Dudley Cinema at the historic Beyond Baroque Arts Center in Venice from 7 to 10 p.m. April 27. Admission is free; a Q&A session with Hayward will follow. Hayward's work has been screened at more than 25 festivals, including Dances with Films, DocuWest, New Filmmakers and Film Independent's Cinema Lounge. The Los Angeles Times' Kevin Thomas declared Hayward's film "Homestead Artifact" "deeply affecting… Hayward has succeeded beautifully." LA Weekly called it "an affecting rumination on the importance of memories." More…
Three ECC Compton Center
Faculty Members Receive Honors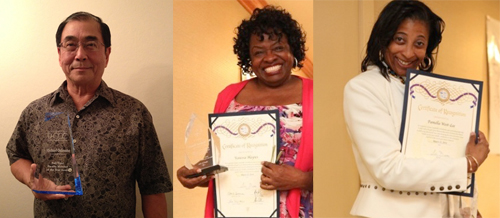 Congratulations to three El Camino College Compton Center faculty members who were recently honored by professional organizations for their contributions on local and state levels! Michael Odanaka, Vanessa Haynes and Pamella West-Lee were recognized for their efforts in helping students succeed. Read more here.

ECC Alumnus Signs Pro Soccer Contract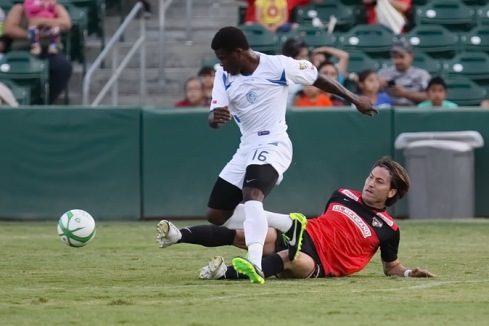 ECC alumnus and soccer standout Kyrian Nwabueze recently signed a professional contract with an overseas team. Nwabueze now plays for the Armenian Premier League club Banants, which is currently in contention for a U.E.F.A. (Union of European Football Associations) Europa League appearance. When he signed, he was already on trial with the club in the Antalya camp. In addition to playing for ECC, he also made a solid performance with the Los Angeles Misioneres. More…

ECC Compton Center 2014
Commencement Ceremony is May 15

El Camino College Compton Center has schedules its 2014 Commencement Ceremony at 5:30 p.m. Thursday, May 15 in the Tartar Stadium. The guest speaker for the ceremony is Leslie Sykes, co-anchor of ABC7 Eyewitness News. Sykes was born in San Diego, California, and grew up in the City of Compton. She graduated from Saint Joseph High School in Lakewood, and was subsequently accepted to Spelman College in Atlanta, Georgia where she earned a bachelor's degree in English. After college, Sykes first job was as a general assignment reporter for the Los Angeles Examiner. She completed an internship at KCOP and served as a desk assistant at KTTV before landing her first on-air assignment at WDAM in Hattiesburg, Mississippi. While at WDAM, she was a reporter, anchored three shows a day and produced newscasts. Sykes went on to work at WVUE in New Orleans, Louisiana. She joined ABC7 in 1994. For more information on commencement, please contact the ECC Compton Center Office of Student Life at 310-900-1600, extension 2800, or visit
Share your comments about these stories!
You can use your Facebook, Hotmail, Yahoo or AOL account to make a comment!


Sections
Share this newsletter with
your friends:



Tweet

Share your thoughts on these articles! Leave your comments at the bottom of this newsletter!
Safety Matters
Department News
ECC Alumni

Submissions
Newsletters