Be Prepared! Be Safe!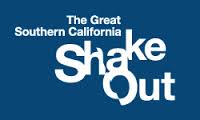 Be Ready for Earthquakes! 
Please take some time to review the safety measures needed to become earthquake safe. Remember, when an earthquake occurs, it is time to:

• DROP to the ground
• Take COVER by getting under a sturdy desk or table
• HOLD ON to the table until the shaking stops

As we have seen in recent weeks, earthquakes can occur at any time and it is best to be prepared. Have a plan at home! Please take some time to review procedures outlined at www.shakeout.org.  

Each October, El Camino College participates in the Great Southern California ShakeOut, an annual statewide earthquake drill designed to practice earthquake safety procedures. It is important to practice what to do in an earthquake. Practice lessens the likelihood of panic and provides a sense of confidence in an emergency.
For more information on the ECC ShakeOut drill, contact: Valerie Wagner, 310-660-3156 or go to
www.elcamino.edu/shakeout/
.