"Grand" Donations to the Fine Arts Division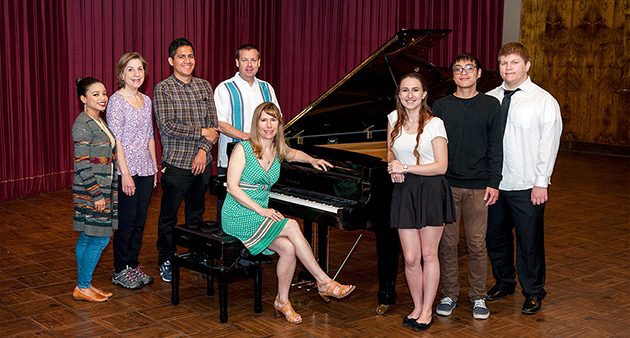 A Kawai Concert Grand Piano was recently donated to the El Camino College Fine Arts Division. Pictured from left are students Michelle Levert, Gayle Cichocki, and Luis Ramirez, standing next to Division Dean Berkeley Price. Seated at the piano is professor and director of piano studies Polli Chambers-Salazar, with students Ashley Bailey, Christopher Sheu, and Eric Hidalgo at right.
The Fine Arts Division recently received donations of two grand pianos to the music program. The generous gifts – a Kawai GS 100 9-foot Concert Grand Piano and a Kurzweil Mark 150 Digital Grand Piano – came from two donors with connection to El Camino College.
The Kawai Concert Grand Piano was donated by Al Yano, professor emeritus of physics at California State University, Long Beach. Mr. Yano took a piano class at ECC years ago, and wanted the college to have the piano before he moved to the Bay area and downsized. It has been delivered to the Haag Recital Hall where it will complement the smaller Kawai grand piano already in place for recitals and performances.
The Kurzweil digital piano is from Steve Martinez, an ECC adjunct mathematics faculty for 20 years at ECC. This piano currently resides in the office of Berkeley Price, the new dean of the Fine Arts Division.
"We are so grateful for these donations that demonstrate the support our community members have for El Camino College," said Price. "These pianos will play a big role in helping the Fine Arts Division fulfill the college mission of making a positive difference in people's lives."