New Hydration System Installed on Campus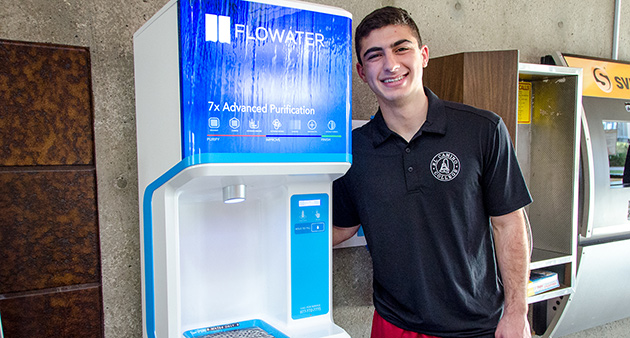 Five new hydration stations have been installed on campus, making a proposal from the Associated Students Organization (ASO) a reality. In the past several weeks, more than 27,540 water bottles have been filled from the new FloWater refill stations, providing purified, good-tasting, chilled water to refill water bottles.
The idea came from ASO President Eman Dalili, who said the goal is to reduce the number of plastic bottles used on a daily basis and to encourage those in the college community to bring their own reusable containers for water. So far, the program is a success, with plenty of positive feedback campuswide, Eman said.
"FloWater is exactly what the campus needs," he added. "It's high-quality, free water. On top of saving our students thousands of dollars, we are (more importantly) saving our environment by not using toxic plastic bottles."
Everyone is invited to bring a reusable water bottle and fill up at one of the following locations: Student Activities Center, Student Services Center, Humanities Building, Industry Technology Education Center (ITEC), and the Math Business Allied Health (MBA) Building. All FloWater stations are located on the first floor of each building.