Space Science Day

South Bay youngsters are invited attend El Camino College's Space Science Day 2011 on April 30 at our planetarium and science classrooms. This year will mark the 25 anniversary of the Space Shuttle Challenger tragedy where Astronaut Ellison Onizuka perished along with the six other crew members in 1986. The daylong event is sponsored by El Camino College and American Honda Motor Co., Inc., and coordinated by the El Camino College Astronaut Ellison Onizuka Memorial Committee. It is free and open to serious-minded science students in grades five through 12. To register, click here. More...
Women's History Month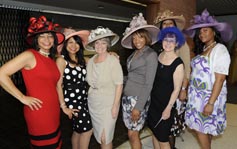 Hats off to our "Women of Distinction" Wrapping up our 2011 Women's History Month celebrations was a "Hat Fashion Show" that drew many guests with fabulous and fashionable hats. Also, we congratulate the 10 outstanding college and community leaders who were honored at the 2011 El Camino College Women of Distinction Reception on March 24. These exceptional "Women of Distinction" were recognized for their dedicated service and contributions to the community: Portia Cohen, Lynn Fielding, Gloria Gray, Barbara Johnson, Teresa Matsushima, Susan Prieto, Virginia Rapp, Sandra Suarez, Nina Velasquez, and Lynn Walker. For a full list of winners and bios, click here.
Public Relations & Marketing Wins Gold!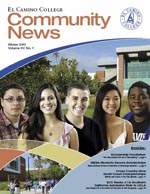 Congratulations to our Public Relations & Marketing team for winning a gold medal in a national competition! The college publication "Community News" won the prestigious Paragon Award, given by the National Council for Marketing & Public Relations (NCMPR). Judges comments note that the award-winning newsletter features good pacing and flow, with consistent branding and layout. Sponsored by NCMPR, the Paragon Awards recognize outstanding achievement in communications at community and technical colleges. It is the only national competition of its kind that honors excellence exclusively among marketing and PR professionals at two-year colleges. Entries for this prominent awards program are judged by a panel of industry leaders in advertising, public relations, marketing, design, and other related areas. NCMPR is an affiliate of the American Association of Community Colleges and includes more than 1,550 members from more than 650 colleges across the United States, Canada and other countries.
Hands Across California!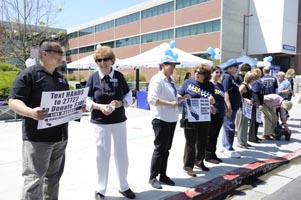 Nearly 300 students, faculty, staff, managers and community members participated in the April 17 Hands Across California (HAC) event, gathering with an estimated 1 million people including former U.S. President William Jefferson Clinton, celebrities, students and other elected officials to join hands in a line up and down California in support of the state's nearly 3 million community college students. Net proceeds from the event will directly benefit the California Community Colleges Scholarship Endowment, a permanent fund that provides annual scholarships to thousands of students every year. Four ECC students were awarded enrollment fees for fall 2011 for their participation in Sunday's historic event. For more information, go to www.HandsAcrossCalifornia.org.
HTP Honors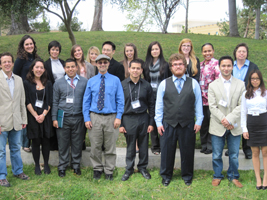 Seventeen students in the ECC Honors Transfer Program (HTP) recently presented research projects at the statewide Honors Transfer Council of California Student Research Conference at the University of California at Irvine. On March 26, 2011, members of the ECC Honors Transfer Program attended the Student Research Conference at UC Irvine. Three students took home awards for their research and were honored at the conference for their accomplishments. Solimar Flowers was chosen as a recipient of the HTCC Exemplary Achievement Scholarship, one of only 20 awarded statewide. Mentored by ECC anthropology professor Marianne Waters, Flowers' award-winning research is titled, "The Need for Enrichment in Captive Primate Populations: Capuchin Monkeys as a Case Study." The research poster titled "Super Bugs" by Ricardo Ayvar and Richard Flor won the first prize blue ribbon, and was the only poster acclaimed by a unanimous decision of the judges. Ayvar and Flor were mentored by biology professor Teresa Palos. For a full list of students and their presentations , click here.
Forensics Gold!
Our ECC debate team recently returned from the Phi Rho Pi Community College National Tournament with its best finish ever! ECC successfully defended its national title in debate with a margin of about 86 points, placing second in the nation overall. The national victory follows an outstanding performance at the state championships, where the team scored its best performance in more than 25 years. More...
Historically Black College Fair
Representatives from a number of Historically Black Colleges and Universities (HBCUs) participated in the April 21 El Camino College Historically Black College Fair. Prospective students had the opportunity to meet with representatives from Howard University, Fisk University, Tuskegee University, Clark Atlanta University, and other institutions at this event. Students also learned about transfer agreements and met with ECC alumni who will shared their transfer experience. For more information, contact the Transfer Center.
13th Annual Pow Wow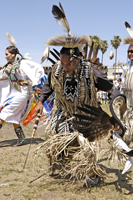 More than 2,000 people attended this weekend-long festival, representing tribes from all over the country. Native American music, dancing, art, crafts, shopping, and food were featured at the fest, and visitors had the opportunity to check out the annual dance contests, featuring a variety of traditional dance styles. More than 100 dancers in colorful costumes participated. Food specialties such as fry bread tacos and traditional Hawaiian foods were available and shoppers browsed a variety of wares such as Native American jewelry, clothes, and instruments.


Student Photography Exhibition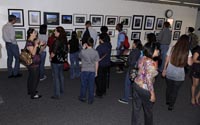 The annual ECC Student Photography Exhibition is scheduled to run through April in the Library. April is National Poetry Month, so the exhibit theme will explore the poem "Ithaka" by Constantine P. Cavafy. Students were given the assignment to visualize the poem through black & white, color, digital and film images. Copies of the poem will be displayed along with the photographs. More info.

A Musical Moment
Congratulations to our chorale, which recently represented ECC at Chapman University's 47th Annual Invitational Choral Festival, led by Dr. Joanna Medawar Nachef. San Diego Mesa College, Citrus College, Chapman University Women's Choir, Chapman University Choir, and the ECC Chorale showcased their repertoire to a full-house of seven high school choirs and two adjudicators. Judges' comments focused on the group's mature, warm, well-prepared and passionate expression of the contrasting choral literature. ECC Chorale alumna, Lizbeth Sanchez, who is completing her second semester at Chapman University on a scholarship, hosted our group and facilitated a vocal audition for outstanding ECC student Chris Craig, who was recently honored with a second place prize in his division at the National Teachers of Singing (NATS-LA) Collegiate Vocal Competition. Chris competed with students from the major universities in the area to achieve this honor.
Career Expo and Majors Fair
All are invited to the 2011 El Camino College Career Expo and Majors Fair, scheduled from 10:00 a.m.-2:00 p.m. April 27 on the Library Lawn. A wide variety of employers from all over the South Bay will be available, plus representatives from ECC departments and programs. This event offers a great opportunity to speak with potential employers, department faculty, counselors, and program representatives, while gaining valuable insight regarding career information. Participants are asked to dress professionally and bring a resume. Click here for additional career services information.
Athletic Hall of Fame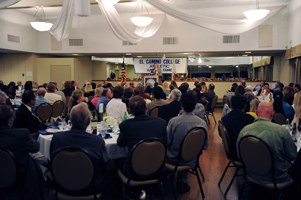 Help celebrate the 24th Annual El Camino College Athletic Hall of Fame! The ECC Athletic Hall of Fame Banquet, which celebrates the athletic accomplishments of outstanding alumni as well as today's scholar-athletes, is scheduled for May 5 at Los Verdes Country Club. Scholarships and awards will be given out to outstanding ECC student-athletes. For reservations or more information, click here or call the Athletic Office at 310-660-3545.
Kid's College – Summer Classes
Registration is now open for Kid's College this summer! From pirate camp and LEGO lessons to classes in art and creative writing, Kid's College has something for all area youngsters in first through 12th grade. Archeology, dance, music, sports, princess camp – the list goes on! Ongoing classes are offered from June through August. Sign up now for some serious learning fun! Early Bird Discount ends April 29. Click here for the Kid's College summer schedule.
Athlete of the Month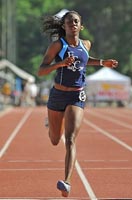 Congratulations to Shalé Garland, named Athlete of the Month for February 2011 by the California Community College Sports Information Association & California Community College Athletic Association. Shalé is one of the top returning track and field athletes in California; her times rank among the finest and competitive at any college/university level.
Professor Shares Her Shark Sense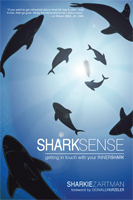 In the second edition of her book, "Shark Sense: Getting in Touch with Your Inner Shark," ECC graduate, physical education professor, author, and former professional athlete Sharkie Zartman shares her secret to self empowerment through real life experiences, tips, and time tested principles for reaching goals. When Zartman's high school volleyball coach told her she wasn't cut out to be a volleyball player, she didn't give up. Instead, she developed what she calls "shark sense" and went on to be an All-American and a member of the U.S. National Volleyball Team. As a professor and former coach, she has taught thousands of successful athletes and students. Read more about "Shark Sense" here.
All Invited to Children's Day
Area children ages 2 through 8 are invited to attend "Children's Day" from 9:00 a.m. to noon April 30 at El Camino College at the Art Patio. This annual free event is presented by the students and faculty of the Childhood Education Department. Participants will enjoy outdoor child-friendly activities such as creative art, science, and movement. Some activities have the potential to get messy, so play clothes are advised. The event is organized by ECC instructors and students studying child development, giving them the opportunity to plan, implement, and evaluate age-appropriate activities for young children. The event is free and open to the public; campus parking costs $2. For more information, contact Michelle Moen at mmoen@elcamino.edu.
ECC Compton Center
Cesar Chávez Day Celebration
Students, faculty, and staff celebrated civil rights leader Cesar Chávez with a series of activities sponsored by the Associated Student Body (ASB) and Office of Student Life. A produce exhibit with samples, poetry readings, music, Mexican cuisine, and a portrayal of Cesar Chávez by actor Roberto Alcaraz were part of the celebrations, which were free and open to the public.

Football Awards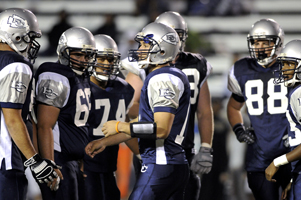 Congrats to our football team, recently awarded state recognition from the Southern California Football Association! National Division/Northern Conference First Team Offense winners are Joe Don Duncan and Pete Walton. Second Team Offense winners are Andrew Kersten, Mason Miles, Josh Brinson, and Kevin Norrell. Andre Buford was named First Team Defense for the Warriors, and Marques Johnson, Josh Lehuli, Mose Denton, and Matt Moro were named Second Team Defense. Go Warriors!!

Playwright Valina Hasu Houston
Visited Compton Center
Valina Hasu Houston, internationally acclaimed playwright of more than 30 plays, recently visited ECC Compton Center for a reading and book signing in the Student Lounge. The themes in Houston's prolific body of work relate to conversations about culture, identity, race, gender and war.

ECC Blood Drive Results

Thank you to everyone who participated in the recent Inter-Club Council blood drive with the American Red Cross. During the three-day blood drive, 281 units of blood were collected and donated to the Red Cross. It is estimated that this can help save the lives of more than 843 people! Many thanks to students Damien McDowell, ICC vice president, and Lily Kurosaki, ICC commissioner of publicity, who organized the three-day blood drive. We are proud of El Camino College's tradition of generously donating life-saving blood to the American Red Cross, which relies on donors to replenish the blood supply that is in constant demand.
Sections
Newsletters
Can you guess where this photo was taken on campus? Submit your best guess here and be eligible to win a fabulous prize! Submit entries by May 15.

Congratulations to Dorothy Fowler.  Dorothy correctly indentified last month's photo, which was the entrance to the Art Building on the west side. Dorothy won a gift card to Starbucks!