Student Volunteers are "Gems"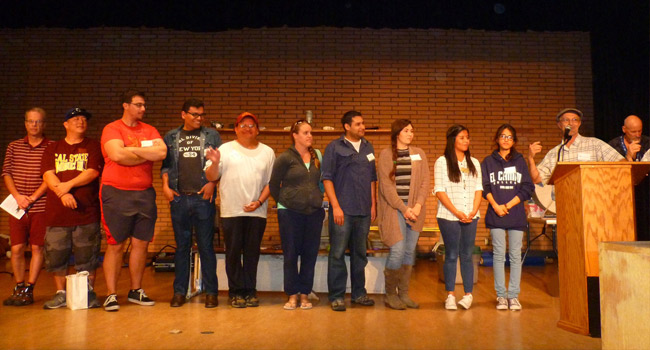 Fifteen ECC geology majors volunteered at the annual Torrance Mineral Show earlier this month. The show is sponsored by the South Bay Lapidary and Mineral Society (SBLMS). This year, the SBLMS donated approximately $2,000 to the El Camino College Foundation to fund the annual Wally Ford Scholarships, which support geology majors. Wally Ford was the founder of the Earth Science Department at ECC, so his spirit continues on with these students.
The ECC geology major program is one of the largest among the California Community Colleges. In addition to their volunteer duties, students had the opportunity to gain practical experience in the earth science field and to meet experts in mineral and rock collecting.
In photo: Professor Chuck Herzig, ECC students and geology majors Jon Imai, Ryan Missel, Sam Lozano, Daniel Chavez, Allison Prizlow, Ruben Chicas, Taylor Walden, Marina Argueta, Javaria Aziz, Professor Joe Holliday, and show organizer Larry Hodgkins.