Heavy Metal Jewelry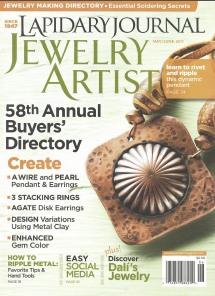 ECC alumna and jewelry artist Raminta Jautokas raminta.com recently had her work featured on the cover of the May/June issue of "Lapidary Journal Jewelry Artist Magazine." The full-color photo features a dramatic corrugated copper pendant that Raminta made; a related article gives step-by-step instructions on how to create the pendant, including tips for successful pressing. Raminta attended ECC in the late '90s and took several of Professor Irene Mori's jewelry and metalsmithing classes. She is a board member of the Metal Arts Society of Southern California (MASSC), and a member of the Society of North American Goldsmiths (SNAG).
"Irene Mori is a fantastic teacher who provided an environment for me to explore many different metalsmithing techniques," said Raminta, a studio artist/metalsmith based in Los Angeles. "Since then I have been taking various jewelry workshops and continue to expand my knowledge in the field. To this day I am grateful to Irene Mori and El Camino College for providing me with a great background in the jewelry arts." See the magazine here.
Career Advancement Academy to Open for Fall   

A new Career Advancement Academy will open at El Camino College this fall, offering students the education and training needed for high-demand careers. The one-year program begins in the fall and will focus on careers in machine tool technology and welding; books, workbooks and a variety of career workshops are also provided for enrolled students. An electrical utility technology program will be added in the spring. Part of a statewide initiative, the Career Advancement Academy combines career technical education with basic skills in high-demand career areas where new workers are needed immediately. The program is funded by a $662,700 grant from the California Community Colleges Chancellor's Office, and also has technical support from the Careers Ladders Project. Read more here. For more information about the El Camino College Career Advancement Academy, check out the Web page or call 310-660-3589.
ECC Professor Launches New Radio Program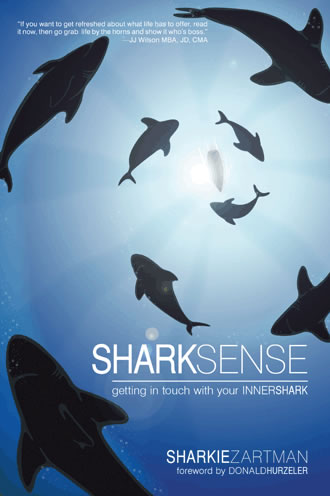 "The Shark is in the House!" So begins Sharkie Zartman's new radio talk show on the South Bay-based HealthyLife.Net Radio Network. Sharkie, a physical education professor at El Camino College, launched her "Sharkie's Pep Talk" this summer with the goal to inspire listeners through discussions on empowerment, fitness, yoga, and anti-aging. The hourlong show, billed as "your weekly 'get up and go' fix!" features guests who share their words of wisdom about living a healthy lifestyle. A recent show featured El Camino College football Coach John Featherstone, two-time national and eight-time state coach of the year. Sharkie has taught health, fitness and volleyball at El Camino College for more than 30 years. She is a former member of the US National Volleyball Team and the World University Games. At UCLA, where her jersey was retired, she was a member of the first national championship team.  Sharkie was also a five-year WPVA (Women's Professional Volleyball Association) beach player.  More…

Fashion Forward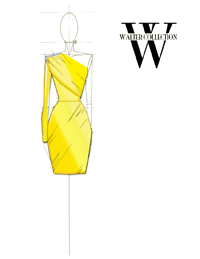 Congratulations to ECC graduate Walter Mendez for winning a design competition led by Style Network's Jeannie Mai. Watch for Mai, host of Style Network's Emmy-nominated show "How Do I Look?" wearing a Walter Collection original in an upcoming show. Walter transferred last fall to California State University, Long Beach, where he continues to major in fashion. Mai challenged CSULB students to design an outfit for her in this first-ever contest. According to the competition's guidelines, the winning outfit should demonstrate "personality," quality," and "consistency." Walter's winning design, "Yellow Goddess Dress," features Grecian-inspired draping with a modern one-shoulder sleeve in a heavy silk jersey. The right shoulder is padded to create a structural look. Rhinestone trim adds that extra "wow" factor. More...
Art Walk Amazement!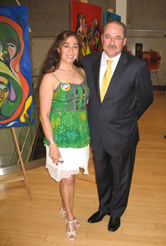 Colombian Consul
Dr. Carlos Augusto
Celis Gutiérrez meets
with Claudia Prada
Kudos to Claudia Prada, ECC Spanish language instructor and artist, who curated the July 14 Downtown Art Walk in downtown Los Angeles right in the heart of the fashion district and just a few blocks away from Gallery Row. The free, Thursday night art tradition features a merger of art and fashion, and restaurants stay open late, adding to the festivities. The show featured works from Columbian artists and was designed to celebrate Colombia's Independence Day (July 20) while introducing the new Consul Dr. Carlos Augusto Celis Gutiérrez to the Colombian community. Claudia also presented some of her own art creations. Born in Colombia and raised in Central America, Prada displays colorful folk art reflective of her roots. She has master's degrees from UCLA in Spanish-American literature and theater, and film and television. In 1995, she was awarded the UCLA Film and Television Graduate Woman of the Year Award, as well as the Edward James Olmos Award in film and television. Her animation film "After the Rain" was screened at the Latino Film Festival.
ECC Child Development Center Open for Fall Enrollment   
The El Camino College Child Development Center's (CDC) fee-based, year-round preschool program is now open for enrollment for children ages 2 to 5 who are completely toilet trained. Located on the ECC campus, CDC enrollment is open to all children, including those of college students, employees, and members of the community. Low child/staff ratios and an emphasis on social skills are hallmarks of the academic curriculum. For the last 18 years, the El Camino College Child Development Center has been preparing youngsters to enter elementary school, setting the stage for a lifetime of learning. The school's mission has become increasingly important in recent years, as kindergarten curriculum adopts more rigorous standards, with the bar of achievement rising higher and higher.
ECC Art Gallery to Present Earth and Sky by ECC Professor Emeritus Carson Gladson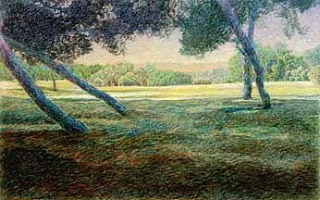 The ECC Art Gallery will present Earth and Sky, a retrospective survey of work by ECC Professor Emeritus Carson Gladson from August 29 through September 23. An artist's reception is scheduled for 7 to 9 p.m. September 8. The El Camino College Art Gallery is located on campus, 16007 Crenshaw Boulevard, near Torrance. The exhibit's curator is Susanna Meiers. Earth and Sky shows Carson Gladson's painting, drawing and digital work through his career. Gladson taught painting and drawing at El Camino College for nearly 40 years, where he instructed and inspired generations of students in their pursuit of artistic development. More...
Robotics Program Success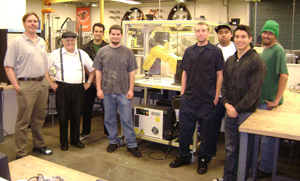 Congratulations to our 10 students who recently completed the Fanuc Robot Certified Training Pilot Program this past spring. This program required students to work through online curriculum, simulation, and tests then apply skills to programming an industrial robot. A STEM grant supported Fanuc faculty training, making this program possible. Fanuc is the largest automation company in the world, with 100,000 robots sold in the United States. Some Southern California manufacturers have already discovered and are using industrial robots in the workplace. Our students are prepared to help local businesses become more competitive.
Voices of Compton Literary / Arts Journal Event 
El Camino College Compton Center students, faculty and staff celebrated the publication of the third annual Voices of Compton, a literary journal of student work. The event, sponsored by the Humanities Division, Academic Affairs Office, and Office of Student Life, was a success both in terms of attendance and student participation. In total, 75 students' academic and creative writings and expressions were published. Several students also had the opportunity to present their work. The 2010-2011 journal is now available for download online here.

To see the awards listed by category, click here.
Track & Field Transfer, Scholarship Success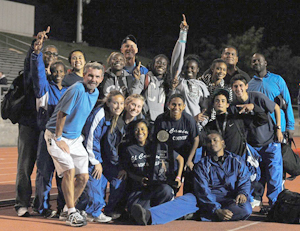 With the conclusion of the 2011 track and field season, several ECC students signed with universities to receive scholarships to continue their athletic and academic careers. Sprint standout Shalé Garland officially signed with the University of Arizona. Javelin state champion Myshauna Alexander signed with the University of Nevada, Las Vegas, and Southern California pole vault champion Kara Kalmar signed with California State University, Fullerton. Four-time state champion and 1500/5000 school-record-holder David Cardona signed with California Polytechnic University, San Luis Obispo in February. The coaches for this outstanding team were also recognized: the Track & Field Coaches Association of California announced that ECC coaches Dean Lofgren and Kevin Hughley were named the 2011 Women's Head Coach-of-the-Year and 2011 Women's Assistant Coach-of-the-Year for Track & Field. It is a very rare accomplishment to have a head coach/assistant coach combo awarded in the same year, and a well-deserved honor for both Dean and Kevin. Click here for a full list of 2011 track & field student athletes who plan to transfer this fall:
El Camino College Compton Center Students Shine at Annual Academic Awards Tea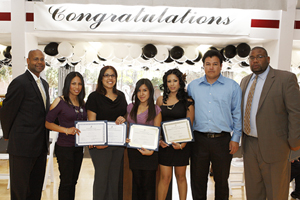 Congratulations to the El Camino College Compton Center academic standouts who were honored at the annual Academic Awards Tea this past spring. The event recognized the academic achievements of ECC Compton Center students who graduated on June 9 with honors, and also acknowledged 14 honor students and 51 scholarship recipients. The program included a welcome by members of administration, musical presentations, featured alumni, as well as honors and scholarship award presentations. Click here to view photos of the Academic Awards Tea.
More...
Share your comments about these stories!
You can use your Facebook, Hotmail, Yahoo or AOL account to make a comment!


Sections
Newsletters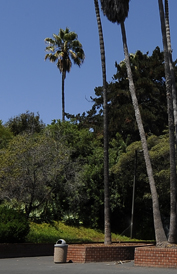 Can you guess where this photo was taken on campus? Submit your best guess here and be eligible to win a fabulous prize! Submit entries by August 19.

Congratulations to Donna Mano for correctly indentifying last month's photo, which was the corner of Common Grounds. Donna won a a $5 gift certificate to Café Camino.