An Outstanding BOG Visit!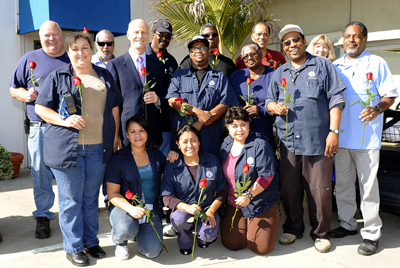 Our recent visit from the Board of Governors (BOG) of the California Community Colleges was a resounding success! We are proud to report that we received high praise regarding all aspects of the visit. Contributing to this outstanding event was a dedicated team who worked to ensure each aspect of the visit was planned, organized, and carried out with attention to every last detail. To thank all those involved, President Fallo presented a beautiful red rose to each employee who participated in making the visit a success.
We were pleased to host this meeting, the first in the Los Angeles area for a number of years. In addition to the meeting, campus tours were offered at ECC and ECC Compton Center, highlighting progress in our facilities plan as well as student success stories. Again, thank you to everyone who helped with this event – because of your hard work and diligence, our collective efforts showed our college at its best.
Harold Tyler to Retire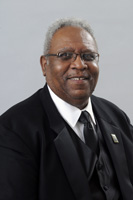 Longtime El Camino College Director of Student Development Harold Tyler will retire at the end of this month, after 35 years of service. Tyler's contributions through the past four decades have led to the success of thousands of El Camino College students. He knew all five of the college's presidents, and has enjoyed watching ECC grow and change.
"El Camino College is a special place, I never thought I'd get to this point, to retirement," he said. "So many of our students come back to visit and it is great to see them so successful. That has been the best part of my job. Watching them grow here as students and then seeing them do so well in their professions – what a great thing, to be a part of their life."
ECC Math Team Success
Congratulations to our ECC math team, which came in seventh place out of 191 community colleges in round one of the national 2010-11 AMATYC Student Math League Contest. The AMATYC (American Mathematical Association of Two-Year Colleges) contest is the only national math contest devoted solely to community colleges.
The El Camino College team's seventh place finish equaled its previous best finish back in the fall of 2006; however the team point total was a record for us: 134.0 points, which is comprised of the top five scores at ECC.  Our top scorer at the event was Huijing Gong with 29.5 points – this is the first time that a female was the top scorer for ECC.  The other four team members include: Ting Fung Lam, 27.5 points; Hong Lee, 27.5 points; Mai Pham, 25.5 points; and Myungin Kim, 24.0 points. Forty-five students participated. The second round is scheduled for March 4. For more info on the contest, click here.
The Origins of the Guitar: ECC Anthropology Museum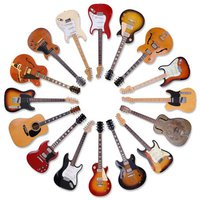 The ECC Anthropology Museum opens this month with its newest exhibit for 2010-11, titled: "The Guitar: the Instrument Heard Around the World." The exhibit traces the guitar from its roots in the Near East with the oud, its dissemination through Europe, the origins of the acoustic guitar in its final form in Iberia, and then its voyage to North American and Polynesia. The guitar will also be viewed in relation to various musical traditions with which it became coupled, such as Mariachi, Son Jarrocho, American Folk, and Rock 'n' Roll. Instruments on display are on loan to ECC by the Folk Music Center in Claremont.
The Anthropology Museum is on the third floor of the Art and Behavioral Sciences Building (Room 301). Museum hours are 9 a.m. to 4:30 p.m. Monday through Friday, and 8:30 a.m. to 3 p.m. Tuesdays and Thursdays. The museum will be closed during winter break, beginning on December 16 and will re-open in January. For more info, call extension 3580 or 3735.
High Tech Veterans Resource Center
ECC was recently chosen as a site for the Veterans Resource Center (VRC) Project's High Tech Center Training Unit. This program features a state-of-the-art training and support facility for community college faculty and staff wishing to acquire or improve teaching skills, methodologies, and pedagogy in assistive computer technology, alternate media and Web accessibility.
The High Tech Center at El Camino College is one of 114 centers at California community colleges. More than 10,000 veterans with disabilities are enrolled in High Tech Center programs statewide. ECC was chosen based on how well the college addresses the three core areas of academics, camaraderie, and wellness. In addition, location, demographics, and administrative support were taken into consideration.
CITD Delegation Travels to China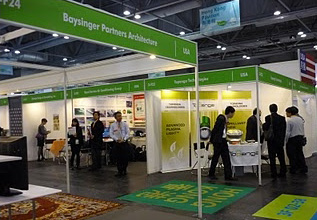 The ECC Center for International Trade Development (CITD) recently led a delegation of 28 U.S. companies to Hong Kong to participate in the environmental Eco Expo Asia 2010 trade show and promote the export of U.S. green technology to China under the Green Export Enabler Program (GEEP)—a U.S. Department of Commerce Market Development Cooperative Program. With support from the Hong Kong Trade Development Council (HKTDC) and the U.S. Commercial Service, participants visited Shenzhen Province, toured the Hong Kong Science & Technology Park (HKSTP), and had four full days to showcase their products and services at the trade show. A record 260 exhibitors attended the event, themed: "Business Solutions to Climate Change." The U.S. had the largest foreign pavilion and distinguished title as "Partner Country."

Within an hour of the Eco Expo Asia opening, a GEEP exhibitor of environmental instrumentation celebrated the first of six sales valued at US$700,000. Other preliminary results include an engineering firm with three solid leads from mainland China and anticipated sales of US$10-14 million, and a design firm looking to join two multi-million dollar projects based in India. The GEEP program is off to a tremendous start and looks forward to additional success in the remaining two years of the program.

Hector Salazar Honored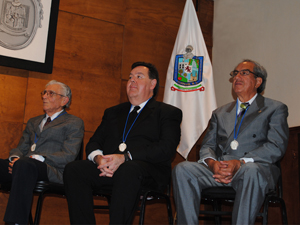 Our own Hector Salazar was recently honored by El Ayuntamiento de Santiago, N.L., México (City Hall of Santiago, Nuevo Leon) and the Consejo de la Crónica (Awards Committee) for his achievements in music and the arts. He was awarded the Medal of "Captain Diego Rodríquez de Montemayor." Montemayor was the man who first colonized the region of Santiago. Hector, a musical director and ECC's promotions specialist for our Center for the Arts, also serves as the assistant conductor of the Chamber Orchestra of the South Bay.

FYE and SI Honored by Chancellor's Student Success Award Committee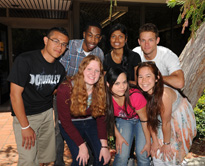 Congratulations to FYE and SI, which recently won honorable mention recognition at the annual Chancellor's Student Success Awards. This award was one of three student services programs to gain honorable mention acknowledgment out of all of the nominations submitted statewide. The annual Chancellor's Student Success Award, established in 2004, honors innovative college and district programs that demonstrate a commitment and significant progress toward achieving equity goals for all students. The programs must also exhibit success rates in the areas of access, retention, course completion, degree and certificate completion, and transfer.
Scholar-Athletes Honored
Congratulations to the nearly 30 ECC scholar-athletes who were honored at the November 6 homecoming football game as Scholar-Ballers. These students have achieved success in the classroom as well as on the fields, courts, and pools and were applauded for their efforts by Scholar-Baller, an organization that recognizes athletes who are committed to academics. For a list of all ECC fall Scholar-Ballers, click here.
Football: All Conference Selections
The Northern Football Conference recently announced All-Conference Teams. Congratulations to our Warriors who were recognized by conference coaches for the 2010 season. For a full list of All-Conference selections, click here.
Cross Country: A Successful Season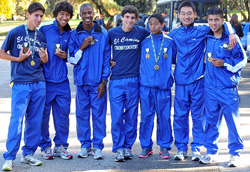 ECC cross country wrapped up an outstanding season where David Cardona went undefeated and captured the South Coast Conference, Southern California, and State Titles, while setting a new Mt. SAC course record and tying the state meet record! Additionally, David was voted South Coast Conference Athlete-of-the-Year and California Athlete-of-the-Month for October.

David and teammate Jose Lezama placed first and second in four major invitationals this season and placed first/third in the Southern California Championships. These two sophomores led the young men's team to the Mt. SAC Invitational Team Title, setting a team time course record; South Coast Conference Team Champion; third place in Southern California; and fifth in the State Championships. Congratulations! Click here to vist the cross country page.

All-Conference Athletes!
Congratulations to men's water polo players Noah Rubke & Michael Colbert who were named All-Conference, 2nd team. In addition, the following women's soccer players made All-Conference First Team: Justine Zavala & Hayley Curtis; and All Conference Second Team: Shannon Hornbeck, Jasmine Brink, Alicia Sala & Renee Timoteo.

ECC Compton Center Receives HVAC Grant
ECC Compton Center's Career Technical Education (CTE) program recently received a grant to enhance its Heating, Ventilation and Air Conditioning (HVAC) program. Funds will be used to acquire high-efficiency equipment used in the field by HVAC contractors, giving students hands-on experience in its use and capabilities, and increase their chances of being employed in the HVAC field. The HVAC program is in its third semester of being offered at ECC Compton Center and is growing in popularity.
"Once the word got out that we are one of the few schools in the area offering an HVAC program, we have a lot of students enrolling in the classes," said Dale Ueda, HVAC adjunct instructor at Compton Center. "We started the program in fall 2009 with 10 students and now we have 30 students working toward certification in HVAC."
SSTARS Breakfast Banquet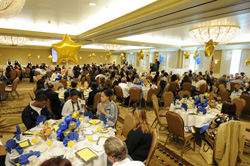 Save the date! The Fifth Annual SSTARS Breakfast Banquet is set for 9:00 to 11:00 a.m. January 28 at the Doubletree Hotel in Torrance. This year's event will recognize and celebrate outstanding SSTARS student achievements and will honor Harold Tyler, director of student development. Proceeds from the banquet will support SSTARS programs and students. Tickets cost is $35 per guest. For more information or to purchase a ticket, click here.  

A Commitment to Higher Education
Through a focused and collaborative effort known as the "Compton Commitment," El Camino College (ECC), the Compton Unified School District (CUSD) and California State University, Dominguez Hills (CSUDH) have entered into an agreement to work together to increase local rates of college participation and student success. The overall objective of this agreement is to more closely link the recruitment and enrollment efforts of ECC Compton Center and the Compton Unified School District with CSUDH to create a seamless process for academic, personal and professional success of students within our service area. Together, we will actively facilitate the enrollment of students from CUSD to both ECC Compton Center and CSUDH, and the transfer of Compton Center students to CSUDH. For more information on how you can support the Compton Commitment, contact Elizabeth Martinez in the Transfer Center at 310-900-1600, Ext. 2760 or elmartinez@elcamino.edu.

Sections
Meet Ross Durand
Newsletters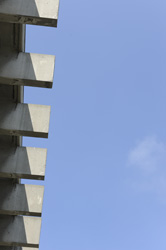 Can you guess where this photo was taken on campus? Submit your best guess here and be eligible to win a fabulous prize! Submit entries by December 17.

Congratulations to Karen Lam in Academic Affairs! Karen correctly indentified last month's photo, which was a view of the east side of the PE North Building, across from the Student Activities Center. Karen won an ECC coffee mug, loaded with treats in ECC colors.