Black History Month Events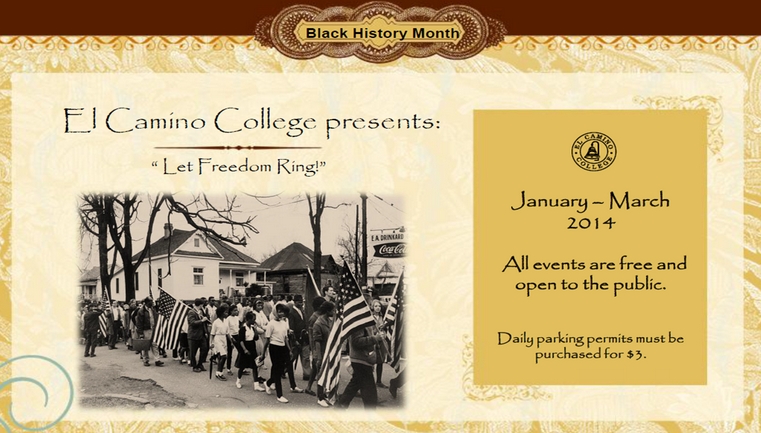 Everyone is invited to participate in the collegewide cel­ebration of Black History Month through a variety of events planned during February. A month-long exhibit in the Schauerman Library titled "Let Freedom Ring!" continues through February 28. For other events, click here.
"Boundless Spirit"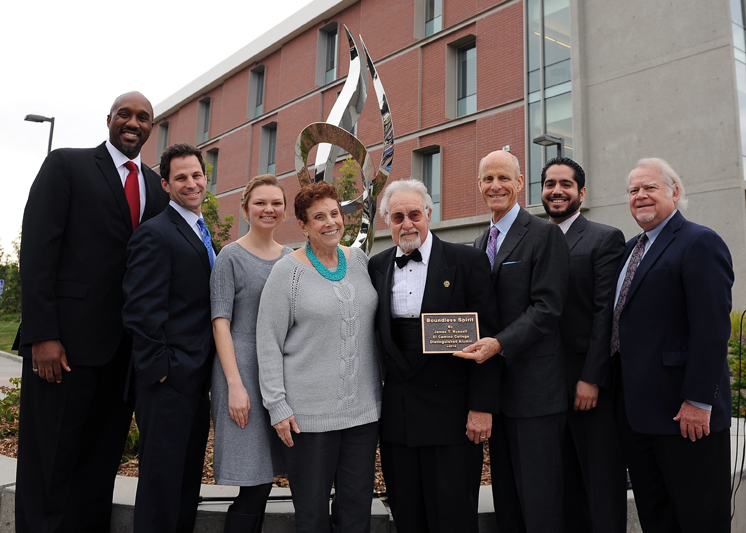 The latest work from El Camino College alumnus and internationally renowned sculptor James T. Russell is a culmination of more than four decades of education, dedication, and inspiration. A tribute to the possibilities of education, "Boundless Spirit" was recently installed in its new permanent home, prominently centered on El Camino College's main entrance to campus, along Crenshaw Boulevard. The impressive 8-foot-tall work of polished stainless steel is mounted on a 3-foot-high pedestal, truly reflecting the spirit and power of teaching and learning. More…

Outstanding Scholar Athletes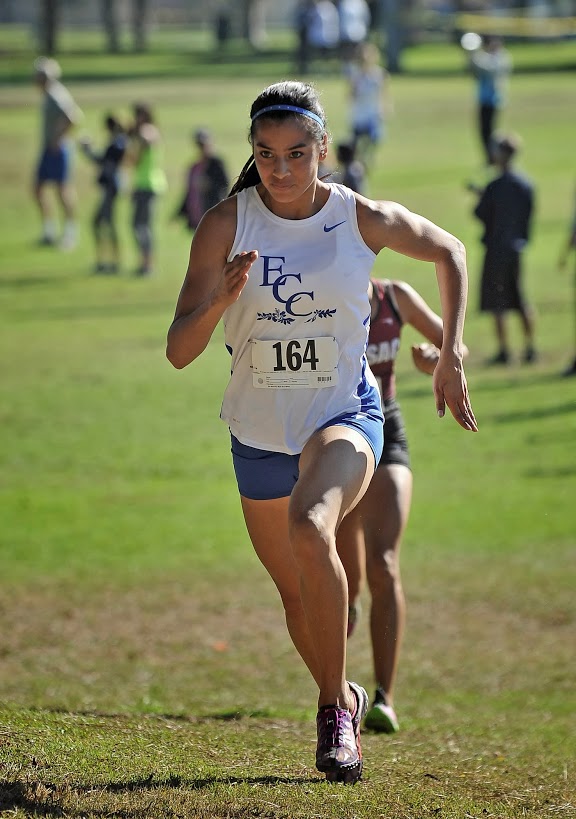 Congratulations to the ECC women's cross country and women's water polo teams for selection as California Community College Athletic Association Scholar Team recipients. The Scholar Team Award is the highest academic team achievement given annually by the CCCAA. All team members must have excelled academically with a total grade point average of 3.0 or higher. Teams named for this honor also have demonstrated better than average accomplishments in intercollegiate athletic competition. The teams will be recognized at the CCCAA's upcoming spring conference.
2014 Women of Distinction Nominations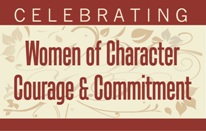 Know an outstanding woman who makes the world a better place? Nominate her for an award! Members of the El Camino College Women's History Month Committee are seeking nominees for the 2014 Women of Distinction Award. Nominations can be made by friends, family, and colleagues; or individuals may nominate themselves. Nominees will be judged for their contributions in one or more of the following areas: professional accomplishments, leadership and/or mentorship, and social, educational, or health services. Those nominated must also live or work in the communities within the El Camino Community College District. Honorees will be announced at the Women's Wall of Fame Ceremony on March 26. The nomination deadline is March 7. Click here to submit a nomination.
Space Science Day 2014   

South Bay youngsters are invited to attend ECC's Space Science Day 2014 on March 8 in the college's planetarium and science classrooms. The daylong event marks the 28th anniversary of the Space Shuttle Challenger tragedy where Astronaut Ellison Onizuka perished along with the six other crew members in 1986. Space Science Day will feature an astronaut presentation as well as classroom workshops and demonstrations led by ECC professors, students, and guests from JPL and other institutions. The event is sponsored by El Camino College and American Honda Motor Co., Inc., and coordinated by the El Camino College Astronaut Ellison Onizuka Memorial Committee. It is free and open to serious-minded science students in grades five through 12. To register, contact SpaceDay@elcamino.edu; for more information click here, or call 310-660-3487.

Nominations: Faculty & Staff Awards
Now is the time to submit nominations for the 2014 ECC Distinguished Faculty and Staff awards. The Distinguished Faculty Award honors outstanding faculty members who have demonstrated the highest level of commitment to their students, the college, and profession. In addition to excellence in helping students succeed, they must have a record of outstanding participation on campus and in professional activities. Nominations must be received by the Vice President, Academic Affairs Office by 4:30 p.m. February 21. The Distinguished Staff Award is presented annually to a staff member whose contributions demonstrate commitment to academic excellence and outstanding service to the college and its students. Nominations must be received in the Human Resources Office no later than 4:30 p.m. March 7 via regular mail or email. To nominate a faculty or staff member, please see your dean or director.
Service Learning Program Sets Summer Trips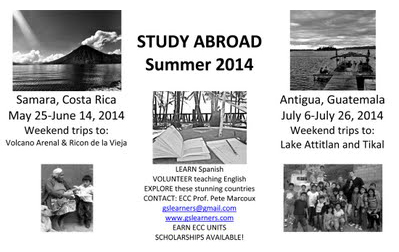 ECC English Professor Pete Marcoux will offer two study abroad programs this summer through his non-profit, Global Service Learners, an organization that offers opportunities for American students to study abroad. Trips include Samara, Costa Rica from May 25-June 14 and Antigua, Guatemala from July 6 to 26. Participants will help teach English to elementary-age students, while learning Spanish and a new culture. This service learning program integrates meaningful community service with instruction that enriches the learning experience, teaches civic responsibility, and strengthens communities. For more information, click here.
Plus 50 Encore Program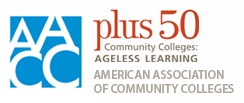 ECC is one of 38 community colleges recently selected to join the Plus 50 Encore Completion Program offered by the American Association of Community Colleges (AACC). The program now has 100 colleges working to train 10,000 baby boomers over the next two years for new jobs in health care, education and social services, while helping them complete certificates or degrees. ECC will offer workforce training programs that prepare older adults for new careers. Plus 50 adults will be able to train for careers as medical transcriptionists, pharmacy technicians, respiratory therapists, certified nursing assistants, medical assistants, daycare workers, child development associates, substitute teachers, clinical laboratory assistants and other jobs. The Plus 50 Encore Completion Program is funded with a $3.2 million grant to AACC provided by Deerbrook Charitable Trust.
Blood Drive Scheduled
Everyone is encouraged to participate in the Spring 2014 Blood Drive, scheduled for March 11-13 in the Student Activities Center, East Lounge. The El Camino College Inter-Club Council and Student Development Office sponsor this twice-per-year blood drive. Donors can come to the campus Student Activities Center from 9:00 a.m. to 3:00 p.m. each day of the blood drive, with extended hours until 8:00 p.m. on March 13.
ECC Compton Center Welcomes Four New Faculty Members
El Camino College Compton Center hired four new full-time faculty members at the beginning of the spring 2014 semester. Faculty Sevana Khodagholian, Jesse Mills
Kent Schwitkis, and Rajinder Sidhu, who join ECC Compton Center in the mission to provide high-quality educational programs, bring extensive knowledge and professional experience to their new roles, helping to contribute to student success. Read about ECC Compton Center's newest employees here.

HTP Students to Present Research
The ECC Honors Transfer Program recently announced that 21 students were accepted to present at the 14th Annual Student Research Conference at UC Irvine on April 5. This prestigious and selective conference includes student participants from honors programs throughout California. Also, save the date! A "mini-conference" is set for May 1 in ECC's Stadium Room, where HTP students will present an encore performance that will allow faculty and students to see a selection of student presenters' work. Click here for this year's presenters.
Share your comments about these stories!
You can use your Facebook, Hotmail, Yahoo or AOL account to make a comment!


Sections
Share this newsletter with
your friends:



Tweet

Share your thoughts on these articles! Leave your comments at the bottom of this newsletter!
Safety Matters
Department News
ECC Alumni

Submissions
Newsletters