Debate Team – No. 1!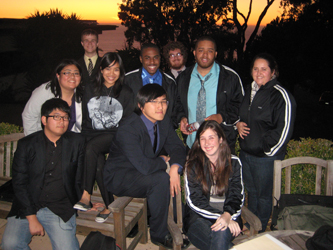 Our ECC forensics team just came home from the Sunset Cliffs Classic Invitational forensics tournament at Point Loma Nazarene University where they won the overall sweepstakes award for community colleges. Five of our six teams advanced to elimination rounds at the event, widely considered one of the toughest tournaments of the year, drawing colleges and universities from across the nation. ECC student Bear Saulet, named the top overall community college speaker for the second year in a row, was awarded the tournament's $6,000 scholarship; in addition Albro Lundy was named the top speaker in junior-level debate. More...
SSTARS Shine at Breakfast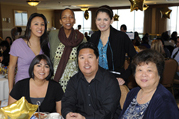 Congratulations to our outstanding students honored at the Fifth Annual SSTARS (Student Services Transfer and Retention Services) breakfast banquet at the Doubletree Hotel in Torrance. The event celebrates the achievements of El Camino College students while also raising money for student scholarships. El Camino College's 28 support services were also highlighted at the event. Five exemplary students were honored at the SSTARS Hall of Fame Induction Ceremony: Ronald Calderon, Raul Campos, Angela Funes, Ana K. Soltero Lopez, Blanca Prado, and Garcell Zardes. In addition, special recognition was given to Harold Tyler, the recently retired director of student development.

Black History Month Events
Please join in our collegewide celebration of Black History Month through a variety of events planned during February. Activities at the Schauerman Library include "Let Freedom Ring," an exhibit created by ECC history professor Maria Brown, through February 28. Other events include the presentation "African American Influence on American Dance," set for 1:00-2:00 p.m. February 17 at the Campus Theatre; a "Historical Timeline" play presented by Project Success from 1:00-2:00 p.m. February 22 at the Student Activities Center East Lounge; and "Who's History is His Story?" featuring keynote speaker the Rev. Cecil "Chip" Murray from 1:00-2:00 p.m. February 24 at Marsee Auditorium.
The monthlong celebration concludes with A "Taste of Soul" Festival/Historical & African Dress Day from 11:00 a.m.-3:00 p.m. February 28 in the Alondra Room. All events are sponsored by the El Camino College Office of Staff and Student Diversity and the Black History Month Committee. Everyone is invited to join in the celebration! More...

ECC Professor Makes History
We are proud to announce that our own Michael Eula, a history professor, was recently elected vice-president of the American Italian Historical Association. Michael is the only academic from a community college and only the historian from the western United States to ever hold this position. His scholarship has focused on Italian Americans for many years and he will have another essay published in Italian Americana later this year. The article is titled, "The Costa Family Society and the Formation of Middle Class Ethnicity in Postwar America, 1950-1970." The American Italian Historical Association is a non-profit organization devoted to the interdisciplinary study of the culture, history, literature, sociology, demography, folklore, and politics of Italians in America.

Warrior Cheerleading
Go Warriors! In El Camino College's first cheer competition in more than 10 years, our Warrior team recently secured third place at the Cheer Pros Co-Ed division in Long Beach. For most team members, this was their first experience in a competitive college environment. Coaches Diana Galias, David Oropeza, and Crystal Oropeza spent many hours working with the team to deliver an outstanding effort, which finished just behind past national champs Long Beach City College and eventual champion Mt. San Antonio College.
Our team is comprised of 23 members who are all full-time students at El Camino College. Members are gearing up for the next competition – a national event at the Anaheim Convention Center on February 26 and 27. All are invited to come out and support our cheer team in this competition!
El Camino College STEM Student
Enhancement Team (SET)
A new math/science tutoring program that pairs El Camino College students with high school students has seen success in its first year. Through the El Camino College STEM Student Enhancement Team (SET), ECC student tutors are paired with high school students to work on math and science assignments after school. The program is funded by a STEM grant, and started last spring with two high schools and a handful of students. The program has grown to include six high schools, a location at the Redondo Beach Main Library, and up to 100 high school students who need help with math and science courses. Tutoring is free to all students. More...
ECC Woodworkers Host Scouts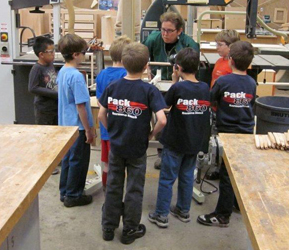 Woodworking instructor Jack Selph and members of the ECC Woodworkers Guild recently sponsored a visit from a group of third-graders from Cub Scout Pack 860 of Hermosa Beach who were working toward their bear badge. The visit was timed perfectly – Selph had just learned that noted woodworker Beth Ireland would be in the Los Angeles area. Ireland is a woodturning specialist who travels the country teaching woodturning and simple woodworking. Ireland agreed to come to the ECC campus and lead an action-packed Saturday morning workshop. With help from den leader Ed Hoffman, parents, and volunteers from the El Camino College Woodturners Guild, each scout had the opportunity to make a pen and a whistle to take home. More...
Observatory Open House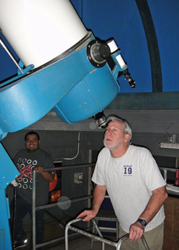 Our ECC Observatory recently sponsored an Open House, where area residents had the opportunity to look through telescopes for spectacular celestial views of the moon, Jupiter, double stars, and star clusters. Astronomy faculty member Vincent Lloyd was on hand to help the visitors view the night sky. The Observatory is located on the roof of the El Camino College Math Building and features a Celestron 16-inch Schmidt-Cassegrain telescope. The observatory is also equipped with a Hydrogen-Alpha solar filter for viewing solar prominences and flares during the day. Watch for additional open house events this semester. All are free and open to the public. More…

ECC Student Accepted to Prestigious Film School
Congratulations to film/video student Adrian Svircic who was recently accepted at the Prague Film School in the Czech Republic. Prague is one of the leading film schools in Europe and Adrian will be studying cinematography. ECC regularly transfers film/video students to leading area universities, but Adrian is considered the first student to apply and gain acceptance to an internationally recognized film school, according to ECC Professor Kevin O'Brien. Great job, Adrian!

Distance Runner David Cardona
Featured in Magazine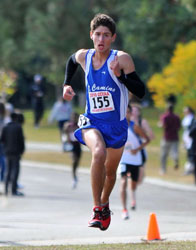 Check out the California Community College Track & Field website for a great feature story highlighting the success of scholar-athlete David Cardona. The story describes David's outstanding career at ECC, including his sophomore year of cross country where he took the Southern California Finals (five second win margin) and the California State Championships (nine second win margin). The story includes an outstanding photo by our own Coach Dean Lofgren. Watch for more of David's speed as he competes in the 2012 track season!

ECC Student Wins Prestigious Photo Award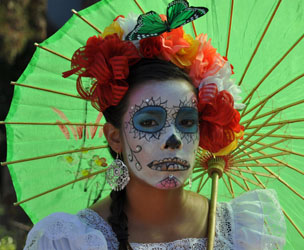 Congratulations to photography student Gloria Plascencia, whose photograph has been named a finalist in the Photographer's Forum Best of College Photography Competition 2011. This competition regularly draws more than 20,000 entries; the top 5 percent are selected as finalists. Her beautiful photograph will be published in the Photographer's Forum Best of College Photography Annual: 2011. The ECC Photography Department is led by Professor Darilyn R. Rowan.

"Girls in the Garage"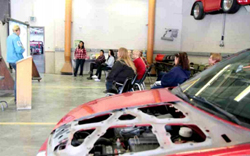 Click here to read a feature story in Chicago Pneumatic magazine about ECC instructor Pati Fairchild and our automotive collision repair and painting department. Pati recently initiated "Girls in the Garage," an open house event designed to inspire women to enroll in non-traditional technical classes. Also in attendance were members of the Gasoline Girls, a Southern California car club dedicated to working on cars and encouraging other women to become more knowledgeable about cars. More "Girls in the Garage" events are planned for the spring at El Camino College.

ECC Compton Center Speech Students
Interpret the Nisei
ECC Compton Center students from Professor Ella Stewart's speech class recently made oral presentations of Nisei students' writings and reflections that were published in the Manzanar Free Press in 1943, after the Nisei had been in the camp for one year. The writers ranged in age from 8 to 17. One student read from former Compton Junior College student Miwako Oano's journal reflecting on the declaration of war against Japan and the then college president's address to the student body. Each of the Compton Center students who made presentations explained the context of the selection read. This was the final event in a series of academic enrichment activities centered on the California Nisei College Diploma Project, created to connect our contemporary student body to the history of the former college and the surrounding area, as well as events related to WWII.
http://district.compton.edu/nisei/

ECC Art Gallery Presents: The Spaces in Between: Paintings, installations and performances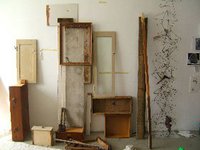 The work of former ECC student Betsy Lohrer Hall will be presented in The Spaces in Between; Paintings, installations and performances in the El Camino College Art Gallery from February 14 through March 11. An artist's reception is scheduled for 7 to 9 p.m. February 24, in addition to the performances "Breaking Codes" from 10 a.m. -3 p.m. March 1 and "Bedtime Stories" from 1-2 p.m. March 8.
Simultaneously careful and intense, the works of Betsy Lohrer Hall contain subliminal messages, where both image and meaning are derived from a systematic accumulation of simple actions taking place over a period of time. Whether this action is the placement of painted lines, the performance of specific actions or the mounting of collected objects, this repetitive and layered method of creating artwork permeates the entire body of work. Both light-hearted and serious, the works of Lohrer Hall reflect a meditative relationship to life where the commonplace is imbued with meaning and poetry finds its way through the spaces in between. Click here for more info.

Alpha Gamma Sigma Chapter Established at
ECC Compton Center
To help students further develop their leadership skills, a chapter of the Alpha Gamma Sigma (AGS) Honor and Scholarship Society is being established at El Camino College Compton Center. In addition to supporting the academic endeavors of its members through study groups, tutorials and scholarship opportunities, the honor society offers ways to gain leadership positions, participate in community service, and meet other students with similar academic interests.

Alpha Gamma Sigma is an academic honor society and service organization of the California Community College system. Its purpose is to foster, promote and recognize outstanding scholarship, and to encourage and provide opportunities for participation in community service activities. Students must maintain a GPA of 3.0 or better to be members of AGS and most chapters set a minimum number of hours of community service that members must perform. More…

2011 Women of Distinction Award Nominations
Members of the Women's History Month Committee at El Camino College are seeking nominees for the 2011 Women of Distinction Award. The "Women of Distinction Award" recognizes outstanding women from the El Camino College area, honoring them for their contributions to the community. Honorees are selected by the committee each year during March – Women's History Month. Award nominations can be made by friends, family, and colleagues; or individuals may nominate themselves. Nominees will be judged for their contributions in one or more of the following areas: professional accomplishments, leadership and/or mentorship, and social, educational, or health services.
Those nominated must also live or work in the communities within the El Camino Community College District: El Segundo, Redondo Beach, Manhattan Beach, Hermosa Beach, Lawndale, Lennox, Inglewood, Hawthorne, and Torrance. The nomination deadline is March 10. Click here to submit a nomination.

Sections
Meet Nancy Freeman

Newsletters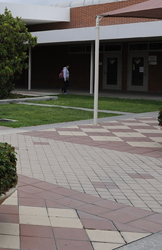 Can you guess where this photo was taken on campus? Submit your best guess here and be eligible to win a fabulous prize! Submit entries by February 17.

Congratulations to Mayda Angel-Reatiga in the Records Office! Mayda correctly indentified last month's photo, which was the front of the Administration building, second floor windows of the Human Resources Department.
Mayda won a pair of handmade earrings created and donated by Carla Bradford, a student in our Art Department.
Take a look at the earrings here.