ECC Art Gallery to Present: "In Tandem"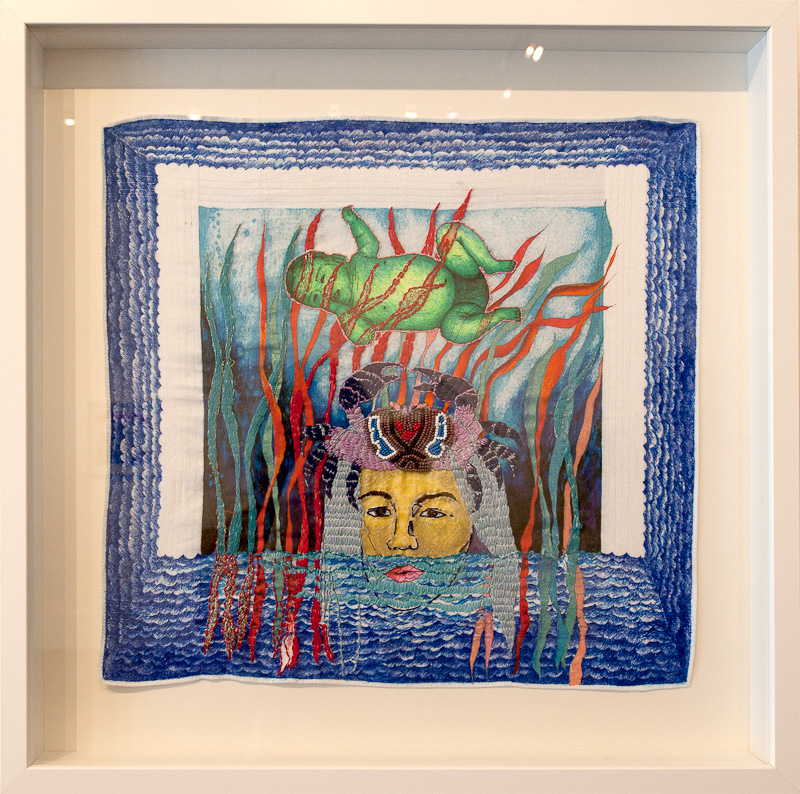 The El Camino Art Galley will present "In Tandem: Work by 5 Artist Couples" from February 13-March 8. A reception is scheduled from 7:00-9:00 p.m. February 23, in addition to an artists' talk at 1 p.m. February 28. In tandem or under the influence? Source of support or competition? Opposition or similarity? These are some of the immediate questions or thoughts that come to mind when considering the artwork of couples who not only co-habit but also co-create. The five artist couples in this exhibition were selected, in part, because their artwork does bear significant evidence of influence, one partner upon the other. Additionally, both partners create separately as well as together. Please join us in investigating the richly varied nature of partnering and artistic influence as substantiated in works by Jeff and Jocelyn Foye, Keiko Fukazawa and Dennis Callwood, Barbara Jones and Gustavo Leclerc, Richard and Lois Pio, Laura Stickney and Vilma Mendillo. More info…
Spring Flex Day
Spring 2012 Flex Day is set for February 8. The day begins with morning refreshments and check-in from 8:00-9:00 a.m., followed by a general session and division/department meetings. Optional workshops will be offered following lunch. Spring Flex Day is a great opportunity to meet up with colleagues after the winter recess and get ready for the new semester. See you there!
Paramedic Graduation   
Congratulations to the 220th graduating class of the El Camino College Paramedic Training Institute. Students will celebrate with a graduation ceremony at 3:00 p.m. January 24 in the ECC Campus Theatre. For more information, please contact dzavala@elcamino.edu.
Scholarships Available

All students are encouraged to apply for scholarships via MyECC through February 29. More than 300 scholarships are available to incoming high school students, current ECC students, and students who are planning to transfer to a four-year university. Scholarships range from $150-$5,000; and multi-year scholarships from $1,000-$2,000 per year for two years are also available. Last year, about 325 El Camino College students were awarded scholarships at the ECC annual Scholarship Awards Ceremony and Reception. More than $350,000 was distributed – apply for a scholarship today!

Bookstore Winter Hours
The El Camino College Bookstore will keep limited hours during the Winter Session: 7:30 a.m. to 5:00 p.m. Monday through Thursday and from 7:30 a.m. to 4:00 p.m. Fridays. While purchasing books, be sure to check out the new Hello Kitty apparel and accessories available at the ECC bookstore!
EOPS Students Celebrate "Instructors Appreciation Day"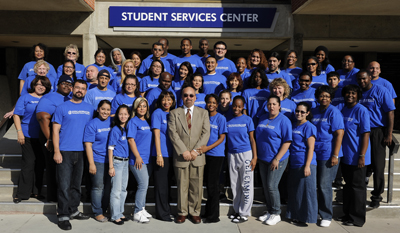 EOPS students recently celebrated "Instructors Appreciation Day" and nominated 71 instructors to be recognized for their commitment to student success. These teachers were selected for going "Above and Beyond" in helping students succeed and were invited to participate in an open house luncheon where they received a certificate of appreciation for their hard work and dedication. Congratulations to all!
Congrats! Dean Lofgren, SCC Men's
Coach of the Year     

ECC track/cross country coach Dean Lofgren was recently named South Coast Conference Coach of the Year for the 2010-2011 seasons. Dean's cross country team won the 2010 SCC title behind top racer David Cardona, who also won the South Coast, Southern California Regional, and CCCAA State individual meets. Lofgren's 2011 track and field team followed that with a No. 5 finish at the CCCAA Championships. The SCC Coach of the Year award is Lofgren's second coaching accolade this season. He was named the California Community College Women's Coach of the Year for track and field in 2011, where his women's team finished as co-state champions with Mount San Antonio College.
Geology Field Trip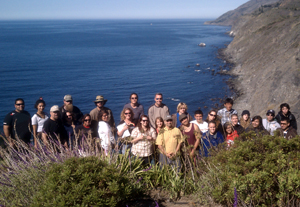 A recent ECC geology field trip included flora, fauna, and magnificent coastal views. The Geology 36 field geology class headed to the Central California coast this past fall, visiting some of the most beautiful and interesting places in California. They traveled up to the Big Sur coast, visited beaches around Cambria, spent a half day in Montana de Oro State Park and camped for three nights at Morro Bay State Park. The excursion was designed as a research opportunity for students to study the rocks, plate tectonics, economic geology, and coastal processes of Central California. The group also had a great time seeing wildlife such as coyotes, elk, turkeys, sea otters, and elephant seals. Twenty-four students attended, including a record 10 geology majors. Vice President of Academic Affairs Francisco Arce and Torrance Unified School District earth science teacher Shelly Thompson attended as guests.
Warrior Football: 16 Named To All-Conference Team, Tavai Defensive MVP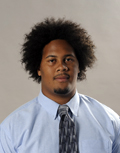 The Warriors were one of the top teams in the Southern California Football Association this past season and they were rewarded with 16 selections to the National Northern All-Conference Team, including Defensive Most Valuable Player Jordan Tavai. The No. 6 Warriors boasted one of the top defenses in the SCFA, ranking in the top-10 in seven categories including No. 2 in four: sacks (38), pass defense (176.5 yards allowed per game), scoring defense (19.6 ppg allowed), and first downs allowed (155). They also ranked no. 3 in total defense (288.5 total yards allowed per game) and no. 6 in rush defense (112 yards allowed per game). More...…
Soccer Standouts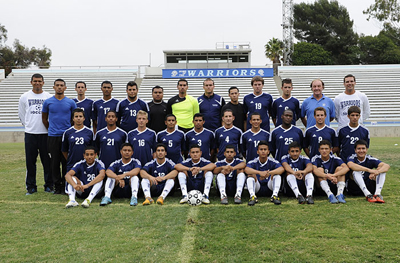 Congrats to all Warriors named to the All-South Coast Conference soccer team! Men: Chris Marckstadt, Michael Tostado, and Chris Marckstadt, All-SCC First Team; Aric Morales, Frank Arteaga, All-SCC Second Team; and Ben Turnbull, Honorable Mention. Women: Shannon Hornbeck and Rebecca Maier, All-SCC First Team; Marilyn Cervantes, Itchel Guzman and Shannon Hornbeck, All-SCC Second Team; and Cecy Perez, Honorable Mention.
A Season of Giving
To start the season of giving, students in the Inter-Club Council hosted a fun holiday party for area youngsters on December 9. Refreshments and other holiday treats were part of the festivities!
Warrior Women's Volleyball
After a successful season, ECC Sophomore setter Sarah McFadden was named South Coast Conference's Most Valuable Player! McFadden led the conference with an impressive 712 assists and a 10.03 assist per game average this season. She had 15 more assists than her next closest competitor and her average was nearly one full assist higher than Kelsey Dix of Long Beach. McFadden was also second in the league in aces per game average (0.49), third in overall aces (35) and also averaged 2.6 digs per game. Congratulations to all SCC All-Conference selections: middle blocker Lauren Edwards, libero Keely Stevenson, and middle blocker Teuila Barnes were selected to the first team. Second team selections include Kaitlyn Edwards, Nigeria Owens, and Katie Child
Water Polo All-Conference Selections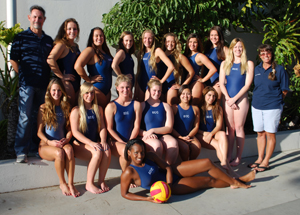 Congratulations to our water polo players who recently earned All Conference  honors! Men's First Team: Alec Ortiz, freshman, utility. Second Team: Steven Sorbom, freshman, goalie and Kerick "K.C." Boyce, freshman, utility. Women's First Team: Kristie Wand, sophomore, utility (two-time All-SCC First Team selection). Second Team: Ariel Carrillo, freshman, utility and Katlyn Vannieuwenhuyse, freshman, utility.
Share your comments about these stories!
You can use your Facebook, Hotmail, Yahoo or AOL account to make a comment!


Sections
Newsletters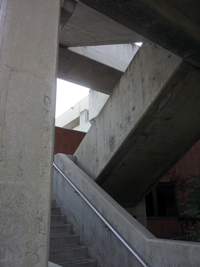 Can you guess where this photo was taken on campus? Submit your best guess here and be eligible to win a fabulous prize! Submit entries by January 20.

Congratulations to Don Treat in ITS! Don correctly indentified last month's photo, which was the new walkway to the sand volleyball courts, between the North Gym and Student Service Center. Don won a gift card to Starbucks for his correct answer.