Naomi Tokuda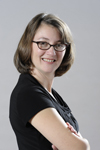 Hired: October 2007
Little Known Fact: Naomi was a child actor/model who appeared in catalogs, community theater productions, and numerous TV shows as an extra. She was also the "house model" for the hair salon at Bullocks Wilshire, and auditioned for parts in Kramer vs. Kramer and The Goonies.
Hobbies: Spending time with her 4-year old son Mas – you will likely find them at karate classes, playing in the park, and going on adventures.
Naomi Tokuda is the Career Advancement Academy program coordinator at El Camino College and also teaches education classes at El Camino College Compton Center. Through these positions, she helps students train for careers in high-demand industries.
"I like helping students in a really tangible way, knowing that what they learn here will help them grow in their career and find the future they want," Naomi said. "I can do that here. My first week at El Camino College, I was told that everyone is really nice. I soon found out that it was true! What a great place to be!"
Before coming to El Camino College, Naomi taught middle and high school English and history for many years, primarily working with indigenous students from Australia to Arizona. She also served as the founding principal of a small charter middle school, serving members of the Tohono O'odham Nation in Arizona. Naomi received a master's degree in teaching and teacher education with an emphasis in critical pedagogy from the University of Arizona, and a bachelor's degree in history, also from the University of Arizona. In addition, she has completed post-baccalaureate work, and has a secondary teaching credential, as well as an administrative services credential.