LA County Certifies Measure E Votes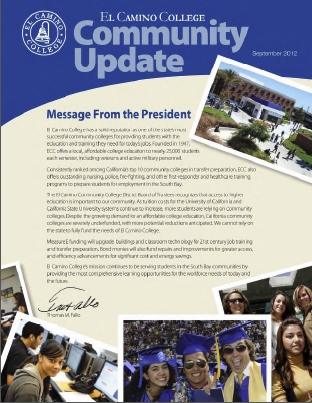 The Los Angeles County Registrar-Recorder's Office has certified the official voting results from the November 6 election. El Camino Community College District's Measure E was supported by 68.2% of the voters, or 129,939 "yes" votes. The $350 million bond measure will provide funds for safety, technology, and energy-saving improvements to classrooms, labs, and other instructional facilities. For more information on Measure E, click here.
Basketball Team Lends a Hand
During the holiday season, the El Camino College Warriors men's basketball team, led by Coach Robert Uphoff, spent time serving others at the Community's Child's annual Christmas event at the Calvary Assembly of God in Lomita. Through this community service project, ECC team members played basketball with needy children, wrapped gifts, and handed out Christmas gifts to each family. Coach Uphoff's twins Addi and Luke joined the festivities.
Anthropology Museum Presents New Exhibit      
The ECC Anthropology Museum's latest exhibit explores the birth of the three great world religions. "Motherland of Religions: The Eastern Mediterranean in Late Prehistory" is now open in the newly refurbished Anthropology Museum. The exhibit is curated by students in El Camino College's museum studies class, under the supervision of Professor Blair Gibson. This will be the first event in the newly renovated museum, financed by 2002 facilities bond funding. New cases constructed in mahogany and tempered glass were built in a modern design for the space, and moveable wall panels were added so the museum's layout can be reconfigured for each exhibit. An LCD projector and screen round out the renovations. More…
Spring Flex Day
Spring 2013 Flex Day is set for Wednesday, February 6. The day begins with morning refreshments and check-in from 7:45-9:00 a.m. at the Marsee Auditorium South Patio, followed by a general session and division/department meetings. Spring Flex Day is an opportunity to gain professional development, prepare for the new semester, and interact with colleagues after the winter recess. See you there!
Spring 2013 Registration Underway

Classes have been added for Spring 2013 schedule and registration is underway for the Spring 2013 semester New and continuing students may register online, www.elcamino.edu, click on MyECC. The Spring 2013 semester begins Saturday, February 9, 2013. A variety of day and evening courses ranging from basic skills and transferable general education classes are offered. Online courses in many subjects are also available. Students may register online at any time – just go to www.elcamino.edu and click on MyECC. The class schedule is posted online at www.elcamino.edu. Financial aid is available for qualifying students.

ECC Professor Launches Non-profit Service Learning Program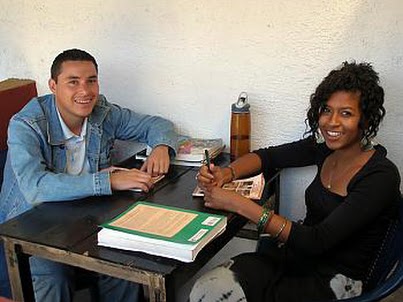 from 2012 service learning excursion
El Camino College English Professor Pete Marcoux is in Guatemala this month with ECC students to help teach English to elementary-age students at an impoverished village school. The 20-day trip is part of a newly created service learning program founded by Marcoux that sends students to help others in underdeveloped parts of the world. Marcoux's non-profit, Global Service Learners, www.gslearners.com is an organization that offers opportunities for American students to study abroad. Marcoux traveled to Guatemala in January 2011 to scout locations and to build relationships with a language school. From that trip and additional research, he created the service learning program that integrates meaningful community service with instruction that enriches the learning experience, teaches civic responsibility, and strengthens communities.
Basketball Honors
Congrats to sophomore basketball player Joshua Wilson, who was named to the Honorable Mention list for the California Community College Athletic Association and California Community College Sports Information's Athlete of the Month award in November. Wilson averaged 17.2 points, 5.2 rebounds, 3.6 assists and three steals per game for the Warriors in five games during the month of November, helping lead the team to a 3-2 record in that stretch. He scored 21 points on 9-for-17 shooting in the Warriors opening night victory over then-state No. 2 Citrus College. He followed that performance with seven steals in the Warriors dominant 85-68 win against Grossmont on November 14 and then scored a season-high 23 points in an overtime victory at Cypress. Click here for the men's basketball schedule.
Online Counseling Appointments    
A new program will allow ECC students to schedule counseling appointments online. Through this easy-to-use online system, students may schedule general counseling appointments, and change, view, or cancel their own appointments. This program takes the place of students waiting in line, or calling the Counseling Office to make an appointment. SARS, the online appointment system, is used in nearly all student services offices. We are now utilizing its latest feature, eSARS, to allow students to schedule their own counseling appointments, new student orientations, and probation workshops. Appointments are released online every Monday at noon via MyECC. Just go to the "Web Services" tab on MyECC and select "Online Counseling Appointments."
We "LIKE" Facebook!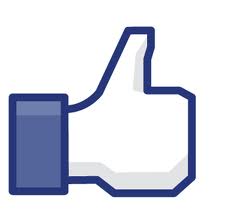 Thanks to our fans, we recently surpassed 10,000 "likes" on Facebook! Since launching ECC's award winning Facebook and social media programs three years ago, we have been consistently improving communication between the college and students, making sure it is efficient, expedient, and helpful. Listening to students and communicating with them in their own language has served to increase communication, while providing enhanced customer service. If you haven't already, please "like" our Facebook page and join the more than 10,000 fans!  Facebook followers get the latest ECC info, highlighting student success, faculty/staff news, activities and events, Warrior athletics, and other happenings at El Camino College. You will also find the latest ECC news on Twitter (@ECC_Online), the ECC mobile website (m.elcamino.edu), and the El Camino College YouTube channel.
ECC Compton Center Nursing Pinning Ceremony
El Camino College Compton Center recently celebrated its fall Nursing Pinning Ceremony. The nursing program prepares students for entry into the health care field as a registered nurse. The program also offers advanced placement opportunities for LVN/LPNs and transfer students. Upon successful completion of the nursing program, graduates are eligible to take the National Council Licensure Examinations for Registered Nurses (NCLEX-RN). For more information regarding ECC Compton Center's Nursing Program, please call 310-900-1600, Ext. 2702.
Click here for a list of ECC Compton Center's Fall 2012 Associate of Science Degree in Nursing recipients.
Compton Community College District Foundation Surpasses Scholarship Endowment Goal  
The Foundation for the Compton Community College District exceeded its fundraising goals and is eligible for a 50 percent match from the Bernard Osher Foundation. More than $190,000 was raised toward the Osher Scholarship Endowment, an amount that was increased by the 50 percent match from the Osher Foundation. Endowment funds will be used to provide future scholarship support for deserving students. Since 2009, the FCCCD has distributed more than 100 scholarships to ECC Compton Center students through its fundraising efforts. More…
Share your comments about these stories!
You can use your Facebook, Hotmail, Yahoo or AOL account to make a comment!


Sections
Share this newsletter with
your friends:



Tweet

Share your thoughts on these articles! Leave your comments at the bottom of this newsletter!
Safety Matters
Department News
ECC Alumni

Submissions
Newsletters
Happy New Year!
At El Camino College, we are looking forward to another year of student success. What are you looking forward to in 2013? What are your New Year's resolutions?