Professor Honored with Diversity Award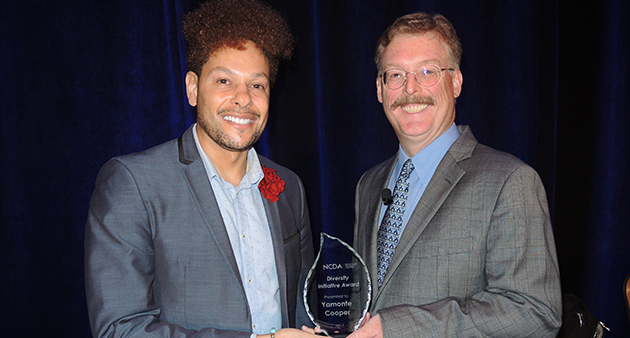 ECC associate professor and Career Center Coordinator Yamonte Cooper was recently honored with the Diversity Initiative Award from the National Career Development Association (NCDA). This award honors those who have demonstrated a high degree of cultural responsiveness via career-related activities and initiatives. Honorees have also contributed to meeting student needs and the professional growth of career counselors.
Yamonte has 18 years of experience working in higher education and joined the El Camino College faculty in 2010. He earned a doctorate in educational leadership with a concentration in higher education administration from USC, a master's degree in counseling with a specialization in career counseling and a bachelor's degree in sociology, both from California State University, Northridge. He is also a Licensed Professional Clinical Counselor (LPCC) and National Certified Counselor (NCC).
For the last two years Yamonte has served as chair of the NCDA Committee on Diversity Initiatives and Cultural Inclusion. During this time, he has led several projects, such as updating the multicultural online resource list, updating the committee's mission statement, compiling a list of potential keynote speakers of color, creating a diversity statement to ensure inclusivity within the organization, writing articles that address diversity in career convergence and developments, recommending gender-inclusive restrooms for the annual conference, and including nonbinary gender options on the NCDA application for membership and conference registration. He also serves as president of the California Career Development Association, co-chairs the California Community College Counselor Group of the Faculty Association of California Community Colleges, and is a faculty appointee to the California Community Colleges Chancellor's Office Advisory Group of Counseling. In 2014, Yamonte was honored with a prestigious Fulbright International Education Administrator Seminar Award in Germany, where he exchanged best practices in career counseling and development.