Global Innovation Summit Shows Creativity and Collaboration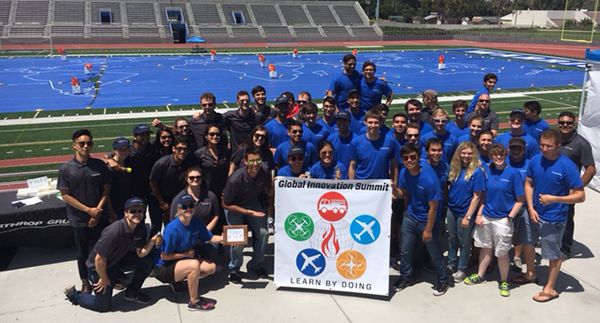 El Camino College and Northrop Grumman Aerospace Systems (NGAS) recently sponsored an exciting morning of innovation, science and creativity. The Northrop Grumman Global Innovation Summit featured a demonstration activity similar to a live-action video game. Five teams of ECC/Hawthorne High School students and Northrop Grumman interns battled together to save the world from simulated wildfires ravaging the planet. They accomplished this feat using RC planes, quad copters, and rovers (with silly string!) they designed and built.
One of Northrop Grumman's initiatives designed to encourage STEM education across the globe, the event is designed to bring student teams together to solve problems.
At the summit, wildfires were represented by 6-foot-tall fabric flames on a football field-sized map of the world. Each vehicle had a critical and unique role to extinguish the fires, as each of the teams used technology, and above all, cooperation, to support this simulated disaster relief.