Congratulations to the Class of 2011!!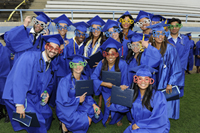 Congratulations to the El Camino College Class of 2011! We thank our speaker, Harold Tyler who addressed our graduates at the 64th Annual Commencement Ceremony on June 10 at Murdock Stadium. From scholarships to awards, our students are a continual source of pride for El Camino College, and we wish them all the best in their future endeavors.
One outstanding graduate is Solimar Flowers, who graduated with honors and will transfer to UCLA in the fall to pursue a major in sociology. She is one of approximately 174 ECC students admitted to UCLA for the fall. Read Solimar's story here.
Kudos also go to Tilo Lopez, who was accepted to both UCLA and the University of California at Berkeley. He will transfer to UC Berkeley in the fall – one of about 85 ECC students admitted to the selective Northern California university. Read Tilo's story here. We also wish all the best to nursing graduate Kelli Conlon who found a career path she loves. Kelli will transfer to California State University, Dominguez Hills to work toward a bachelor's degree in nursing and determine her next step. Read all about Kelli here.
Congratulations to all of our graduates!  Click here for a commencement photo gallery.
Have a Fun and Restful Summer!

Keep in touch with ECC news all summer long through Twitter and Facebook! Just go to http://www.elcamino.edu and follow along!
ECC Japanese Culture Club Donates $6,600 to Support Earthquake and Tsunami Victims in Japan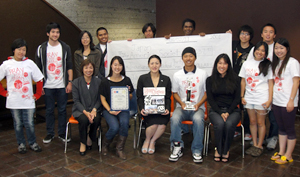 Our ECC Japanese Culture Club recently met with representatives from the Japan America Society of Southern California and presented a $6,600 check in support of earthquake and tsunami victims in Japan. Assisted by the ECC Political Science Club, the Music Society, and the Gay-Straight Alliance, students in the Japanese Culture Club organized a two-week T-shirt sale and donation drive on campus. More...
Robotics Awards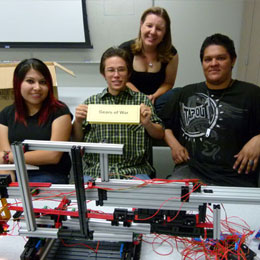 Congrats to our ECC Robotics Club for taking second and third place awards in the recent 2011 Project Lead the Way Student Design Challenge. The Los Angeles regional competition was staged on the campus of Cal Poly Pomona, and challenged students to build a machine that could place a ping pong ball into a cup randomly placed within a given zone. All teams used a variety of sensors strategically located on their machines to locate the position of the cup. The two teams from ECC were among 15 teams in the competition. The competition was sponsored by General Atomics and was the first of its kind for high school and college students. Each competing team built a prototype of their entry and brought it to the event for competitive testing. Current and past students who took Principles of Engineering (POE) Project Lead The Way courses were invited to enter the competition, with up to three members per team.
ECC Awards $350,000 in Scholarships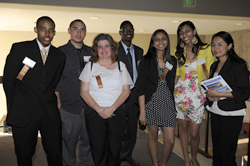 Congratulations to the approximately 325 students who were honored for their academic achievements at the annual Scholarship Awards Ceremony and Reception on May 12 at Marsee Auditorium. More than $350,000 in scholarships, in amounts from $500 to $5,000, were distributed to outstanding students. One highlight of the scholarship program this year was the addition of 13 new "named" $1,000 Osher scholarships. Many of these scholarships were awarded to multiple recipients; 24 total students will benefit from this program. Read more about our 2011 scholarship program here.

Track & Field – State Champs!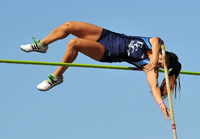 Our women's track & field team had an incredible showing at the state championship and claimed the state title; our men's team placed fifth; and seven team members became state champions this year. The Warriors run started early when freshman Myshauna Alexander won the javelin on opening day with a 150-11 mark, out distancing the nearest competitor by 25 feet! Sophomore David Cardona ended his ECC career by winning both the 1500m in 3:48.01 and the 5,000m in 14:29.46, while significantly outdistancing himself from his competition in both races. Sophomore Shalé Garland also concluded a tremendous career, winning both the 400m in 54.47 and the 200m in 24.38. In addition, sophomore Derion Taylor won the triple jump on his final jump of 50-1 ¾. Freshman Rukayah Bent-Mikail won the triple jump. For complete state championship results, click here.
For some great images by our own ECC track & field coach Dean Lofgren, go to the popular national website ESPN DYESTAT which has been providing our community college state championships tremendous exposure!

Geography Department Leaders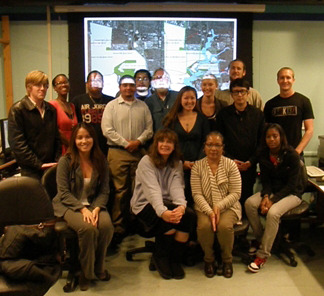 ECC geography student Flavio Mercado recently won a first place award at the 65th annual California Geographical Society meeting in Bishop. Flavio won the mapping competition, which included maps created by undergraduate and graduate students from around the state! Instructor Steve Koletty mentored Flavio in his award-winning map-making process. Our ECC geography faculty had a strong presence at the California Geographical Society meeting, with Matt Ebiner, Steve Koletty, Gary Booher, and Patti Neumann in attendance. Matt was one of the featured participants on a panel discussing successful teaching strategies in higher education geography classes. Steve presented an insightful paper on "The Secret Life of Maps," an interesting study of how maps can hold personal meaning beyond the spatial data illustrated on the paper. In addition, three of Steve's students from his Geography 8 class entered the mapping competition and fielded questions from various educators of California colleges and universities.
MESA Students Secure NSF Scholarships   
Three El Camino College MESA (Math, Engineering, Science Achievement) students recently won prestigious National Science Foundation scholarships, totaling $33,500. The scholarships will be used to help pay for college expenses. A "Rising Sophomore" scholarship of $12,500 was awarded to Gilberto Hernandez, a mechanical engineering student from Lawndale. Gilberto will attend one more year at El Camino College and then transfer to a four-year college or university. "Transfer Ready" scholarships, each for $10,500, went to: Brett Lopez, an aerospace engineering major from Inglewood who plans to transfer to UCLA this fall; and Mario Cabrera, an aerospace engineering student from Hawthorne, who will continue his education at California Polytechnic University, Pomona this fall. More...
ECC Swim Instructor Defends National Title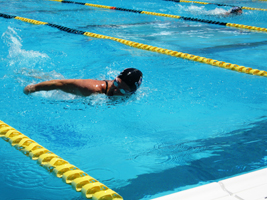 Congrats to ECC instructor and swim coach Traci Granger who recently held on to her title of the nation's fastest swimmer in her division for the fourth year in a row at the United States Masters Swimming (USMS) Short Course Championships. Traci swam 27.62 in the 50-yard butterfly; she also took first place in the 100 butterfly, with a time of 1:03:03. She is most proud of winning first place in the 200 butterfly, with a time of 2:25.84. This was the first time she won the 200 butterfly and was happy that her training paid off.  She also placed third in the 50 freestyle and sixth in the 100 freestyle. More...
Photography Students Honored
The Photography Department recently announced that eight advanced photography students have images accepted as finalists in the 2011 Photographer's Forum Best of College Photography International Competition. This is a record number of ECC photography students whose work has been accepted in this international student competition. The digital and film photographic images will be published in the Photographer's Forum Best of College Photography Annual: 2011.
ECC Alumni Drafted to MLB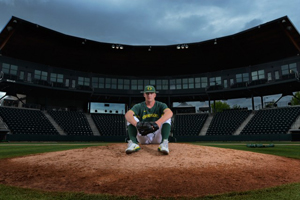 Photo Credit: Michael Ciaglo
Oregon Daily Emerald
Congrats to former El Camino College pitcher Kellen Moen, who was recently selected in the 7th round of the 2011 Major League Baseball Amateur draft by the Kansas City Royals. Kellen played for the Warriors in 2008 and 2009, and was named as a first team All-Conference pitcher both years. In 2009 he was named South Coast Conference Pitcher of the Year, posting a 6-3 record with a 2.51 ERA. He had 79 strikeouts in 89 innings. Kellen then transferred to the University of Oregon where he helped the Ducks to a regional appearance in 2010. This season, Kellen had eight saves, 43 strikeouts and a 3.05 ERA as the Ducks' primary weapon out of the bullpen. He also held opponents to a .185 batting average. Kellen was the 217th overall selection in the country.
Read more
here
.
2011 Distinguished Faculty and Staff   
Math professor Lars Kjeseth and staff member David Snowden were recently honored with the 2011 El Camino College Distinguished Faculty and Staff Award. They were recognized at the 14th Annual Faculty and Staff Appreciation Day, an event designed to thank all members of the campus community for their commitment to the college and its educational mission. Congratulations to Lars and David! To read more, click here.

ECC 24th Annual Athetic Hall of Fame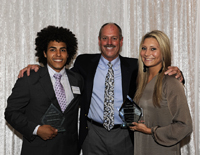 Javier Molina, Tony Barbone
and Ashleigh Gideon
Our 24th Annual Athletic Hall of Fame Banquet at Los Verdes Golf Course honored players, coaches and those involved with the El Camino College athletic program through the years. Five new Hall of Fame inductees were recognized at the event:
Jaymie Baquero 1997-1999 Soccer,
Badminton, Softball
Guy Bunyard 1983-1984 Football
Gary De Beaubien 1967 Wrestling
Steve Obradovich 1972-1975 Volleyball
Tedd Wall 1954-1955 Wrestling, Football

Cross country/track & field standouts David Cardona and Shalé Garland were honored with the 2011 Athlete of the Year Award; Norm Verry Scholarship Awards were given to scholar-athletes Ashleigh Gideon and Javier Molina; and the Ray Southstone Scholarship Award went to Kara Kalmar.
CDC Students Cross the Bridge 

Our El Camino College Child Development Center (CDC) has planned a graduation ceremony for the preschool students who are headed to kindergarten in the fall. The "Crossing the Bridge" event is scheduled for June 17 at the CDC playground. Presentations will be made from students in each classroom and each child leaving the CDC program (headed for kindergarten) will cross a bridge from their teachers to their parents. Refreshments will be served after the ceremony. Congratulations to our youngest graduates! More...
ECC Warrior Baseball Standouts   

Congratulations to members of our 2011 Warrior baseball team for securing 2011 All-South Coast Conference First Team honors: Andrew Pulido, Alex Mistulof, and Mason Patterson, pitchers; and Peter Ives, infielder. Second Team honors went to Garrett Cooper, first base; Josh Ancona, designated hitter; and Luke Klocek, outfield. Honorable mention awards went to Marvin Flores and Josh Mingura.

ECC Compton Center First Year Experience Program Accepting Applications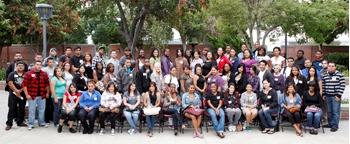 The First Year Experience Program (FYE) is accepting applications for the 2011-2012 freshman group. Students accepted into this program experience a variety of benefits, including early registration, a bilingual counselor, dedicated FYE faculty, university field trips, peer mentors and more. All of this is intended to help students new to college increase their chances of success by setting their academic and career plans on the right track.

Students must be 2011 high school graduates in order to participate in the FYE program beginning fall 2011. All interested applicants may submit an application online here.
Photography at the Kennedy Center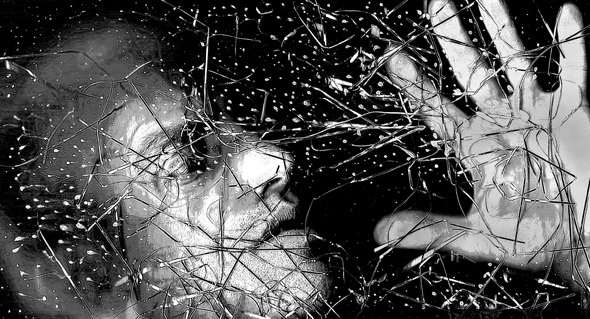 ECC Photography Department Advisory Board member Kurt Weston will exhibit his photographs at the Kennedy Center for Performing Arts in Washington, D.C. this month. Click here to read a recent CNN article that documents Weston's work and his struggle as a legally blind photographer. Weston participated in our annual student photography exhibition this past April and will teach a master class at ECC in March 2012.
ECC Compton Center's Matthew Young Drafted to MLB/Named All-SCC MVP   
ECC Compton Center sophomore baseball standout Matthew Young was recently drafted in the 14th round of the Major League Baseball Amateur draft by the Tampa Bay Rays. This news follows Young's selection as the South Coast Conference most valuable player, as well as offensive player of the year. The Tartar baseball team tied for second place with East Los Angeles College in conference play. Young ranked first in the SCC in nine offensive categories this season, including conference hits (53), total bases (77), on-base percentage (.511), slugging percentage (.647), runs scored (31) and batting average (.465). Additional Tartar baseball players were also named All-SCC. For a full list, click here.
Share your comments about these stories!
You can use your Facebook, Hotmail, Yahoo or AOL account to make a comment!


Sections
Newsletters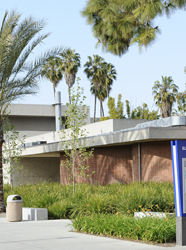 Can you guess where this photo was taken on campus? Submit your best guess here and be eligible to win a fabulous prize! Submit entries by June 20.

Congratulations to Rick Villarruel of the Copy Center for correctly indentifying last month's photo, which was the southeast corner of the Physical Education Building, looking west between the P.E. building and the building that houses the pool. Rick won a gift certificate to Café Camino.