Congratulations to the Class of 2012!!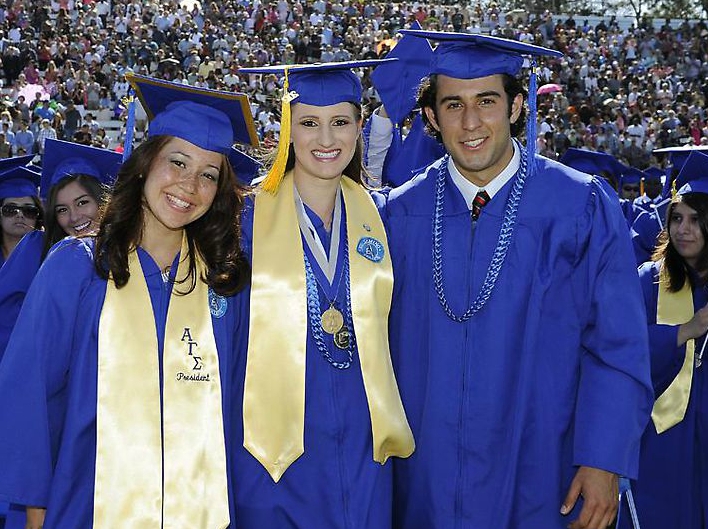 Congratulations to the El Camino College Class of 2012! We thank our speaker, Dr. Cinna Toy-Wohlmuth who addressed graduates at the 65th Annual Commencement Ceremony on June 8 at Murdock Stadium. From scholarships to awards, ECC students excelled this year. We wish them all the best in their future endeavors.
One outstanding graduate is John Twedt, who will transfer to UC Santa Cruz in the fall. Read John's story here.
Kudos also go to Heather Conrow who will the University of Arizona in Tucson to major in geology this fall.Read Heather's story here.
Congratulations to all of our graduates!  Click here for a commencement photo gallery.

ECC Alumnus Becomes Finalist on ABC's "Duets"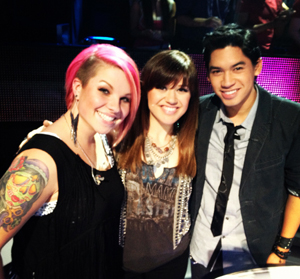 Jason Farol, right, is a finalist for the ABC show "Duets." Jason is pictured here with recording star Kelly Clarkson (center) and Jordan Meredith (left), another "Duets" contestant.
El Camino College alumnus and Torrance native Jason Farol, 23, became a finalist in the new television show "Duets," chosen from thousands of aspiring vocal artists after a lengthy process that included several auditions. The ABC show is a singing competition where superstars Kelly Clarkson, John Legend, Jennifer Nettles and Robin Thicke individually set out on a journey across America looking for undiscovered talent worthy to be their protégés. Each week, the stars worked with the hopefuls, providing the scoring until two remained for each star. Farol is paired with Clarkson. The performances will now be live, and the public will vote for the winner via phone, online, or Facebook. After each live episode, the duet partner who receives the lowest number of votes will be eliminated during the next live episode until the one remaining duet partner is named the winner of "Duets."
More...
Summer Sessions Are Here!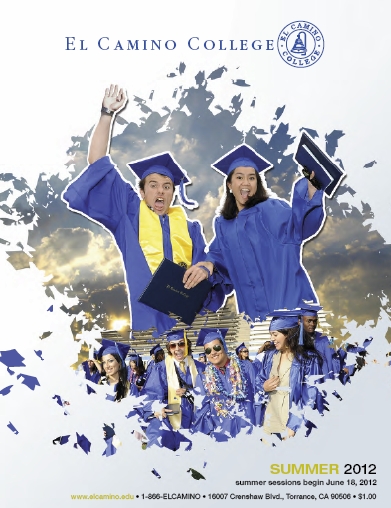 Welcome to summer! The eight-week and six-week summer sessions began June 18. As a reminder, the 2012 fall semester begins August 25. For Fall 2012, fee payment deadlines are July 17 for students who register May 15 – July 17 and August 20 for students who register July 18 – August 20. All fees must be paid in full or students will be dropped from all of their classes.
Alumni Photo Exhibit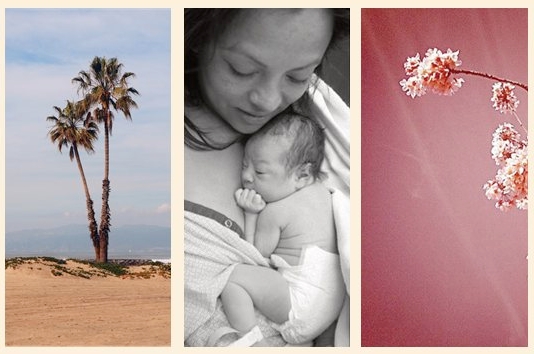 All are invited to check out a summer exhibit by "Photography Fusion," an artists' collective of ECC Photography Department alumni at Frame & Art Depot in Hermosa Beach. The exhibit is curated by El Camino College grad Gloria Plascienia. The group calls itself "Photography Fusion" because it was created through a fusion of different ideas and styles put together in an exhibition for family, friends, and the general public to view. Twenty percent of total sales from the exhibit will benefit the Redondo Beach Art Group (RBAG), a non-profit organization dedicated to promoting the arts, art education, and public art in the South Bay.
Have a Fun and Restful Summer!
Keep in touch with ECC news all summer long through

ECC Facebook

ECC Twitter

ECC YouTube
2012 Distinguished Faculty and Staff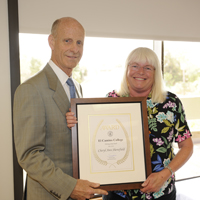 History professor Maria Brown and business systems analyst Cheryl Shenefield were recently honored with the 2012 El Camino College Distinguished Faculty and Staff Award. They were recently recognized at the 16th Annual Faculty and Staff Appreciation Day, an event designed to thank all members of the campus community for their commitment to the college and its educational mission. Congratulations to Maria and Cheryl! To read more, click here.

ECC 25th Annual Athletic Hall of Fame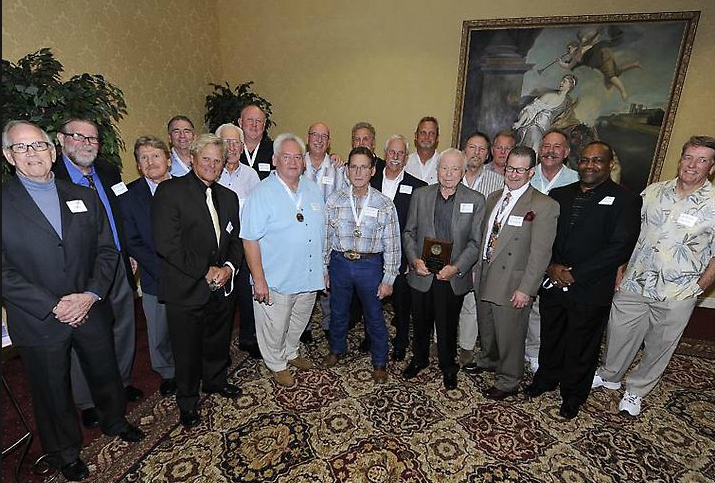 The 25th Annual Athletic Hall of Fame banquet was a night for members of the El Camino College community to recollect memories of great athletic performances and athletes from the past, while acknowledging current student-athletes for their accomplishments. Six new members were inducted into the ECC Athletic Hall of Fame, which includes the 1971 state championship football team, which became the first team to be inducted as a collective member. More than 40 years ago, the Warriors put together one of the best seasons in the history of El Camino College football, finishing the season with an 11-1 record and a spot in the state championship game where they dominated Santa Rosa 48-14 at Bakersfield. Click here for full list of inductees: More...
Distinguished Alumni Award Nominees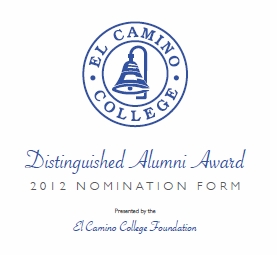 The El Camino College Foundation is seeking nominees for the 2012 Distinguished Alumni Award. This award recognizes and honors outstanding ECC alumni for their contributions to the community. Nominees must have a proven track record of achievement in their chosen career, service to the community, or area of endeavor, and have gained local, state, or national recognition for their involvement. In addition, 10 years must have elapsed since candidates attended El Camino College. Anyone who wishes to nominate a former student for this award may do so by completing the nomi­nation form by the June 30 deadline. Final review and selec­tion will take place in August, followed by the Distin­guished Alumni Awards Dinner on October 6. For more information, please contact Katie Gleason at x6040.

ECC Watermen Take Summer in Style    
Two ECC swimmers/water polo players are taking on interesting feats in their chosen sport this summer. Headed to Catalina? If so, watch for Adam Moine, who will swim from Catalina to Point Vicente in late August. He will be doing this 20-mile swim to raise funds for the Elizabeth Glaser Pediatric Aids Foundation, based in Santa Monica. In addition, watch for Stephen Sorbom, who will be competing in the World Championships for outrigger canoe paddling in Calgary, Canada in mid-August. He will be competing in single and six-man outrigger canoes. Go Warriors!
Summer Read: ECC's Own Richard Blount
Writes "Black Water"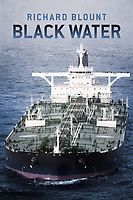 Richard Blount, ECC men's volleyball coach and lifelong South Bay waterman, has written an e-book titled "Black Water." The book exposes the fragile nature of the Southern California eco-system, taking readers on a perilous boat ride of area waters while investigating offshore drilling. "Black Water" raises questions about safety at sea, international waters, limited enforcement, clear blue water, corporate greed and the unthinkable – oil spills off the Southern California coast. The e-book is available from many online companies including; Ibookstore, Sony, Barnes and Noble, Amazon Kindle and Kobo.
Warrior Fitness Challenge – Winners Named!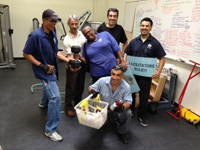 Exercise Fitness Specialist Kim Jones recently announced the inaugural winner of the highly competitive Warrior Wellness Challenge. Congrats to "The Facilitators," led by captain Ora Bryant. Tom Brown, Refugio Luna, Steve Marselle, Luis Bonilla and Anthony Solano are also on the winning team. It's not too late to get fit and have fun this summer! Come visit the Fitness Center for a great workout! To meet with Kim to set some fitness goals, feel free to contact her at x3667 or kmjones@elcamino.edu.
ECC in the News
Did you see the recent stories about El Camino College in the news? Here a few to check out: the Class of 2012 was prominently featured in the
Daily Breeze
, including this great
photo gallery
. In addition, a story ran in the
Daily Breeze
about
ECC's early registration
for South Bay high school students,   and ECC Director of Admissions & Records
Bill Mulrooney
was featured in the
Community College Times
.
Football: Former Warriors Cornerback
Signs with Jacksonville Jaguars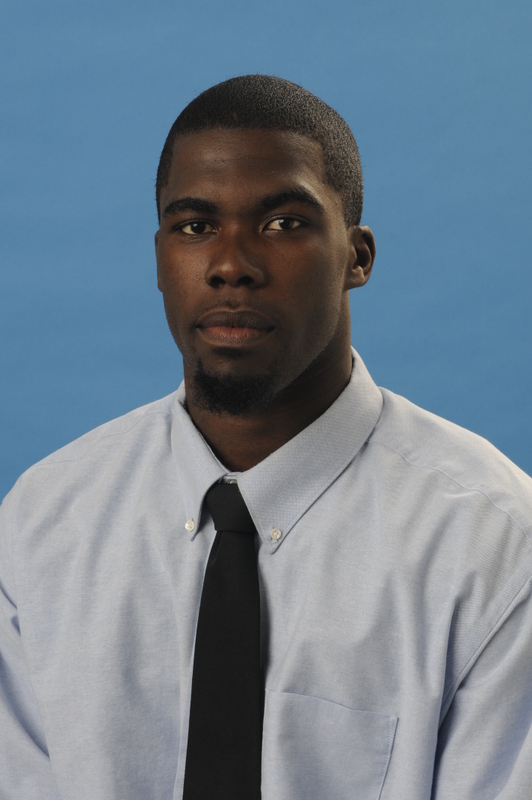 Congratulations to Mike Harris, a cornerback for El Camino College during the 2008 and 2009 seasons, who recently signed a four-year contract with the Jacksonville Jaguars after the team selected Harris in the sixth round of the 2012 NFL Draft in April. Harris, a native of Miami, transferred to Florida State University for his junior season in 2010. Last year he had his best season for the Seminoles, racking up 58 tackles (43 solo), ranking second on the team. He added four tackles for a loss, one interception and one quarterback sack. In his two-year career at Florida State, Harris recorded 99 tackles including six for a loss, one sack, two forced fumbles and five interceptions. More...
Myriad 2012: 50th Anniversary Edition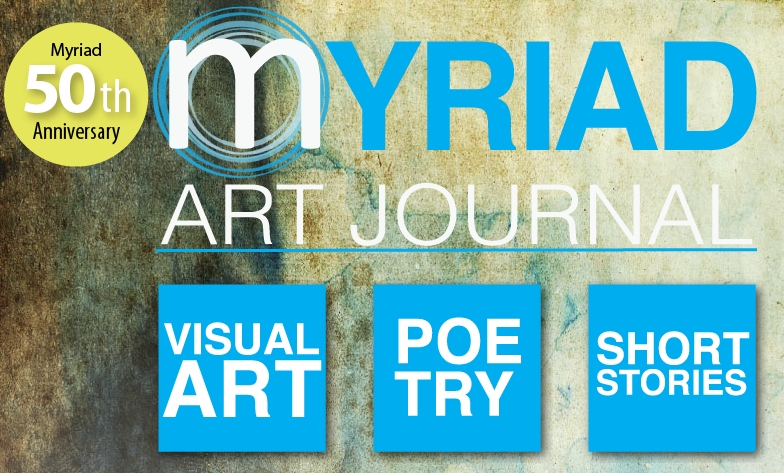 ECC students recently released the 50th Anniversary edition of the Myriad, El Camino College's creative writing publication. In honor of the 50th Anniversary, Myriad 2012 features stories and poems from the '70s, '80s, '90s, and '00s. Congrats to ECC students – the Myriad is now included in the Library of Congress! Click here to see a list of works by current ECC students chosen for this year's edition. More...
ECC Music Student Wins First Place in
National Competition
ECC music student Cristian Garcia, 19, recently won the Senior Division of the American Guitar Society's Bickford Scholarship Competition. Cristian competed against 15 other guitarists ranging in age from 18-25, some with bachelor's degrees and master's degrees. He performed "En Los Trigales," by Joaquin Rodrigo and "Tarantella," by Johann Kaspar Mertz. In addition to his music, Cristian is focused on transferring to a university to continue his studies, specifically the Peabody Conservatory of Music at John Hopkins University in Baltimore. He also hopes to attend USC for his doctorate and to pursue a career in teaching classical guitar.
CDC Students Cross the Bridge     

The El Camino College Child Development Center (CDC) presented a graduation ceremony for the preschool students who are headed to kindergarten in the fall. The "Crossing the Bridge" event at the CDC playground featured presentations from students in each classroom. Each child leaving the CDC program (headed for kindergarten) crossed a bridge from their teachers to their parents. Congratulations to our youngest graduates! Enrollment is now open at the El Camino College CDC for its fee-based preschool program. Flexible schedules are offered in this high-quality, year-round program, which is open to children ages 2 to 5. More...
ECC Compton Center Presents Class of 2012
El Camino College Compton Center celebrated its Sixth Annual Commencement on June 7 in Tartar Stadium. California Community Colleges Chancellor Jack Scott addressed the Class of 2012. For a list of graduates, click here. Congratulations Class of 2012!
Tom Hazell: National Wrestling Hall of Fame Inductee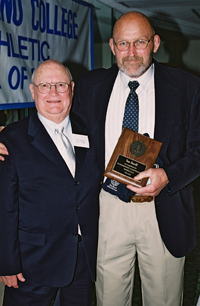 The California Chapter of the National Wrestling Hall of Fame recently inducted longtime El Camino College coach and faculty member Tom Hazell for his lifetime of service to the sport. The National Wrestling Hall of Fame and Museum is America's shrine to the sport of wrestling and is located in Stillwater, Oklahoma. As the sport's only national museum, the National Wrestling Hall of Fame features an array of sculptures, photographs, banners, plaques, medals, trophies, uniforms and other memorabilia. Tom was a state champion wrestler for El Camino College and later a two time All-American for Oklahoma State University. He was also the ECC head wrestling coach from 1979-1991 and was inducted into the El Camino College Athletic Hall of Fame in 2006. Congratulations Tom!
ECC Compton Center Stages Nurses
"Pinning" Ceremony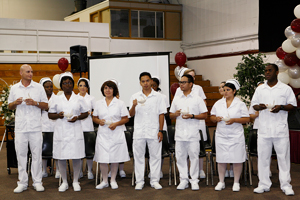 Congratulations to the 28 El Camino College Compton Center students who graduated with an Associate of Science degree in nursing this spring! For a list of grads, click here.
ECC Track Stars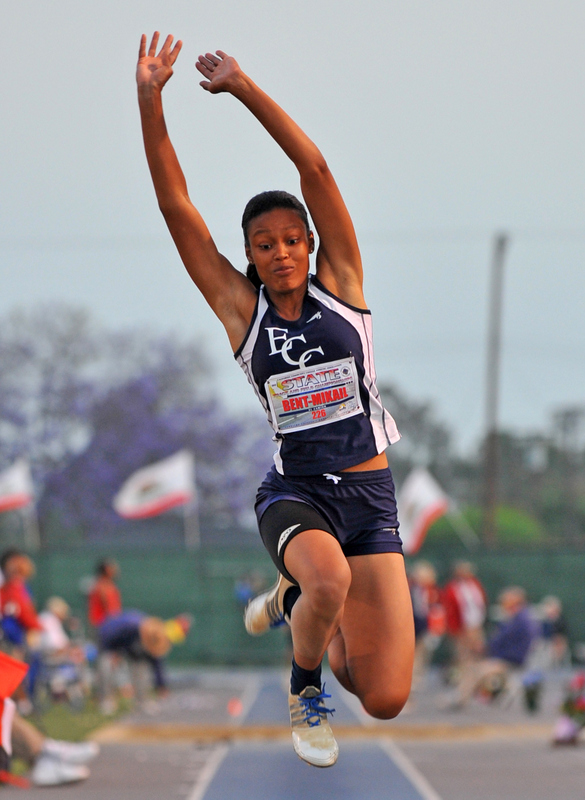 Congrats to the ECC Track team! Coach Kevin Hughley was voted South Coast Conference Women's Assistant Coach-of-the-Year. In addition, Victor Martin was voted South Coast Conference Male Field Athlete-of-the-Year. Victor won the men's shot put event at the SCC Championships with a mark of 52-7 ½, becoming the No. 8 All-Time ECC performer.

The women's team placed fifth at the South Coast Conference Championships and the women's 1600m relay team finished first at the SCC Championships. After a year of outstanding accomplishments, Rukayah Bent-Mikail was voted South Coast Conference Female Field Athlete-of-the-Year. The standout sophomore had a stellar freshman year in 2011, winning the state title in the triple jump. Her 2012 was even better as she finished the season undefeated in the triple jump on her way to her second consecutive state championship. Rukayah also set a new personal best of 40-5 during the South Coast Conference Championships. The mark was the No. 3 all-time performance by an El Camino College athlete and was just shy of topping Renita Robinson's top mark of 42-1.
ECC Compton Center Honors Students at Annual Academic Awards Tea   
El Camino College Compton Center's annual Academic Awards Tea held on May 20 recognized the academic achievements of 16 honor students and 56 scholarship recipients. Scholarships awarded by both ECC Compton Center and the Foundation for the Compton Community College District totaled more than $40,000. For a list of recipients, click here.

Share your comments about these stories!
You can use your Facebook, Hotmail, Yahoo or AOL account to make a comment!


Sections
Newsletters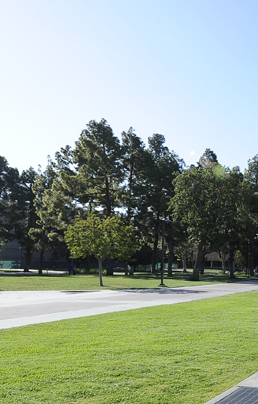 Can you guess where this photo was taken on campus? Submit your best guess hereand be eligible to win a fabulous prize! Submit entries by June 30.
Congratulations to Adrian Amjadi of the Art Department! Adrian correctly indentified last month's photo, which was an image of the northwest corner of the newly remodeled Social Science Building. Angie won a gift card to Starbucks for her correct answer.