Alan Stillson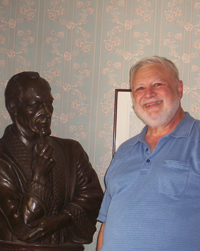 Alan Stillson

Hired: February 2003

Little Known Fact: Alan writes numerous math songs that he sings in class to help teach tricky math topics.
Hobbies: In addition to his passion for math, music, and theater, Alan is a Scrabble enthusiast and plays in a high-level competitive Scrabble club. 
Meet Lou – the kind of guy you love to love. Lou Goldfarb is an attorney, an idealist and the protagonist in "I Remember Lou," a new musical comedy written by El Camino College math teacher Alan Stillson. Alan's debut musical is playing at the Whitefire Theatre in Sherman Oaks through July 8. The work is a 20-year labor of love for Alan, who points out that Lou is completely fictitious; not biographical. So far, critics have praised the show for its "charming, witty, comical … story about an everyday common man who does his professional job while living through the domestic landscape."
When not penning the lyrics, music and dialog for Broadway-style musicals, Alan teaches math at ECC, a career he enjoys immensely.
"I love teaching at El Camino College," he said. "I really like helping students finally get the grasp of mathematics and find an understanding of math after a time of struggle."
Alan's educational background includes a master's degree in math from Queens College in New York and a master's degree in business administration from the University of New Mexico.
In addition to teaching math, Alan also likes to write math puzzles and brain teasers. He has been the puzzle editor of Greater Los Angeles Mensa Magazine for more than 20 years and collections of his clever creations have been published in eight books. As a Mensa member, he also leads writers' groups and attends conventions. Alan also enjoys folk singing.