Will Warren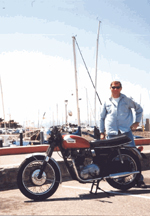 L.A. to S.F on a 1969 Triumph
Bonneville, eight hours in the
saddle and ready to
stand for a while.

Hired: December 2011

Little Known Fact: Will raised homing and tumbler pigeons in his youth.

Hobbies: Restoring vintage motorcycles; he especially likes the 1960s Triumph. Will restores vintage automobiles as well.

Will Warren made an instant friend at El Camino College the minute he was hired to become the new assistant director, Information Technology Services. Will's full name is William E. Warren III, and he soon found out through Human Resources that someone with his exact name was already employed at ECC. Fire & Emergency Technology instructor Chief Earl Warren is also William E. Warren III, and it has become a running joke between HR and the two William Warrens and all those who try to contact them. The chief goes by Earl, but since Will came on board, they have been getting each other's email and campus mail, leading to an immediate camaraderie. The two William Warrens have connected via phone and email and plan to go to lunch in the near future. 
Will has been a South Bay resident for 25 years and grew up in the San Fernando Valley. He took classes at El Camino College and has a bachelor's degree in business with a focus on management information systems from California State University, Dominguez Hills. Before joining the ECC team, he worked for the LA County Board of Supervisors for 16 years.
As the new assistant director, Information Technology Services at El Camino College, Will is in charge to the day-to-day operations, services, and activities of the department.
In addition to Chief Warren, Will has enjoyed meeting new people while becoming familiar with the college.

"It's great here so far," he said. "It's exciting and challenging and I'm meeting great people from faculty, students and staff – all aspects of the college. And I love the campus atmosphere."