SB Children's Choir Celebrates 20 Years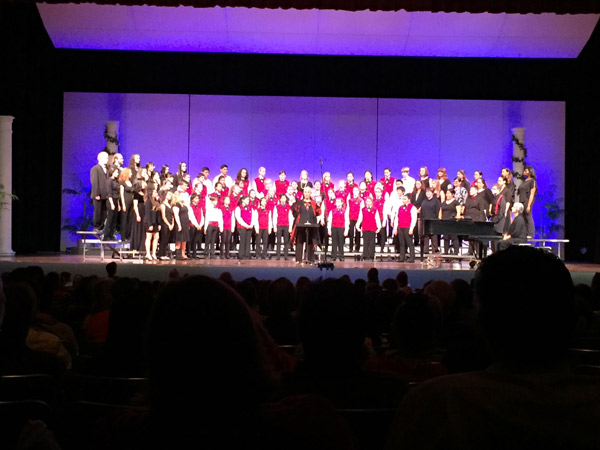 The South Bay Children's Choir recently celebrated two decades of noteworthy performances with a grand reunion concert attended by about 700 people. The current choir was joined by alumni, friends and special guests from all over the country to perform the concert "Echoes and Encores." Several beloved former conductors also attended, including Megan Eddy, Taryn Koch, Maza Zimmerman and "Bud" Bisbee, who conducted one of his own compositions. Many alumni are now opera divas, rofessional singers, and music teachers. Alumni from 1996 to 2016 were invited to join in the musical celebration.
The performance opened with "It's a Grand Night for Singing" and continued with numerous alumni solos throughout the concert. Soloists included: lyric coloratura soprano Jessie Tisdale, who is performing in concerts and on the opera stage in locations across the country; Craig Benson, fresh off the Redondo Beach Performing Arts Center stage production of "Beauty and the Beast;" Amber Alarcón, a busy mezzo-soprano and educator; and Niko Murakami, a freshman at California State University, Long Beach, who recently won first place in the vocalist category at the Jean Lombardo Marina District Young Musicians Competition.
The South Bay Children's Choir (SBCC) is an auditioned group of talented young singers in residence at El Camino College. Co-founded in 1996 by Artistic Director Diane Simons and the late Jane Hardester, the choir is part of the college's Community Education program and is known for its beautiful tone and expressive singing. Ensembles are led by Simons, Julie Corallo, Ellen Steinmetz, and Mary Herzbrun. SBCC has its own composer-in-residence, B. Wayne Bisbee, whose works are premiered in its concerts. The group has performed in world-renowned venues throughout the world, including Carnegie Hall, the Canterbury Cathedral, the Dorothy Chandler Pavilion, and Royce Hall at UCLA. Last summer the choir attended the Mile High Music Festival in Denver, Colorado. Auditions are scheduled each January and August. For more information about the South Bay Children's Choir, please view www.southbaychildrenschoir.com.