A Woodturning Work of Art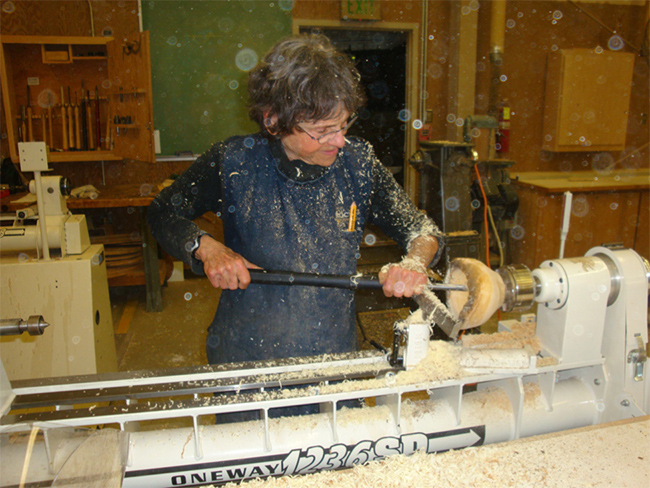 Photo by: Sabrina Mar
ECC woodworking student Ena Dubnoff is a part of the Women in Turning exhibition titled, Turnabout: Women at the Lathe. Her exhibition piece, "Layers," is a figured maple bowl with a walnut base and will travel to three cities through fall 2018. "Layers" was accepted for the exhibition through a blind juried process that selected 11 works from more than 60 submitted. The exhibition is organized by the Women in Turning Committee of the American Association of Woodturners and is designed to shrowcase the incredible range of artistic viewpoints and technical approaches being used by women in this traditionally male-dominated field. Pieces were evaluated in four key areas: aesthetic appeal, originality, interpretation of the theme, and craftsmanship.
An architect by profession, Ena creates elegant turned wood pieces crafted on a wood lathe. She applies the same aesthetic and problem-solving skills finely honed in her architectural projects to her work in wood. She shapes her various wooden objects into art that often incorporates architectural materials such as concrete and engineered wood. Her work takes a variety of forms: bowls, vases; and wood to wear – bangles, cuffs, earrings and neckpieces.
"I am influenced by midcentury designers – an esthetic that emphasizes simple form and the use of unembellished natural materials," Ena said. "Wood offers an incredible variety of colors, grains, and textures, each quality interacting with light. As each piece is turned on the lathe it reveals unique qualities, making the process one of constant discovery. I use the inherent characteristics of the wood to provide the interest, combining materials and shaping them into simply constructed works. I focus on how the qualities of the individual materials complement each other to form a sculptural whole."
Ena earned a bachelor's degree in architecture from USC and a master's degree from urban design at Columbia University. She has lectured extensively and has been a faculty member at USC, Southern California Institute of Architecture, and Pennsylvania State University. She served for many years as a board member of the Los Angeles Community Design Center. In addition to her architectural practice, she is now devoting more time to wood turning. Her work can be seen at various galleries throughout the state and U.S.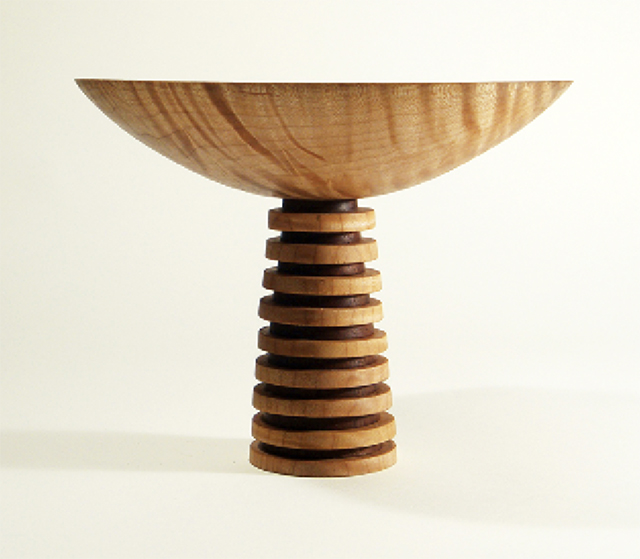 Photo by: Ena Dubnoff
ECC's Construction Technology program offers associate degrees and certificates. Students learn marketable woodworking skills, which translate to future employment and business ownership. Courses are taught by professors who are not only experts in their fields, but also skilled educators.
"Whether your interest lies in functional design or artistic woodworking, our classes can accommodate a spectrum of pursuits," said professor Jack Selph, who became an instructor at El Camino College after running his own successful cabinetry business for many years. "Ena is a great example of someone who had an artistic background, but not necessarily one that included woodworking."
In addition to ECC's academic program, the El Camino Woodturners Guild includes about 70 extremely active members who attend meetings on a regular basis and turn out magnificent pieces, from lamps to vases. The guild is part of the American Association of Woodturners and members also support various area projects with their skills and trade knowledge.