Meet Jose Anaya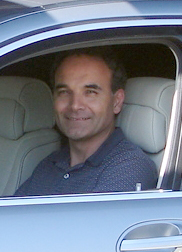 Hired: August 2008
Hobbies: One of Jose's hobbies is visiting amusement parks with his two daughters, ages 10 and 14. Disneyland is a family favorite. 
Little Known Fact: Jose enjoys working on his cars; the more complicated the project, the better. He recently replaced the front axle on his Nissan Maxima – it took three days, but it was fun!
As the Dean of Community Advancement, Jose Anaya oversees the district's Community Advancement Department and Business Training Center. He joins an award-winning team that provides economic and workforce development services to the communities served by El Camino College.
"For me, the best part of my job is meeting new people and finding ways to help their business grow and be successful," he said. "And we always come across new businesses and products that are interesting and innovative. That part is always exciting."
Jose has a bachelor's degree in mechanical engineering from California Polytechnic State University, Pomona, and a MBA from USC. Before joining ECC, he served as director of economic development at Cerritos College and has experience in the private sector with corporations such as Honeywell, ITT Industries and DataCard.
The Community Advancement Division at El Camino College functions as the economic development arm of the college. The division includes the El Camino College Business Training Center in Hawthorne, which houses the Center for Applied Competitive Technology, the Center for International Trade Development, the Small Business Development Center, Contract Education, and the Workplace Learning Resource Center; as well as Community Education and the Grants Development Office. The Business Training Center works with businesses in a variety of ways, including providing assistance to improve operations, increasing business, and training and developing staff.