Kim Jones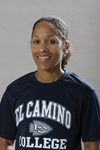 Kim Jones
Hired: January 2012
Little Known Fact: A couple of years ago on a whim, Kim went to Australia by herself for two weeks. She had a great time touring Sydney and Melbourne solo.
Hobbies: Kim enjoys playing blues guitar and piano whenever she gets the chance.
Kim Jones joined the Division of Health Science and Athletics in January as an exercise fitness specialist and head strength and conditioning coach for student athletes. She also runs the ECC Fitness Center.

She grew up in Inglewood and earned a bachelor's degree in psychology from Xavier University of Louisiana and a master's degree in education from Loyola Marymount University.
Before coming to ECC, Kim was a high school varsity basketball coach, volleyball strength and conditioning coach, and teacher. She then landed an internship with the UCLA football program as a strength and conditioning coach. Kim enjoyed working at the Division I level and when the internship was completed, she became the assistant strength and conditioning coach at California State University, Northridge for two years, followed by a position with the U.S. Tennis Association as an assistant strength and conditioning specialist. Now here at El Camino College, she enjoys the various responsibilities of her position.
"I really like the community college level of strength and conditioning," Kim said. "I have the opportunity to work with more students – any team that needs me, or on the individual level – I can help where I am needed. I also like the fact that I can introduce faculty and staff to different fitness options and teach them exercises that might be new or different and find something that will help them achieve their fitness goals."
Kim recently launched the ECC Warrior Wellness Challenge and is enjoying meeting new people on campus.
"The Wellness Challenge is just getting started, but it's fun because it is all about participation; we just want people to come to the Fitness Center and take advantage of what we offer."
For more information about the Warrior Wellness Challenge, or to meet with Kim to set some fitness goals, feel free to contact her at x3667 or kmjones@elcamino.edu.