Nearly 300 New Classes Added to Summer
and Fall 2013

REGISTER NOW!
Click here for just of few of the nearly 300 classes added to the summer and fall course offerings at El Camino College. A variety of classes are offered, including English and math. This is only a partial listing; click here for the most current class list. Additional classes are still being added. Summer sessions begin June 17; Fall 2013 begins August 24. Continuing student registration is ongoing; new and returning student registration begins Tuesday, June 4, 2013.
Welcome to Commencement 2013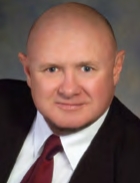 Welcome to Bart Aslin, director of the Society of Manufacturing Engineers (SME) Education Foundation, who will be the guest speaker for the 66th Annual El Camino College Commencement ceremony. Aslin joined the SME Education Foundation in March 2003, and has administered organizations for more than 20 years with an emphasis on education in the areas of manufacturing and engineering. The SME Education Foundation is one of the nation's leading non-profit organizations dedicated to advancing manufacturing education through student outreach programs, scholarships and college and university grants. Since 1980, the foundation has provided more than $35 million in cash grants, scholarships, and awards.
El Camino College Commencement is scheduled for 4:00 p.m. June 7 in Murdock Stadium. The Commencement Reception begins at 1:00 p.m. on the ECC Library Lawn. Parking and admission are free - no reservations required. All are welcome to attend this wonderful celebration of student success. Congratulations to the Class of 2013! For more about commencement speaker Bart Aslin, click here.
Swimming Success!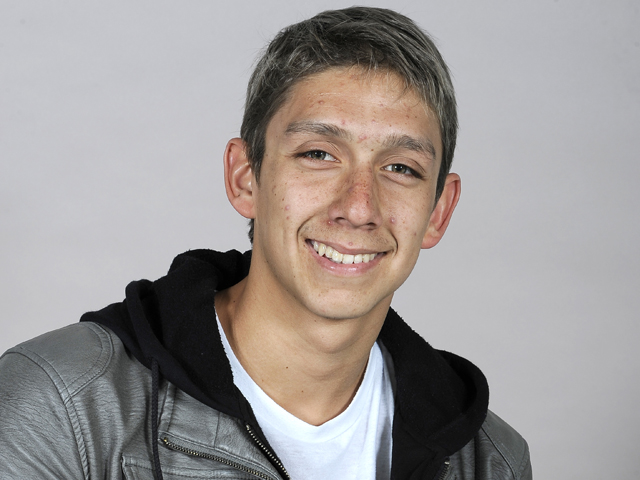 For the first time in the history of the program, the Warriors men's swim team won the South Coast Conference championship! In addition, freshman Jonathan Diaz was named the SCC Swimmer of the Year, won the state championship in the 400 individual medley, and helped set five new school records. Shane Guerrero was recognized as the conference's male diver of the year. Corey Stanbury was named the SCC Men's Coach of the Year for leading the Warriors to their first conference title since the school joined the conference in 1987. More...

ECC Math Team Places in Top Five in Nation
The El Camino College math team recently brought home its highest score in history, landing in fifth place out of nearly 200 community colleges in round two of a prestigious national math competition. The AMATYC (American Mathematical Association of Two-Year Colleges) Student Math League Contest is the only national math contest devoted solely to community colleges. The contest consists of two rounds, one each semester. The top five students at ECC in each round make up the team score. The individual ECC winner in the fall was Tu Le, and in the spring there was a tie between Qixin Song and Guan Zhou. More...
ECC Students Perform at Carnegie Hall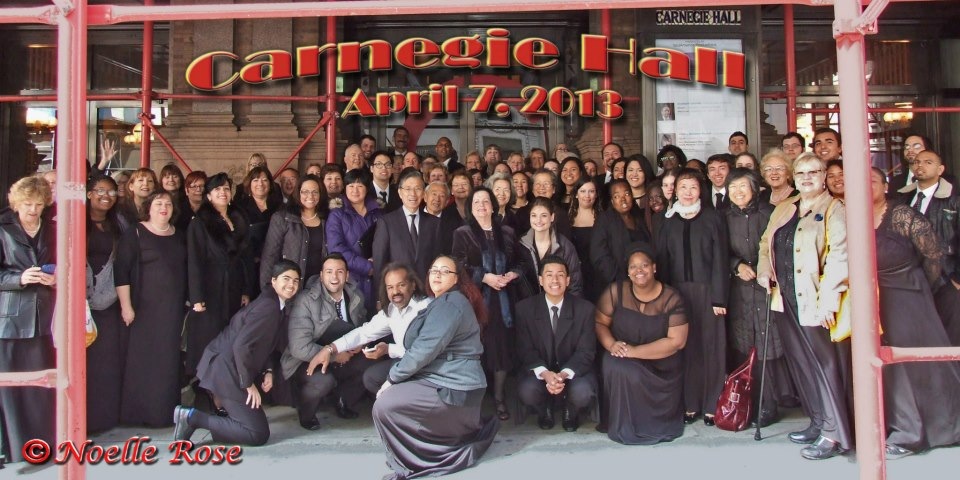 Members of the ECC chorale and concert choir recently traveled to New York to perform at the famed Carnegie Hall, led by ECC Director of Choral Activities Joanna Nachef. Professor Nachef, who made her fourth conducting appearance at Carnegie Hall, led choruses from the U.S., Lebanon, and the United Arab Emirates in a performance of Fauré's Requiem in Stern Auditorium at Carnegie Hall. Performing with Nachef was the New England Symphonic Ensemble, plus singers from the California Academy of Mathematics and Science (CAMS), El Camino College Chorale and Concert Choir, Voce Angelicus, Los Cancioneros Master Chorale, Peninsula Community Church Choir, and Hills Academy Women's Ensemble. More...
Science Spring Break Field Trip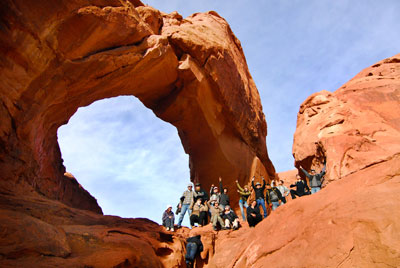 ECC Science Club students attended a five-day camping trip during spring break to visit and study the Grand Canyon, Petrified Forest, Canyon de Chelly, and Monument Valley. A total of 25 science students, including geology, biology, astronomy, anthropology, and engineering majors joined the trip. Discussions and experiences from the adventure covered many interdisciplinary nature concepts. Students also participated in nature hikes and a variety of wildlife sightings. The group was led by Earth Science professor and Science Club adviser Joe Holliday.
Warrior Tennis Wins Conference Title!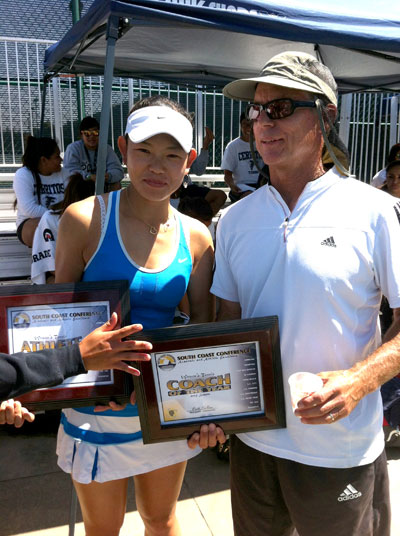 Congrats to Warrior tennis! The team captured its first conference title since 2006 and earned the No. 1 seed in the Southern California bracket of the 2013 CCCAA Dual Team Tennis Championships. Congratulations also go to Head Coach Steve Van Kanegan who was named South Coast Conference women's tennis coach of the year and sophomore Chun Young-Shin who was named the women's tennis athlete of the year! The women's team finished the regular season with a 15-1 overall record and 7-1 in the SCC under Van Kanegan this year. This is also the second consecutive season Van Kanegan earned the award, receiving the honor last year for his work with the Warriors' men's team which also won the conference title. Young-Shin entered her sophomore season with the Warriors as the team's No. 1 singles player and a member of the No. 1 doubles duo for the second straight year. As a singles player, Young-Shin dominated the competition.
New Athletic & Fitness Complex Opens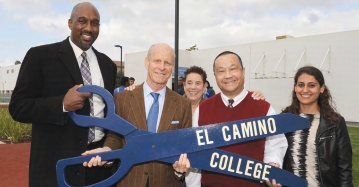 A ribbon-cutting ceremony April 15 marked the official opening of the new Athletic & Fitness Complex (Phase 1). The $3.02 million project is the first step in a complete remodel of the Athletic & Fitness Complex. This phase includes the construction of a field for athletic team practices, physical education classes, and venues for track and field events. Upgrades include venues for track and field events such as throwing areas for javelin, hammer, discus and shot put, as well as three sand volleyball courts.

Approximately 33,000 square feet of drought tolerant Tifway II Bermuda grass was planted in the track and field areas. Reclaimed water is used for all natural turf and other landscape areas. In addition, the athletic practice field is covered with artificial turf for durability and water conservation. The Athletic & Fitness Complex and numerous other facilities improvements on campus were made possible with funds from the 2002 Measure E facilities bond.
Scholarship Program to Award $1.4 Million
in Student Scholarships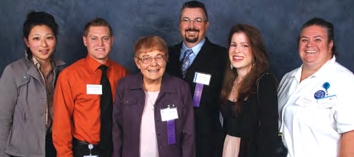 Congratulations to the outstanding students honored at the annual Scholarship Awards Ceremony and Reception on April 18 at Marsee Auditorium. A record-breaking $1.4 million will be awarded to approximately 650 students for the 2013-2014 academic year. A record number of students applied for scholarships this year using the online system, showing a 33 percent increase from last year. New to the scholarship program this year is a $2.6 million federal grant supporting nursing scholarships. Nursing students at ECC and ECC Compton Center may receive up to $15,000 (based upon unmet need) per year, which enables them to reduce their work schedules, or in some cases, quit working and focus on coursework. More…

ECC "E-brochure" Launches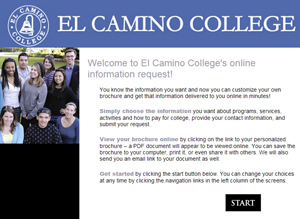 We are proud to introduce the El Camino College online electronic brochure (e-brochure). This custom e-brochure can be downloaded, saved, or printed by prospective students, their parents, and community members – at their own convenience! The e-brochure features general facts about El Camino College, in addition to information about academic and career programs, financial aid, and student support programs. Please take some time to look through the new El Camino College e-brochure.
Science Club Volunteers at Mineral and Gem Show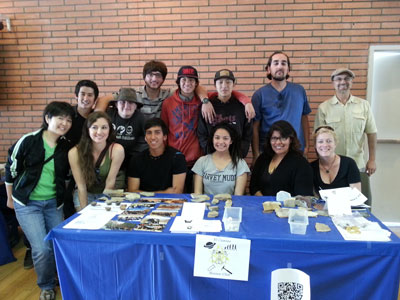 The El Camino College Science Club recently had a booth at the Mineral and Gem Show, sponsored by the South Bay Lapidary and Mineral Society (SBLMS). Twenty ECC Science Club members volunteered to set up and close down the show at the Torrance Community Center as a gesture of appreciation for the SBLMS, which provides funding for annual ECC earth science scholarships. El Camino College students provided the bulk of the volunteers at the show, which featured beautiful jewelry and mineral objects. In addition to their volunteer duties, students had the opportunity to gain practical experience in the earth science field and to meet experts in mineral and rock collecting. More...
Classified Professional Development Week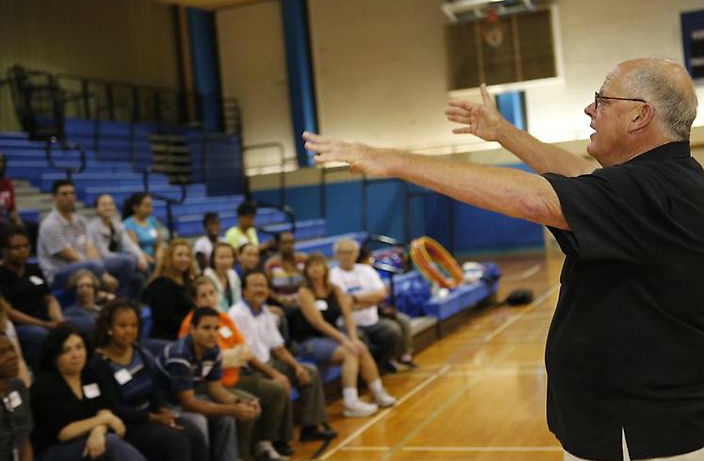 The fourth Annual Team Building Extravaganza on May 17 was full of fun, high-energy games and team building activities! Led by Dave Bacon, an ECC faculty member who teaches recreation classes, everyone participated in team building activities designed as a way to meet new people, interact in unexpected ways and circumstances, and gain trust in co-workers. The challenging part was following the hilarious instructions given by Dave Bacon – confusion and laughter mixed together as participants tried to listen and follow the directions given. Congratulations to Cesar Lopez in the Copy Center, who won a raffle drawing for a $25 Visa card sponsored by Schools First Credit Union. In addition, Leisa Biggers, director, staff and student diversity, gave away flash drives and lanyards to winning ticket holders. Classified Professional Development Week also included a variety of interesting personal and professional development activities, including the Creative Hobby Showcase and workshops on horticulture, finding "staff perks" on campus, and a discussion about useful and fun iPhone apps. The week ended with an entertaining karaoke lunch.
Student Art Show 2013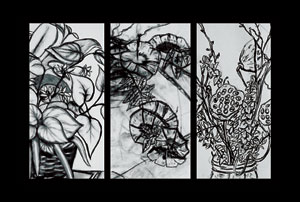 The El Camino College Art Gallery will present its annual showcase of student artwork from May 13 through 30. All of the items in this exhibition were selected by instructors as some of the best examples of student work produced at the college. The Student Show includes a variety of works created in a wide range of media. The exhibit provides a glimpse into the educational and aesthetic philosophy advocated by the ECC Art Department and shows a diversity characteristic of the contemporary art world. The majority of the works in the gallery are grounded in an academic approach to art study and training. More…

Fabulous Fashion     
The 31st Annual El Camino College Fashion Show is scheduled for May 31 in Marsee Auditorium. Each year ECC students produce and create this style showcase, featuring the designs of students in the college's draping, patternmaking, advanced sewing, fitting and alterations, and tailoring classes. The show also puts the spotlight on student designs from area high schools and younger sewers from the community. For more information, contact fashion adviser Vera Bruce Ashley at vbruce@elcamino.edu.  
ECC Kid's College – Summer Classes     
Registration is now open for Kid's College this summer! From pirate camp to princess camp and from math review to creative writing, Kid's College has something for all area youngsters in first through 12th grade. LEGO lessons, dance, music, cheerleading, puppetry, sports, science – the list goes on! Classes are offered from June through August. Sign up now for some serious learning fun! Click here for the summer schedule.

Project Success 26th Annual Awards Celebration!
Project Success celebrated its 26th Anniversary Awards Dinner May 9 in the college's East Dining Room. Students were honored for their outstanding work at El Camino College, and graduates, staff, faculty were recognized for their contributions to student success. Retirees Brenda Jackson (steering committee member) and Elaine Moore (co-founder of Project Success) were also honored for their many years of service.
Spring 2013 Scholar-Athletes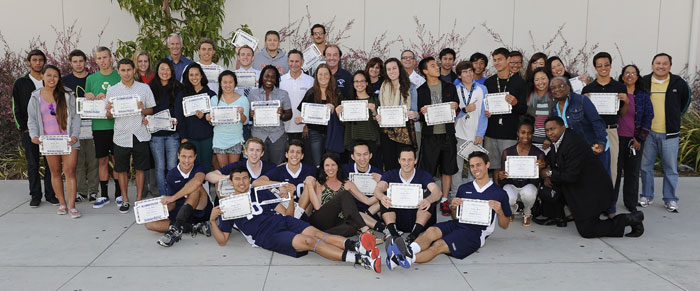 Eighty El Camino College scholar-athletes were recently honored as members of the Scholar-Baller organization. Scholar-Baller recognizes academic success and those athletes who excel in the classroom by achieving a 3.0 GPA or higher. Scholar-Baller stresses the importance of a lifelong commitment to learning, and promotes willingness for students to accept the challenge of balancing academics and athletics. Spring scholar athletes from baseball, softball, track, tennis, volleyball swim, golf and badminton were recognized. For a full list of ECC Scholar-Baller student-athletes, click here.
Tartar Baseball Player Named
So Cal Pitcher of the Week  
Congratulations to Tartar baseball player Nick Sanchez who was voted Southern California Pitcher of the Week earlier this season by the California Community College Athletic Association (CCCAA). Sanchez, a sophomore from Lakewood High School, went 1-0 that week as a starting pitcher for ECC Compton Center. Sanchez led the Tartars to victory with 10 strikeouts against Cerritos College, while giving up two walks, six hits allowed, and only one unearned run after throwing 115 pitches. From the 35 batters he faced, only six made it as far second base. This was Sanchez' second straight complete game of the season. In the conference opener versus East Los Angeles College, he pitched nine innings allowing five hits, no runs and striking out seven batters to win the game 4 to 0.
Physics Student to Participate in
Summer Research Program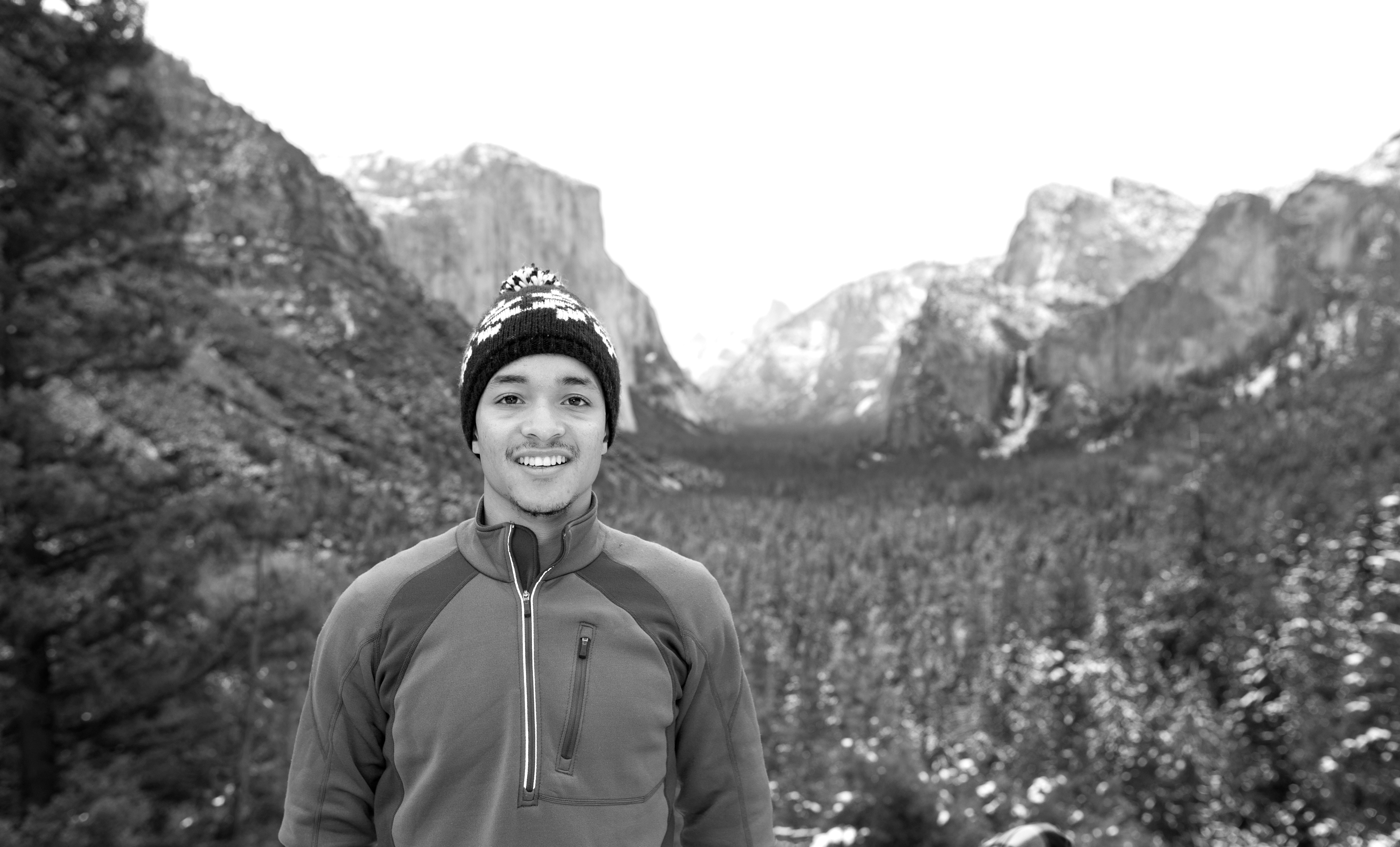 Physics major Coty Spence has been selected to participate in a prestigious summer research program at the University of Arizona. During this 10-week program, Spence will join a research project focused on the structure of the Milky Way galaxy by studying molecular clouds. He will be stationed at the Kitt Peak National Observatory in the Quinlan Mountains in the Arizona-Sonoran Desert, about 55 miles southwest of Tucson. This observatory site has the largest gathering of telescopes on the planet. Spence also received academic support through the El Camino College Mathematics, Engineering, Science Achievement (MESA) program. More...
CCCD Announces Retirement of
Two Faculty Members     
Two faculty at ECC Compton Center retired at the end of the 2013 winter session. Dean of Academic Programs Susan Dever and Director of Athletics Albert "Lefty" Olguin each contributed significantly to the CCCD and the students served by the District.
Susan Dever, Dean of Academic Programs

Susan Dever became dean of Academic Programs at El Camino College Compton Center in 2008 and had oversight for several academic divisions including the library, Learning Resource Center, and the Distance Education program. In addition, she coordinated implementation of the Basic Skills Initiative and development of ECC Compton Center's Academic Technology Plan. More...
Albert "Lefty" Olguin, Director of Athletics

Albert "Lefty"  Olguin began coaching baseball and football more than 36 years ago, and joined El Camino College Compton Center as director of the Athletics Program in 2008. During the past five years, he was instrumental in establishing women's sports teams in badminton, softball and soccer to the Tartar Athletic Program. In addition, Olguin worked with the Foundation for the Compton Community College District to conceive and host the District's inaugural Tartar Athletic Hall of Fame in 2011 as an annual fundraiser for the Tartar Athletic Program. More...
Share your comments about these stories!
You can use your Facebook, Hotmail, Yahoo or AOL account to make a comment!


Sections
Share this newsletter with
your friends:



Tweet

Share your thoughts on these articles! Leave your comments at the bottom of this newsletter!
Safety Matters
Department News
ECC Alumni

Submissions
Newsletters