Scholar-Ballers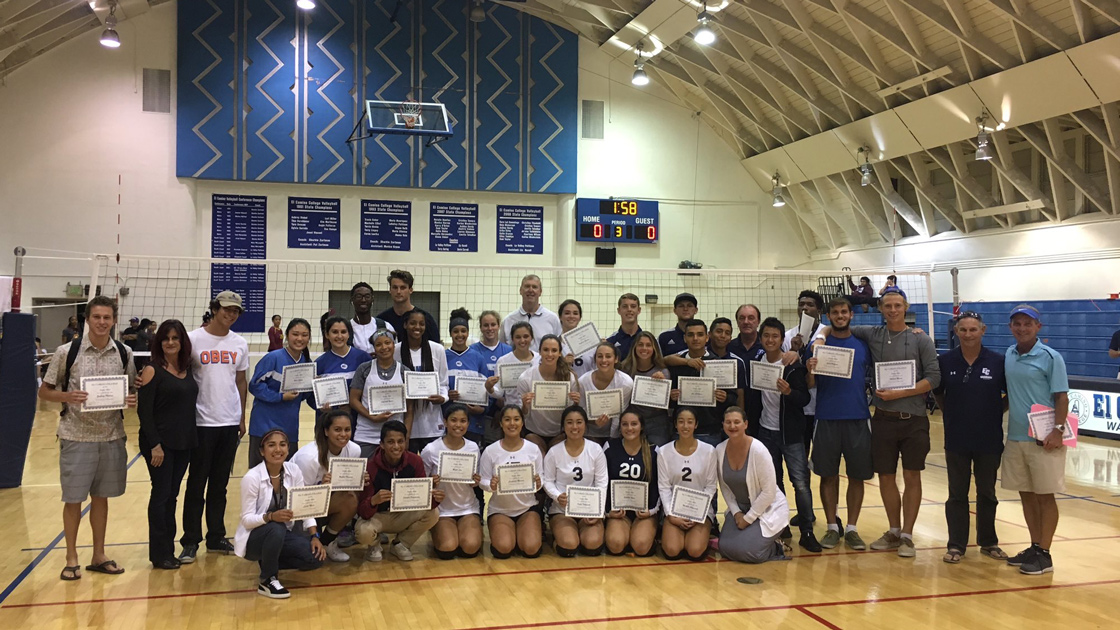 Scholar-Ballers for 2016 from men's and women's cross country, men's and women's basketball, men's and women's soccer, men's and women's water polo and women's volleyball assemble with coaches and counselors after receiving recognition for their academic achievements.
Congratulations to our El Camino College student-athletes who excel on the court, pool, and the fields, as well as in the classroom. A total of 65 Warrior student-athletes were recently honored as Scholar-Ballers for Fall 2016. The Scholar-Baller organization recognizes academic success for athletes who achieve a 3.0 GPA or higher.

2016 El Camino College Scholar-Ballers

Women's Volleyball
Taylor Brydon
Victoria Curtice
Micah Hammond
Megan Lim
Cassandra Montani
Brooklyn Rubio
Michelle Shimamoto
Kiana Takahashi
Nina Wyer

Men's Water Polo
Richard Beck
David Behning
Francisco Lopez
Zachary Phillips

Women's Water Polo
Rachel Heredia
Mishael Umejesi

Women's Soccer
Hope Agosto
Chandel Buelna
Nicole Chura
Olivia Hover
Kailyn Kaemerie
Evelyn Lopez
Michaela Marin
Kelsey Orseth

Men's Soccer
Marcus Ambriz
Daichi Arahara
Jose Contreras
Hugo Hernandez
Christian Lopez
Ernesto Lopez
Scott McGraw
Mark Mendoza
Brennan Smith

Women's Cross Country
Lucero Mejia

Men's Cross Country
James Flores
Jacob Helfgott
Hayden Hinsch
Solomon Kanehailua
Michael Moody

Women's Basketball
Kayla Bibb
Meghan Peneueta
Jaynie San Miguel
Kasey Takahashi
Jullian Thebodeau
Elizabeth Watts
Ronice Williams

Men's Basketball
Tristan Egan
Brandon Guerrero
Da'Koda Lacey
Che Madrid
Gavin Regan
Taylor Shaw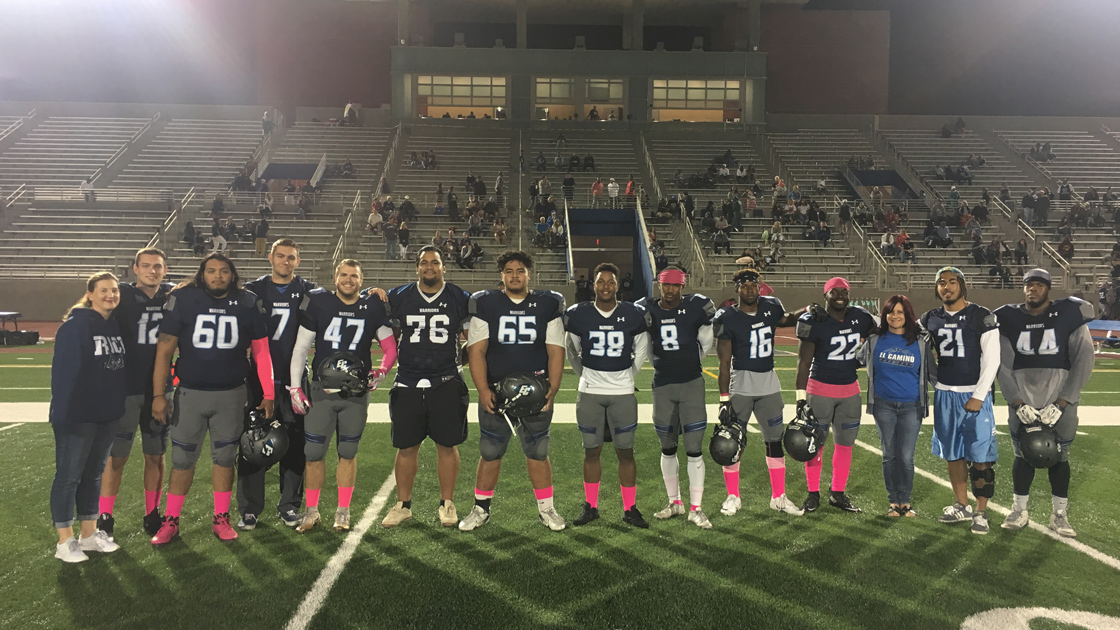 Outstanding Scholar-Ballers from the 2016 football team are congratulated by counselors Stephanie Bennett and Chris Jeffries.
Football
Emmanuel Amaugo
Isaac Cox
Donovan Davis
Sebastian Franck-Love
Maurice Jones
Samuel Laga
Raymond Lima
Paris McDaniel
Brady McDowell
Conor Miller
Juan Quero
Dale Rouse
Brock Rubley
Renzo Salvador