Measure E: Success!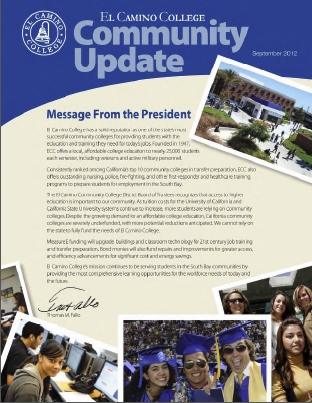 A sincere thank you to all who participated in the successful passage of Measure E. Students, contributors, board members, citizens, faculty and staff joined in a grassroots display of common unity in educational excellence. The passage of Measure E will ensure improved facilities and educational opportunities for students well into the future. Voters showed their support for El Camino College by logging an impressive 67.6 percent of the vote. More than 96,000 voters from Hawthorne, Lawndale, Lennox, Inglewood, El Segundo, Redondo Beach, Manhattan Beach, Hermosa Beach, and Torrance approved the measure.
El Camino College is one of the state's most successful community colleges in preparing students for careers and transfer to four-year institutions, and to see the community support the college's mission is truly gratifying. The $350 million bond measure will provide funds for safety, technology, and energy-saving improvements to classrooms, labs and other instructional facilities. As mandated by Proposition 39, our Citizen's Bond Oversight Committee will monitor spending and report their findings to the public. Every day we see how higher education changes lives. With the community's support, we will continue to help students succeed by providing excellent academic opportunities to the South Bay.
Congrats to Fire Academy Graduates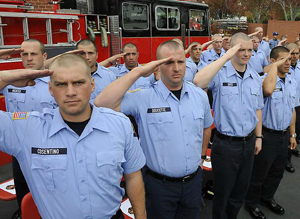 Congratulations to the graduates of El Camino College Fire Academy Class #134. This group of 29 recruits recently completed the academy's rigorous program and participated in a graduation celebration attended by family and friends. Graduates showed the full scope of their training at the ceremony, from rappelling from a four-story building to controlling a fully involved vehicle fire. To learn more about Fire Academy programs, click here. To view photos of the graduation ceremony and demonstrations, click here.
Murdock Memories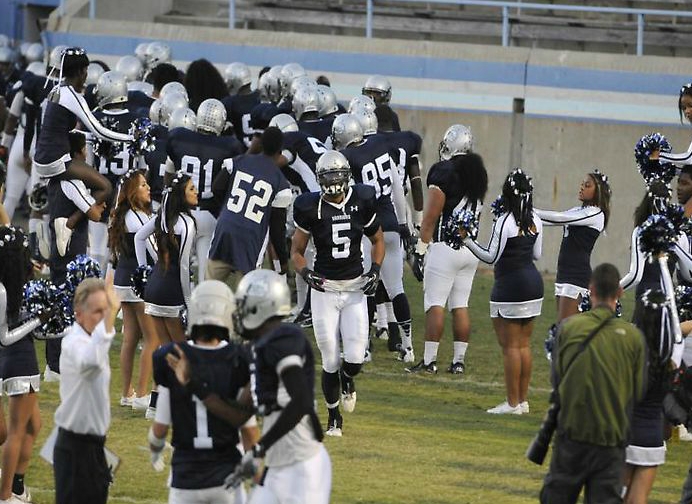 After 63 years of football at El Camino College's Murdock Stadium, the Warriors ended the era the same way it began, with a loss to one of the top-ranked teams in the state. The game marked the final football game at Murdock Stadium, which will be torn down to make way for Phase Two of the Kinesiology and Fitness Complex project. The $37.2 million project includes the construction of a new stadium, incorporating a running track and field for both football and soccer programs. It is scheduled to open in the Summer of 2014. Check out Murdock Madness photos here.

Classified Service Awards – Congrats!  
Congratulations to all staff members who were honored at the annual Classified Service Awards celebration on November 7. The festivities focused on a "Knight's Kingdom" theme. Click here to see the list of staff members recognized for their years of service.
Homecoming Royalty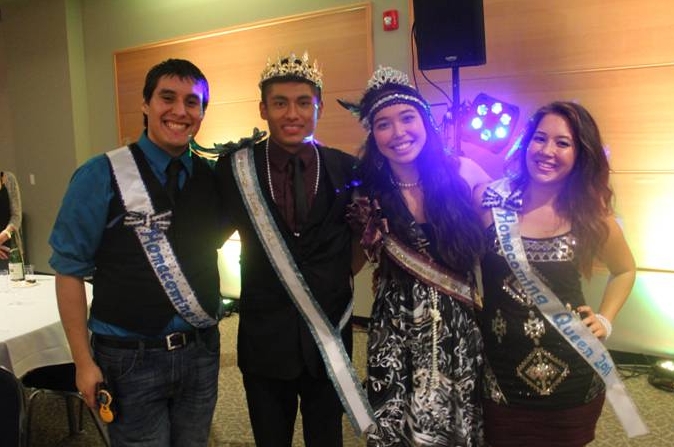 Congratulations to the 2012 Homecoming King & Queen! Luis Mendez, representing Circle K International, and Nicole Moncada, representing Alpha Gamma Sigma,  are pictured here with last year's king and queen, Ricky Gonzalez and Alexis Higginbotham.




Library Art Show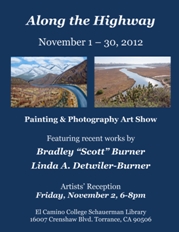 Come visit the Schauerman Library for the painting and photography art show "Along the Highway," presented by Bradley "Scott" Burner and El Camino College staff member and photography alumna Linda Detwiler-Burner. The free exhibit is open to the public and will run through November.
Record-Breaking Water Polo    
Congratulations to water polo player Ariel Carrillo who recently set some new Warriors records. The sophomore made 33 assists in the season, breaking the Warriors' single-season assist record set by Kelly Suk in 2005. Ariel also broke the ECC career assist record on October 19, making her the all-time assist queen. Current men's water polo assistant coach Erica Shaw accumulated 54 assists for the Warriors during the 2008-09 seasons.
ECC Wins Environmental Award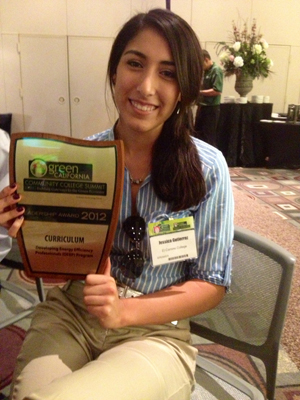 El Camino College is one of three colleges to win the Green Colleges Leadership Award in the category of "Curriculum." ECC's DEEP (developing energy efficiency professionals) program is designed to help students graduate and find employment in industries that develop strategies and technologies to improve energy efficiency, reduce carbon emissions, promote efficient natural resource use, and improve air and water quality.  The program was recognized because it is student led, it engages students with a holistic approach to environmental sustainability, and exposes students to hands-on work experiences on campus-based projects, readying them for California's green workforce. The award was presented during the Awards Reception at the Green California Community Colleges Summit this fall at the Pasadena Convention Center. The Summit is the major conference exclusively devoted to sustainability in California's community colleges.
ECC Provides TSA Training at LAX  
In response to the increasing need for additional security at airports around the country, El Camino College launched a new program this fall to provide training for Transportation Security Administration (TSA) personnel working at Los Angeles International (LAX) Airport. LAX is one of a number of airports in the nation where TSA offers this kind of training, and runs the largest training program for TSA officers in the nation. Under a contract funded by the U.S. Department of Homeland Security, El Camino College is providing specifically designed courses in homeland security to TSA employees at LAX. Trainees are also offered career guidance and opportunities to continue their education to complete a certificate of achievement and/or an associate degree in the El Camino College's Administration of Justice program. More…

Art Gallery: Under the Influence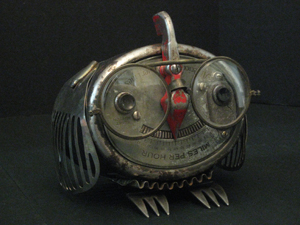 The El Camino College Art Gallery will present the exhibit "Under the Influence: Both artist and collector" through December 13, with an artists' reception set for 7:00-9:00 p.m. November 29.  The show will highlight works by artists who collect and whose collecting influences their artwork. More...
"Green Bag" Lunches Return to ECC   
El Camino College's "Green Team" is bringing back the "green bag" lunch series, designed to offer information about preserving the environment and promoting sustainable practices. Each seminar will focus on a different topic related to learning about the environment, while reducing the environmental footprint. The first green bag lunch will cover energy efficiency and water conservation and is scheduled from 1:00-1:55 p.m. November 29 in the Alondra Room. A discussion on carpooling and the new Metro Express Lanes is set for 12:30 and 1:00 p.m. (two sessions) December 6 in the Distance Education Room, Library 166.
ECC Scholarship Program: Deadline December 14   
Students are encouraged to apply for El Camino College scholarships through the Foundation by the December 14 deadline. The El Camino College Online Scholarship Application also features a quick and easy process that includes a function where faculty write and submit letters of recommendation online. Students with a 2.0 grade point average or better who have completed, or will be in the process of completing, a minimum of six graded credit units at ECC are encouraged to apply. Scholarships range from $150 to $5,000 and may be used to help pay for tuition, books and fees. Students may apply online via MyECC.
Blood Drive Results     

The recent El Camino College Inter-Club Council Blood Drive with the American Red Cross was a resounding success. ECC exceeded its goal by donating 273 units. Thank you chairwoman Brittany Hubble and ICC volunteers who organized the event, as well as everyone who participated and donated blood during the three-day blood drive. This is a great El Camino College tradition of generously donating life-saving blood to the American Red Cross.
New Dean of Student Services
Hired for ECC Compton Center     
El Camino College Compton Center recently announced the appointment of Ricky Shabazz as the new Dean of Student Services. In this position, Shabazz will oversee a variety of resources and programs to support El Camino College Compton Center students. He will also be involved with academic affairs, academic support services and student life. More…

Student Success: Football Scholar-Athletes      
Congratulations to the 2012 football Scholar-Ballers who were honored at halftime at the last football game in Murdock Stadium. The Scholar-Baller organization recognizes academic success and those athletes who excel in academics by achieving a 3.0 GPA or higher. The El Camino College 2012 football Scholar-Ballers are pictured here with counselors Stephanie Bennett, Chris Jeffries and Kelsey Iino. Also pictured is Head Coach John Featherstone. More...
Photography Student Show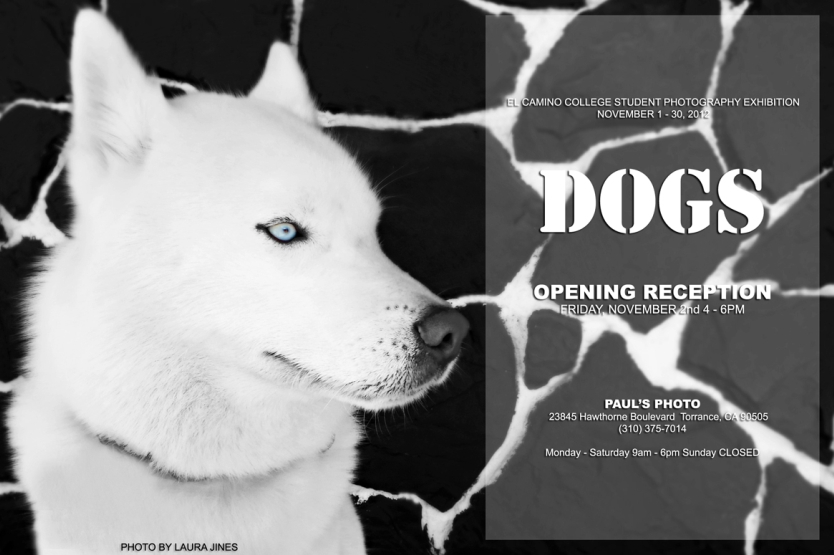 Join ECC photography students and alumni in celebrating their annual El Camino College Fall Photography Department Exhibit at Paul's Photo in Torrance. The theme this year is "Dog Photographs: A tribute to our loyal canine friends." The exhibit runs through November at Paul's Photo, 23845 Hawthorne Boulevard in Torrance.
Mexican-American Author Melinda Palacio
Visits ECC Compton Center      
Journalist, novelist and poet Melinda Palacio recently spoke to El Camino College Compton Center students. She shared how her life journey, which includes growing up in South Central Los Angeles and working in Chandler, Arizona during the city's 1997 migrant sweeps, has inspired her writing. The event was free and open to the public, and also included a Q&A, book signing and refreshments. Palacio's book of poetry titled "Folsom Lockdown" won the Kulupi Press Sense of Place award and was written after she visited her father in prison. She also authored two other books; "Ocotillo Dreams," a contemporary novel about immigration in Arizona published in 2011, and "How Fire is a Story, Waiting," a collection of poems published in 2012. More…

Share your comments about these stories!
You can use your Facebook, Hotmail, Yahoo or AOL account to make a comment!


Sections
Newsletters
Happy Thanksgiving to all students, faculty, and staff at El Camino College. Enjoy the holiday with family and friends! What are you thankful for this year?