Meet Ross Durand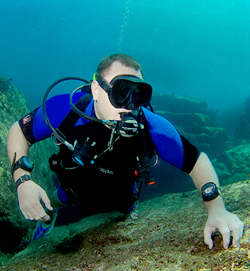 Meet Ross Durand
Hired: August 2010
Hobbies: To become a divemaster, Ross joined a group of friends six years ago to get certified. He always wanted to learn to dive and once he started, he never stopped! Favorite local spots: Laguna Beach, Redondo Beach, and Catalina.
Little Known Fact: Ross grew up on a farm in Sonoma County. In addition to diving, he enjoys outdoor activities such as fishing, hunting, and camping.
Ross joined the ECC faculty this fall as a construction technology instructor. He is a licensed contractor and electrician who continues a family tradition in construction. As early as kindergarten, he joined his father (also a licensed contractor), brother, and other professionals at the job site, learning the trade from the ground up, which at age 6 usually meant sweeping the floors. As he got older, he learned more and more about the profession.
"I really have a passion for teaching and a passion and about my career choice," said Ross, who has a bachelor's degree in business administration from Cal State Long Beach and has run his own business since 2000. "I learned a lot from the older people in the business when I was a kid, and they were always happy to share information with me. So now I feel it's my responsibility to share my knowledge and traditions with others new to this industry.
"Being here at El Camino College has been so great – there are many different students in my classes, taking the class for many different reasons. It has been fun to work with them and get to know them. Everyone here at El Camino College has been incredibly supportive; everyone is so helpful and welcoming. I can't stop smiling every day I'm here – what a great place to teach!"