Meet Terri Kyle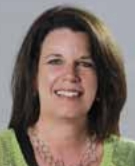 Hired: August 2011

Little Known Fact: Terri relocated to Southern California from Orlando this summer. Her whole family made the move, including her husband, two grown children, her dog, and cat.

Hobbies: Cooking, baking, sewing, gardening, walking on the beach – which she can actually do here since it is not 95 degrees, terribly humid, and the sand doesn't burn feet!
Terri Kyle became the new director of nursing at El Camino College this summer. Terri most recently was an associate professor at Herzing University in Orlando, a program she helped establish with the university's director of nursing. She has been a registered nurse for nearly 30 years, and has also been teaching for a decade from the undergraduate to the master's level.
"I'm looking forward to getting to know people at El Camino College and I'm excited by the challenge of this new position" she said. "I'm also looking forward to moving into the new building – it will have a great layout in an expanded professional setting." 
Theresa earned a master's degree in nursing and a minor in teaching from Emory University in Atlanta, a bachelor's degree in nursing from the University of North Carolina at Chapel Hill, and has completed doctoral work. She is the author of two nursing textbooks on pediatric nursing and a third is in production.