Geology Students are Rock Stars!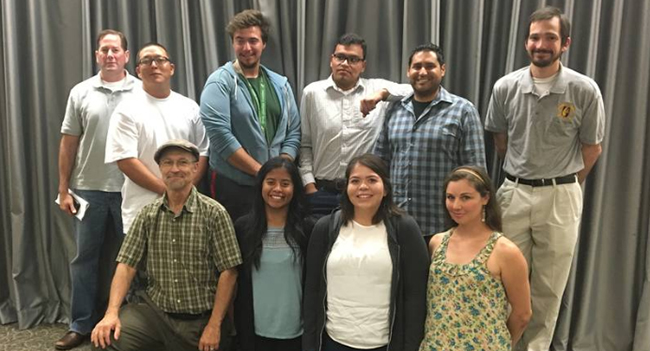 Back row, from left: Students Evan McNamara, Jon Imai, Ryan Missel, Samson Lozano, Ruben Chicas, and adjunct instructor, Kevin Coffey.
Front Row: Professor Joseph Holliday and students Marina Arguetta, Edlin Gonzalez and Pricilla Vos.
Several ECC geology students recently gave presentations to the South Bay Lapidary and Mineral Society (SBLMS) at the Torrance Library. The six speakers included: Samson Lozano, Pricilla Vos, Jon Imai, Marina Arguetta, Evan McNamara, and Ruben Chicas, who shared information about the geology of the places throughout the southwest United States the students have visited during the past year, including the Grand Canyon, Death Valley, and Devils Postpile. ECC geology alumna Edlin Gonzalez also spoke about the paid internship she attained through the geology program that involved paleontology in Palos Verdes. Professor Joe Holiday also gave an overview of the geology major program at El Camino College, which is the largest of any community college in California.
The geology major program at El Camino College maintains a close relationship with the SBLMS Mineral Society. In addition to this annual presentation, geology majors volunteer for the annual SBLMS mineral show in early April. In return, the SBLMS donates the proceeds from the mineral show to fund three Wally Ford Scholarships, which are awarded every year to geology majors who have exemplary grades in earth science courses.